After finishing my cowl neck hack for Kymy's Dolman Top last Friday, the wheels were spinning in my head for this perfect outfit to wear into fall. I've been wanting to make my floral stripe KnitFix fabric into a Capsule Skirt ever since I finished my last skirt. I spotted this red jersey bed sheet in my stash and knew it would have to become a cowl neck dolman to make a perfect match for that skirt!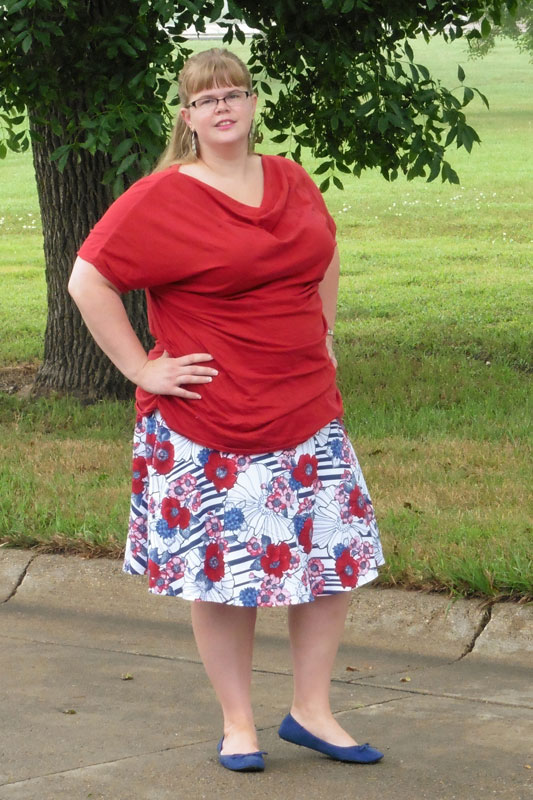 Can I just say again how much I love the Capsule Skirt? I am still giddy over getting to wear a half-circle skirt AND have a hem level with the ground! Plus … Pockets! Need I say more? Kymy sure knocked this "simple half-circle skirt" out of the park!
I only made two slight modifications to the Capsule this time around. I added elastic inside the waistband and I put a pair of 'Get Moving' Leggings shorts underneath to create a skort. Read on to see how (and why) I did both mods.
First, I added elastic because I wanted to use the same red knit of my shirt for the waistband on my skirt. I knew that the poor stretch recovery (due to no lyca content) meant it would stretch out during wear and slip down. I learned just how fast that happens the hard way with my first Capsule Skirt, which almost fell off my hips when I wore it out to dinner. (Yes, the pattern clearly specifies lycra content in the waistband. No, I didn't "listen" because I wanted it to match the skirt. LOL)
To prevent that fiasco from happening again, I cut a waist-length** piece of 2-inch elastic (3-inch would also fit, but 2″ is what I had on hand) and sewed the ends together to make a circle. I placed it inside the waistband after folding wrong sides together (see picture #1 above).  To help keep the elastic from shifting and rolling, I "stitched in the ditch" through all layers on both of the waistband side seams (see picture #2 above).
** I cut the elastic longer than the skirt's waistband, since I knew it wouldn't comfortably stretch as well as a plain lycra waistband. I simply measured around my lower waist and subtracted one inch.
Secondly, I wanted to make the Capsule into a skort to prevent thigh chafing (a.k.a. "chub rub") and so I wouldn't risk flashing anyone while chasing kids. To do this, I cut the leg pattern pieces to bike short length (which I later shortened by 2 inches, which is about halfway between "short shorts" and "bike shorts") of the 'Get Moving' Leggings pattern and constructed the shorts with no waistband. Then I slipped the right-side-out shorts inside the skirt (see picture #3 above). Match up the front centers, back centers, and the skirt side seams to the mid-point between front and back on the shorts. The last step is to slip the waistband over the outside of the skirt/shorts combo, matching front centers, back centers, and side seams. There will now be 4 layers of fabric to sew together: the shorts, the skirt, and two layers of waistband (see picture #4 above). Hem the skirt (and shorts if you didn't before inserting them) and you're done!
Two simple modifications … easy peasy, right?
I think Kymy's Dolman (either with or without the cowl hack) is a great match for the Capsule Skirt. I'm wearing this outfit to the zoo today and am thrilled that my modifications will mean no chance of flashing and a more comfortable walking experience. When you have no "thigh gap" like me, the struggle is real! Haha!
Happy Sewing!!  ~  Joelle