I'm ringing in the New Year tonight on my couch, snuggled with my boys, as we're all suffering from hacking coughs. We've had a rough start to winter and I haven't made it to the gym since early December. I have, however, been preparing (at the sewing machine) for my return to working out once this cough dies off (which I'm hoping will be real soon!). I spent the last few months wearing capri-length 'Get Moving' Leggings to the gym, but decided with the onset of colder weather that I needed some full-length pairs to keep my legs warmer. So I did what any sewist would do and I ordered some fabric to sew up some new workout leggings!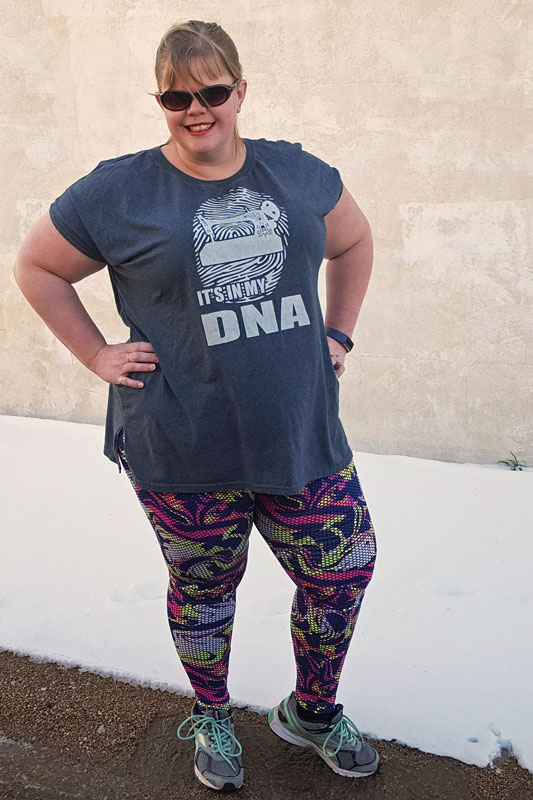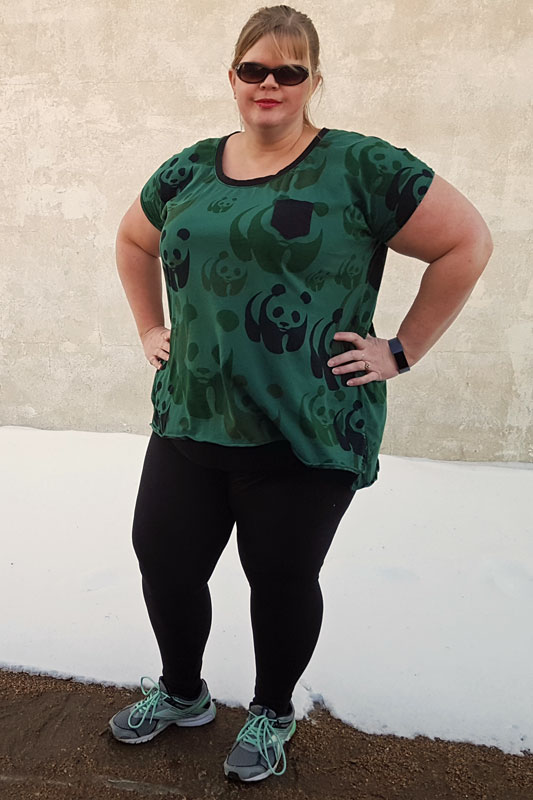 One of my favorite capri-length pairs is made from performance knit I got at So Sew English Fabrics. So I headed over to their site and picked out the Dot Neon Swirl for a fun pair and the solid black brushed performance for a more practical pair. When I head to the gym, I almost always don one of my Boxy Boyfriend Tees since they allow me to move freely and I love the way they fit. The "It's in my DNA" shirt is an upcycled store-bought tee and the green panda tee is one of the two I made just after the pattern released.
I am so glad I picked out this fun neon performance fabric. The stretch is a little less than needed for leggings (which isn't uncommon among performance knits), so I suggest sizing up one if you choose to copy mine. They definitely will hold everything in place (i.e. my belly) when I get back to working out. The brightness of the print is fabulous! It will surely liven up my gym wardrobe and will pair easily with the several upcycled Boxy Boyfriend Tees I've amassed in my closet.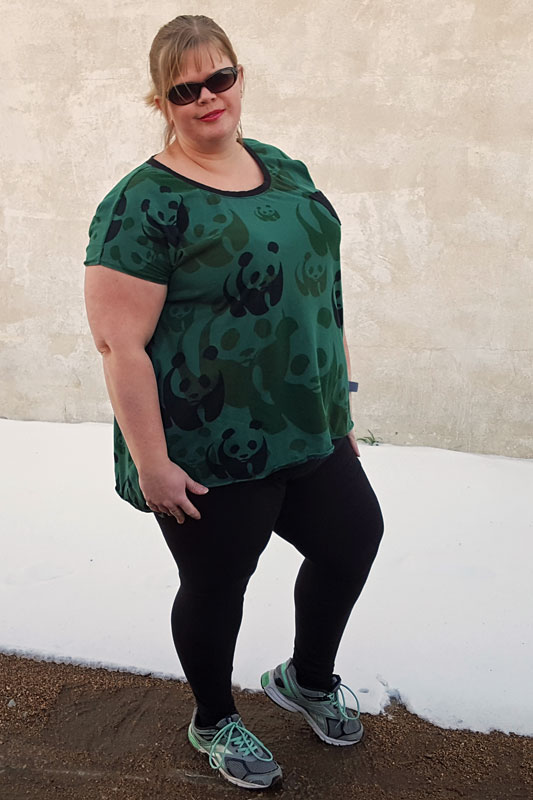 Now, about those "practical black" leggings … They. Are. Amazing. The 325gsm knit is a wonderful weight for athletic leggings. The brushed aspect means they aren't slick and makes them feel kind of like cotton/Lycra, but the 12% spandex means they recover better than the rest of the cotton/Lycra in my stash. I'm looking forward to wearing them in the gym!
I'm making getting healthier one of my goals for the new year (as I'm sure many other people are promising themselves, too). I want to be able to keep up better with my kids and if I get to use less fabric to sew for myself that will be an extra perk! Have you made any New Year's resolutions for 2019?
Happy Sewing!!  ~  Joelle