This page is set up to help answer some of the most common questions we receive about both our website and our patterns.  If you have a question that can't be answered here please feel free to send us an email through the 'Contact Us' page.
LOGGING IN
Having troubles logging in?  Our log in system can use a user name and or your account email as well as a password.  If you get an error that your email/account can not be found send us an email through the 'Contact Us' page.  Include your account email address and we can double check what we have in our system & manually reset your password if needed.  The most common problem besides forgotten password is typos in the email address or password when signing up.
DOWNLOADS
Made a purchase but having trouble downloading your files?  You should receive a receipt with each order that includes a download link but sometimes those will get filtered out as spam.  The good news is you can always download them directly from the site!!!  First go to 'My Account' and log in.  You must be logged in to download your files whether you go directly to the site OR clicked on the link through the email.
Once logged in you will see a list of available downloads as well as your purchase history.  Click on the file you would like to download and then when your download pop-up comes up select save as.  This photo is an example from Internet Explorer 10.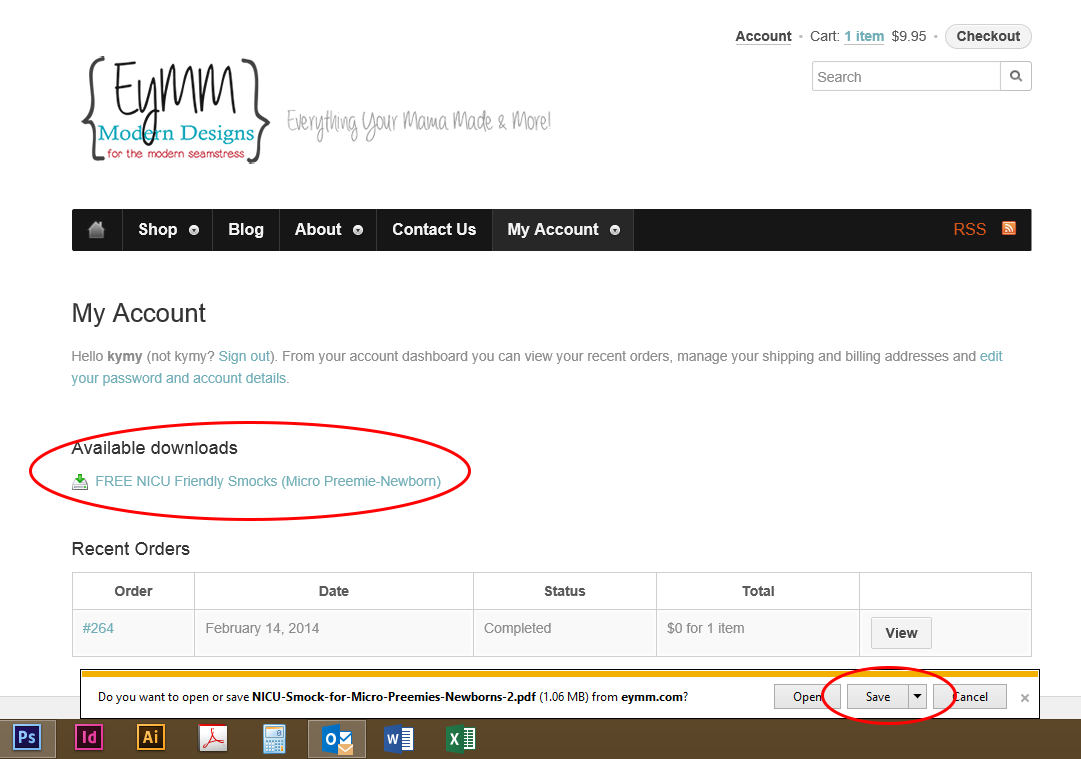 DO I HAVE TO DOWNLOAD IT FROM THE SITE?
"Can't you just email it to me?"  I know not everyone is comfortable with technology as others, and devices like tablets can limit functions at times.  That being said we have it set up to download from the site for a few reasons.  One of the biggest is so that you can access to it when needed and can re-download if you miss place your files.  It also keeps it all in one place so you know what you have bought.  The other reason is as much as I would love to email the files when ever requested I am a busy work at home mom to 5 young children.  I work from mobile devices a lot simply do not have access to the files a good portion of the time TO email them.
If you are having troubles logging in or downloading your files we are more then happy to help troubleshoot the problem.  95% of the issues we have are from new accounts.  Once we have troubleshoot the problem they have since had no issues purchasing and downloading additional patterns.
DID MY ORDER GO THROUGH?
As great as technology can be it's not perfect & has issues at times.  On occasion the integration with PayPal doesn't work as smoothly as usual.  If PayPal glitches & the payment does not go all the way through your order will not process & you will not have access to your downloads.  A good way to check this is to log into your PayPal account and see if the money has come out.  If it HAS and your downloads are not showing up in your account, like the photo above,  send us an email through the 'Contact Us' page with your account email for EYMM and the transaction number through PayPal and we can manually push it through the system.

PATTERN ASSEMBLY
Not sure how to assemble your printed pattern pieces, or having troubles lining them up?  We know visual learning is often much easier so we have set up a page with a video to show you just how to put them together as well as how they are different then other patterns.  You find the page full of information as well as the helpful video on our 'Pattern Assembly' page.