After performing t-shirt surgery to make my girls some upcycled Carlie's Dolman Tops last week (see here and here), I got to thinking about a pieced-together Kymy's Dolman for myself. I looked through my stash and knew exactly what I wanted to try when my eyes landed on these two remnants I bought last summer.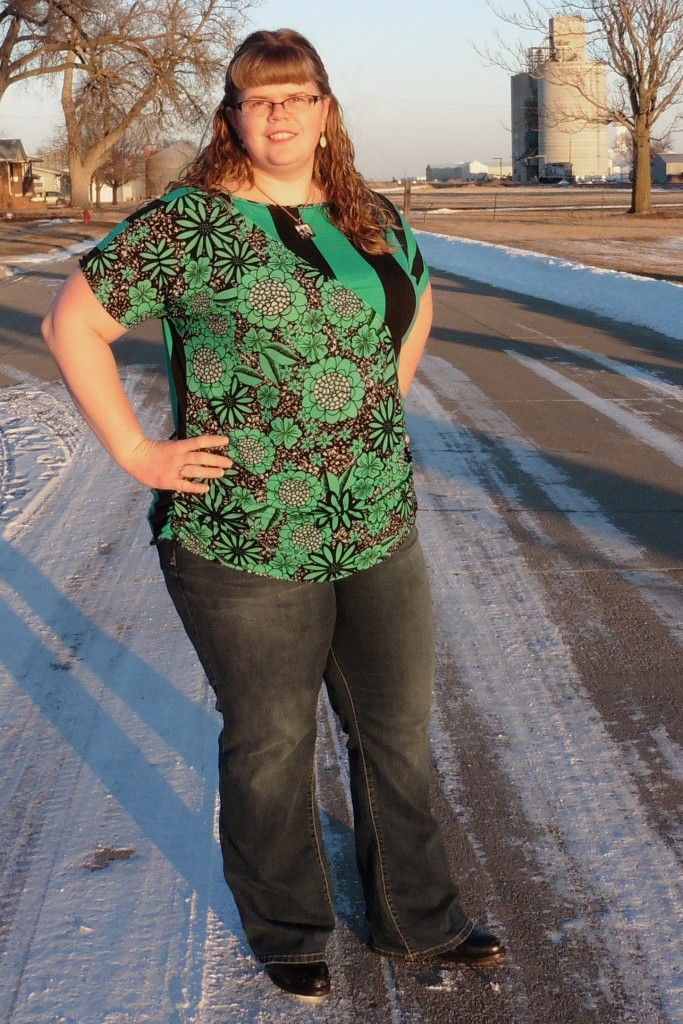 I picked them up intending to use them for my girls because I knew they were too small to make an entire top for myself. But, as much as I love the colors, I couldn't talk my daughters into liking them so they've been sitting among my stash and waiting … and so was born my grown-up version of t-shirt surgery.
I made my shirt using similar steps to method #2 from last week's post. I decided I wanted a diagonal seam and sliced my pattern (after measuring my remnants to be sure I had enough to fit each piece). Then, when I cut my fabric, I added 3/8 inch seam allowance along the sliced edge, so that the seam wouldn't alter the finished size of my dolman front.
I laid my two pieces right sides together and stitched them using my triple stretch stitch and the 3/8″ seam allowance that I added when cutting. I pressed the allowance down toward the flowered piece and top stitched with a long triple stretch stitch to help it lay nicely, but maintain it's stretch-ability.
Then it was just a matter of following the pattern to sew the front and back of the dolman together and finish all the openings. I chose to make the ruched view since I still love wearing the grey one I made during my last pregnancy. The only place I deviated from the pattern this go-round was choosing to put a narrow band around the neckline rather than folding and stitching a hem.
I like the result that piecing the front gives to Kymy's Dolman and fabric choice makes all the difference so it doesn't look as childish as last week's t-shirt surgery. It's definitely a more grown-up look that could be dressed up with a skirt or black pants just as easily as I paired it with my jeans for a more casual outfit.
I am so glad now that my daughters snubbed these remnants when I brought them home. It must've been fate that they matched each other perfectly and were just waiting for me to figure out the perfect project! 😉
Happy Sewing!!  ~  Joelle