I knew this floral cotton spandex needed to become a pair of leggings as soon as I saw it. Luckily, I scored a few yards when someone else was thinning out their stash. I was so excited to turn it into a pair of 'Get Moving' Leggings that I was in my wash room ready to throw it in to pre-wash before I got the package fully open!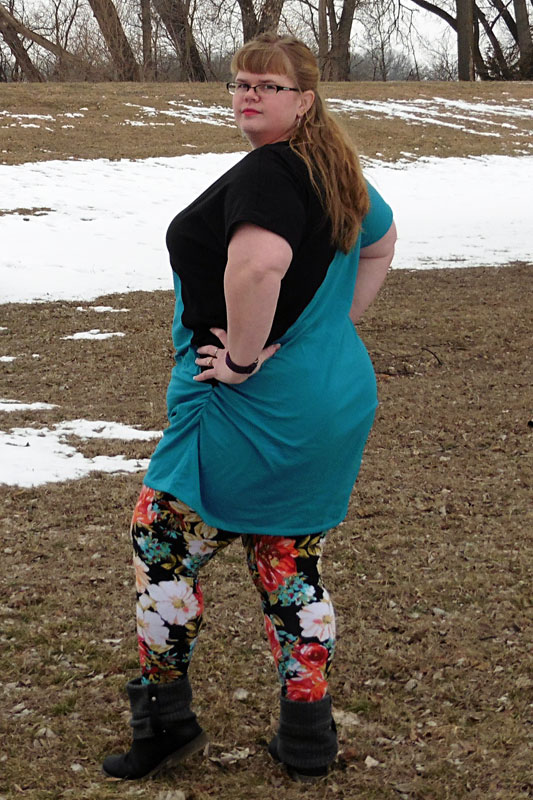 While the floral was washing, I went looking through my stash for fabric to make a coordinating top. I uncovered some dark teal cotton jersey and black cotton Lycra, but didn't have quite enough of either for a whole shirt in my size. I had a "make it work" moment and pulled out my "t-shirt surgery" color block copy of Kymy's Dolman from last year. I added just a few inches to the bottom so that view D would still cover my rear after adding the ruching and decided this time to color block both the front and back. I'm in love with how the angled seam adds interest to an otherwise plain solid colored top! It is so comfortable to wear and, as a bonus, I think this top will also coordinate with my pebble print leggings from a few weeks ago!
My newest 'Get Moving' Leggings are SO comfy! This is the first pair I've made in cotton spandex and they feel so awesome that I didn't want to take them off to hem after putting them on to check the length! I even garnered a compliment from my husband (and, usually, it's like pulling teeth to get any comment from him on my sewing projects, lol).
This is one of my favorite leggings outfits I've made so far. Kymy's Dolman Top is so easy to wear and having floral legs is fun! I'm glad, also, that I've got more of this floral to make something else later … so don't be surprised if you see it again in a week or two! 😉
Happy Sewing!!  ~  Joelle