Kymy's Dolman Top was the very first EYMM pattern I sewed. Kymy chose me to be a pattern tester for her first women's pattern and I made my new top out of fabric I found at the second-hand store for 50 cents a yard (I love a good thrift shop find!).
That was me, exactly one year ago from this Sunday. I was 37 weeks pregnant and my new dolman made me feel beautiful, rather than like the beached whale that I had been feeling like for the previous several weeks. Haha!
My Kymy's Dolman transitioned well at the end of August, when my baby boy arrived on the scene. The ruched side seams camouflaged my post-baby belly perfectly. 😉  I've worn that particular top again and again over the past year because the grey herringbone print is a great neutral that can be dressed up or down for most any situation.
As this summer is drawing to a close, I've felt the need for just one more splash of warm, bright color to add to my wardrobe. With only four seams (plus hemming the neckline, arms, and bottom), Kymy's Dolman Top is such a fast sew that I knew it'd be the perfect choice!
"Meet" the newest addition to my closet, which has a little color block action thrown in to make it more fun to wear. I fell in love with the diamonds on this printed knit, but the clearance-rack bolt didn't have enough left on it to make the whole shirt. I bought it anyway and paired it with a solid red jersey for the back of my new top.
I anticipate wearing this well into the fall and likely over and over during the next year, just as I've worn my grey one in heavy rotation during the past year.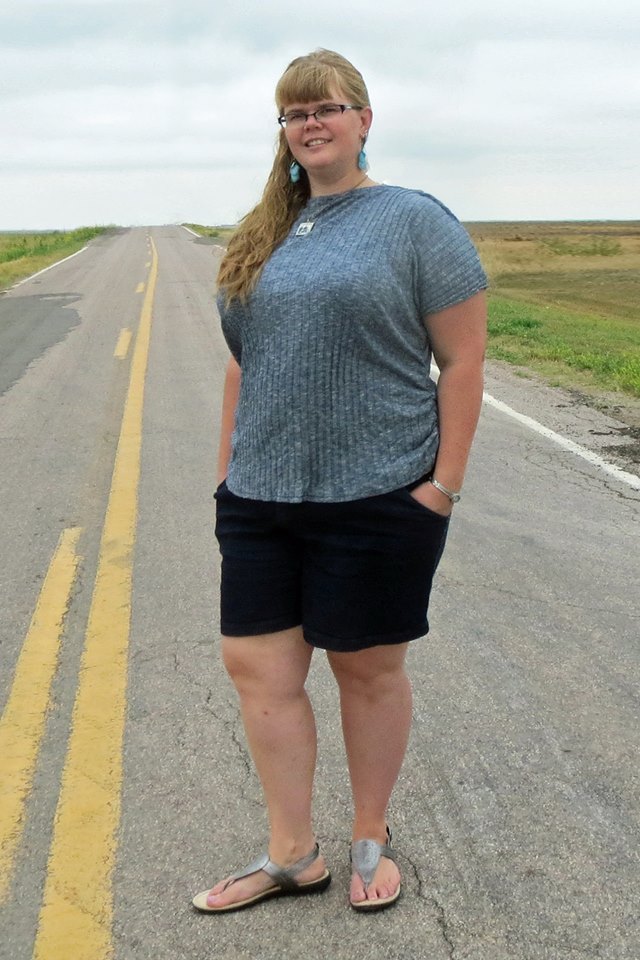 By the way, that grey dolman is still holding up well after getting worn and washed almost weekly. In our "disposable-is-easier" society, not many store-bought clothes will last so well without breaking the bank!
Being a mother of 5 in a one-income household, I love that I can make clothing that fits well and is of such quality that it stands up to repeated wear. Plus, I get to build myself a wardrobe that is unique and fitting to my personal style … even if it is from thrifted or clearance-rack fabric. Heck, I think that adds to the thrill and pride of making my own clothing!
Want to make your own Kymy's Dolman? You can find the pattern in the EYMM shop.
Happy Sewing!!  ~ Joelle