Well surfing the net one day I I stumbled upon an invention website with these neat Bento Egg Molds…. I remembered that word Bento, I had heard it before!  So I went on a search & remembered WHY & WHERE I had heard it!!!  My friend had purchased a Bento lunch box for her son to send with him to daycare.  Bento is a type of lunch box art from Japan.  Not only does it promote healthy eating, but it is fun to look at too.  They have TONS of neat accessories but they can be difficult to find in the US & can go for ridiculous prices on ebay.  So after much searching I found a awesome ecrater store Bento Crazy with a great price ($3.50 a set instead of $15 AND good shipping) & ordered them to give them a try!  We get SO many eggs with WIC, but the kids don't get to excited about them.
Well a just over a week later they arrived!  I was really excited to try them out, but since they are straight from Japan they are all in Japanese.  So back to the net & blog surfing.  I found the basics on how to use them but not enough details, so I decided to make a Bento Egg Mold tutorial for my blog!  These would make great little stocking stuffers & of course are a great way to get those finiky toddlers to yet yummy hard boiled eggs!
Whats needed…
Bento Egg Molds
1 large or X-large egg to go with each mold (farm fresh eggs should be at least 1 week old to peel best)
Pan to boil all the eggs
Cold Water
Timer
Bowl big enough to hold all the molds with more cold water
OPTIONAL for coloring…
Food Coloring
Vinegar
Coffee Cup
Spoon
Paper Towel or Towel
Boiling Water
STEP 1: Hand wash your egg molds these are NOT dishwasher safe.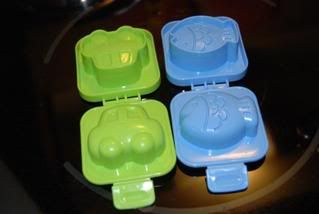 STEP 2: Put a single layer of eggs in the bottom of the pan & cover with cold water.  Put on stove & turn burner on HIGH.

STEP 3: When water reaches a rolling boil turn burner down to SIMMER or LOW & let simmer for 12 minutes. (it may still bubble a bit)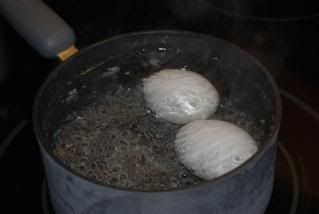 STEP 4: When the timer goes off put pan in the sink & run COLD water into the pan for 1 minute & then turn off water.  Eggs should be just cool enough to touch.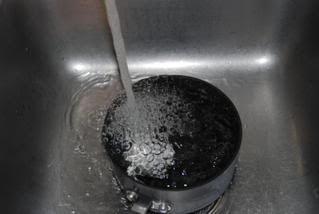 STEP 5: Peeling them well hot!!! (this is what I couldn't find anywhere) How to peel hard boiled eggs while they are hot… once they are just cool enough to touch LIGHTLY tap on the counter until they crack.  You will find they want to bounce… this is because they are hot, just continue to lightly tap until they crack… slowly increasing pressure.  Once they have cracked they are easy to peel!  Rinse briefly to get any egg shells off.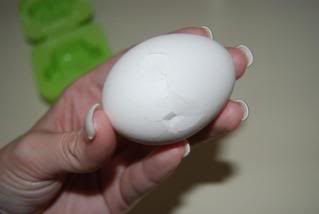 STEP 6: Put the hot egg in the mold, close & clamp shut!!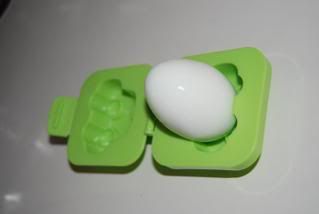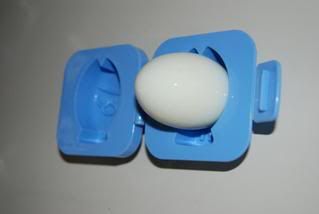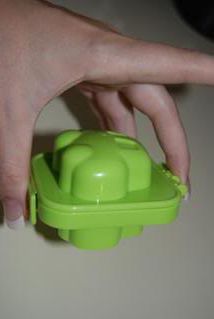 STEP 7: Either stick in the fridge or stick in a bowl of cold water for 10 minutes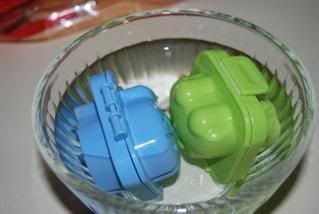 STEP 8: Remove from mold & enjoy!!!!!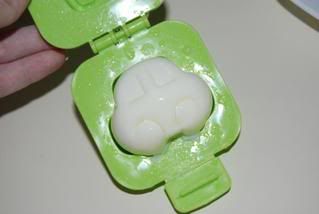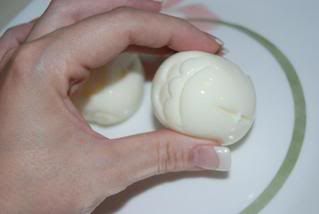 OPTIONAL COLORING!
I don't care much for this but the kids love it!
STEP 9: In coffee cup ad 20 drops of food coloring, 1 tbsp vineager & 1/2 cup boiling water & mix.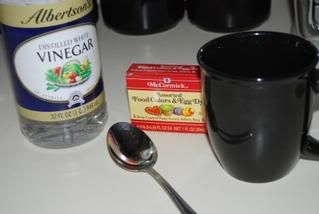 STEP 10: Set egg in the cup for 30-60 secs until it is the desired color.  Remove from cup!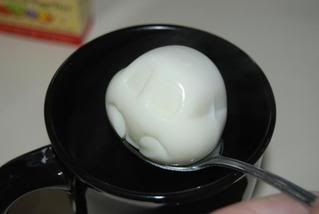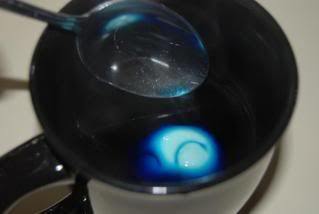 STEP 11: Rinse breifly under cold water to remove excess food coloring & blot with a paper or regular towel (it can stain at this point!)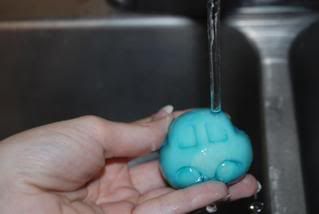 STEP 12: ENJOY! (He was too excited to worry about taking a picture!)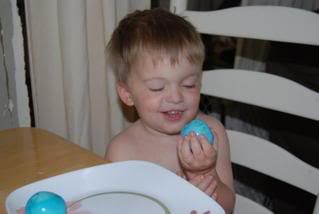 I have found these to be toddler, kid, teen & adult approved (though the toddlers & kids are the only ones that care for the coloring)
Again I purchased mine from Bento Crazy which sells a large variety of Bento products.  They are shipped from Japan but from an American military base so they only take 7-10 days to arrive.  The Bento Egg Mold Sets are $3.50… shipping on your first item is $4 & $1 for each additional item!  Totally worth it.