Today it's my turn to Cozy Up to Fall! When Kymy and I started planning this tour, I thought it'd be the perfect timing to give the Piko Top another try. I made one a couple years ago, but wasn't in love with it and I think it ended up in my sister's closet. That was before I discovered the wonderfulness of wearing leggings and I'd been thinking the loose fit of the Piko would be the perfect match for my latest black 'Get Moving' Leggings (I've thoroughly professed my love of leggings in the past, so I'm going to focus on the Piko today … but don't miss out on the sale listed at the end of my post!).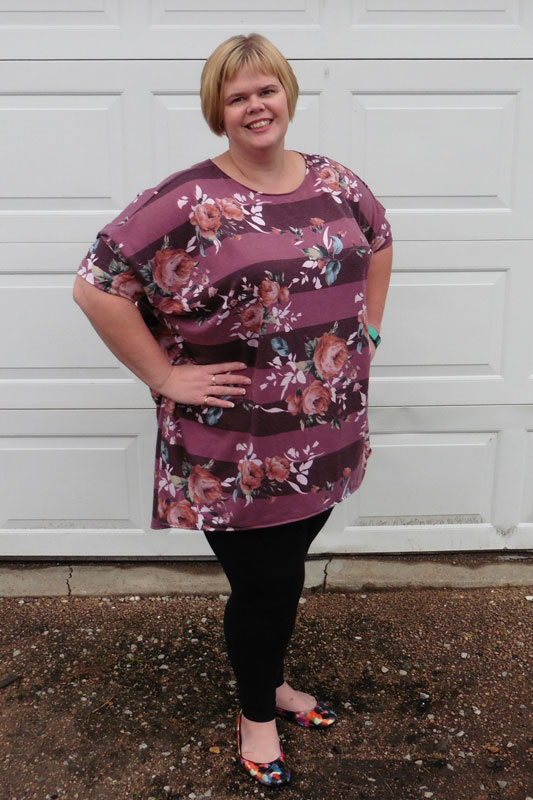 I perused my fabric stash and chose this cozy poly/spandex blend French terry that I got from So Sew English Fabrics. I thought the heathered tone-on-tone mauve stripes were perfect for autumn and that it would drape beautifully. Turns out, I was right!
The only real modification I made to the Piko Top pattern was to add length … 5.5 inches, to be precise. I wanted the top of the front hem curve to hide my hanging extra belly skin (thanks to 5 c-section babies) and have lately been loving the length of an over-sized-t-shirt-turned-Boxy-Boyfriend that I made in August. I measured that shirt from shoulder to front hem and found that it was roughly 5 inches longer than the Piko pattern front measured at the top of the hem curve. I threw in an extra half inch just for good measure (and to compensate slightly for differences in fabric drape since it's easy to cut shorter, but I wouldn't be able to add extra after the fact). Since the Piko side seams are fairly straight, I simply cut the pattern piece at the length adjustment line and added it all in that one spot. If I were working with a more fitted pattern, I would've added portions of the extra length in several places through the pattern in order to keep the proportions fitting correctly.
Now, other than adding length, I wanted to follow the pattern exactly. I blended out to the next size up for the waist and hip so that my top would fit as originally intended (even though there's plenty of ease and it technically would've fit without blending sizes). I also widened the armhole and used a bigger sleeve because my upper arm girth is two sizes bigger than my bust size. I really intended to make the shirt following the pattern as closely as I could … and then I started cutting and messed it up completely on accident!
Now, honestly, my first mistake was in procrastinating until last night to start because I've been swamped with other obligations this week. After printing and taping and cutting out my pattern, I laid out my fabric and folded it over, cut the front, and placed the back pattern piece against the fold. I quickly cut around the neckline, across the shoulder, and down the arm opening. As I put my rotary back down to cut the side seam and hem, I realized that when I'd prepared my pattern I'd accidentally cut out only the front neckline …. and that meant I had just cut a shirt "back" with the lower curved back hem and with the deeper scooped front neckline. To make matters worse, I also did not have enough fabric left to cut out a new back! Doh!
After berating myself under my breath for screwing it up, I decided to just embrace it and make my shirt with a lower, more open back neckline. Life's not perfect, so why worry about these small flaws, right? It wasn't the end of the world, of course, just an unplanned departure from the pattern (when I wanted to make it just as written).
In the end, I love my new Piko Top … open back neckline and all!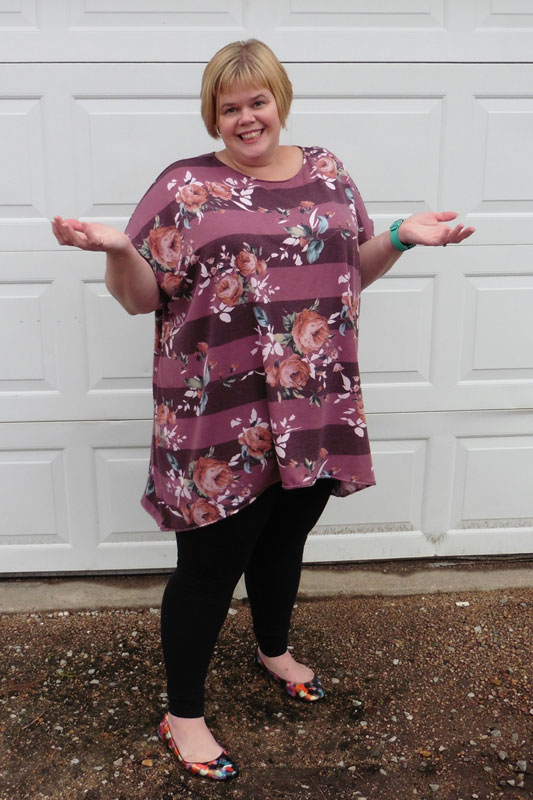 On an only semi-related side-note, did you notice that my teaser picture was in the form of a selfie? That's also an oopsie due to procrastination and being overwhelmed this week. Since I sewed in the middle of the night (truly, I started printing at 11pm and finished hemming at 12:30am), I went to bed planning to take some pictures this morning and write up my post real quick before heading out for Bible study followed by a ladies meeting at church … and then I woke up to pouring rain that didn't let up for over 2 hours. So I had a "make it work" moment, snapped a selfie on my covered front porch, and shared about today's stops on the tour (noting that my post would be live later). I really should be better about not procrastinating … but the truth is that I likely won't get much better about it. 33 years of a bad habit is hard to change! Good thing I'm pretty laid back so it's easy for me to roll with the punches when I get myself into these messes. LOL
Make sure to check back each day so you can stop by all the amazing blogs on the Cozy Up to Fall Tour this week!! (Keep in mind that the links below won't work until their scheduled date, but feel free to click through and check out their other blog posts anytime.)
Oct. 3 – Tour Kick-off at EYMM
Oct. 4 – Capture, Craft, and Cook and Boutique Birdie
Oct. 5 – Sprouting JubeJube and EYMM
Oct. 6 – Pretty and Precious and House of Estrela
Oct. 7 – Analog Bytes and Connected By A Thread
Oct. 8 – Adventures With Bubba and Bug and With Love in Every Stitch and Beri Bee Designs
Oct. 9 – Five Blessings and Lulu & Celeste and Creative Counselor
Oct. 10- Tour Roundup on EYMM
During the tour, all featured patterns are on sale (save even more by buying the youth/adult bundles!) … the Four Seasons Cardigan (both women's and girl's), the Piko Top (both women's and girl's), and the Leggings Bundle ('Get Moving' Leggings for women and Jocelyn's Leggings for girls). Use coupon code FALL17 to save 30% off these 6 patterns and/or 3 bundles in the EYMM shop, but only until 11:59pm on October 11, 2017.
Happy Sewing!!  ~  Joelle