Last year, I "snuck" into the Sew Americana Tour as a last minute addition and had so much fun making myself a red, white, and blue outfit. So, I jumped at the chance to join in again when Katy said she'd decided to make the tour an annual event over at Wild & Wanderful. This time, I decided to up the ante on making myself patriotic clothes by adding some stars and stripes to my wardrobe.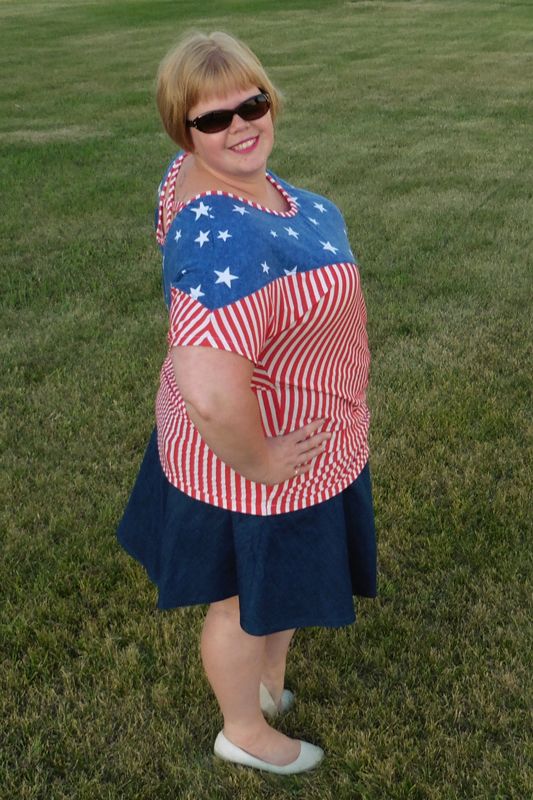 Over a month ago, I bought a yard of poly/spandex fabric printed with white stars on a denim-look blue background and also got some half inch red and white striped poly/spandex, both from So Sew English … and then I let it sit while I tried to pick a sewing pattern that would do them justice. I finally settled on the Asymmetrical Drape Top, but threw my own twists into constructing this fun shirt!
I started out by slashing the pattern to create a diagonal color-block line similar to what I've done to Kymy's Dolman in the past. I decided to cut my stripes on the diagonal for the shirt's bottom half and to use the stars for the top half. In the process, I accidentally cut two "front" necklines … so, after a few choice words, I had a Tim Gunn moment and decided to "Make it work!"
Now, I've made the Asymmetrical Drape Top with two front necklines before and, while it fits fine, it has a habit of trying to slide off my shoulders if I move around much. So, for my newest version, I decided to add a couple cross-straps to hold the neckline in place. For the straps, I made two fabric tubes using the approximate length of the original back neckline. After applying the neckband, I tacked one strap to the neckband seam allowance about two inches below the shoulder seam on each side. I then tacked the bottom end of each about 3 inches below the opposite strap's top end. Finally, I topstitched around the neckline seam to help secure the straps in place. I kinda love the end result … such a happy accident!
Paired with my denim Capsule Skirt, my new Asymmetrical Drape Top will be perfect for the Fourth of July and beyond! Have you sewn anything red, white, and blue this year? If so, link it up for us to see at the bottom of this post!
I'm glad I got to join all the other talented bloggers on the 2017 tour. Watch out, Katy, I'm already looking forward to next year! Make sure to go check out all the amazing stops on the Sew Americana Tour lineup:
 Monday, June 26
Wild & Wanderful | Handmade Boy | The Wholesome Mama | Marvelous Auntie M | Sew and Tell Project
Tuesday, June 27
EYMM | Middle River Studio | SewSophieLynn | Phat Quarters | Call Ajaire
Wednesday, June 28
Simple Life Pattern Company | Sewing By Ti | Auschick Sews | Nu Me Nu You | Swimming in a Sea of Estrogen
Thursday, June 29
Adventures with Bubba and Bug | Musings of a Seamstress | Elli and Nels | Spindle and Seams | Stylin' Stacy
Friday, June 30
Very Blissful | Stitching and Making | Wild & Wanderful | On Wednesdays We Sew | Fairytale B&T

We would also like to give a special thanks to our generous sponsors!
Love Notions | EYMM Modern Designs | Rebecca Page | Patterns for Pirates | Simple Life Pattern Company | Thread & Grain | Designs by Call Ajaire | Simply By Ti | Made for Mermaids | Petite Stichery & Co.