This weather has been messing with my sewing mojo again! It's the middle of October and I feel like I should be sewing up all kinds of warm, long-sleeved outfits … but the mercury in the thermometer keeps hanging out around 80*F and I just want to make dresses! So I compromised this week and made myself a denim Capsule Skirt!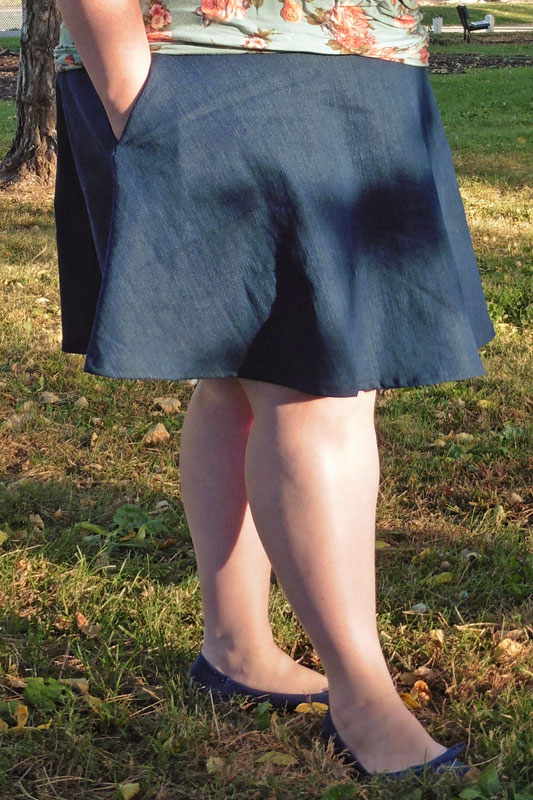 I figure the dark denim lends itself nicely to a fall wardrobe and I can layer thick tights or leggings under it when (if? lol) the weather finally stays cool! Today, though, I paired it with my floral Asymmetrical Drape Top that I made for the Momiform MAKEover.
I used a mid-weight denim with a small amount of stretch. For the waistband, I used some navy Ponte de Roma with spandex in the content, which I had left over from making my daughter Capsule Skirts for her school uniforms.
** Please excuse my wrinkles as I'd been sitting in the car prior to these photos. Had to sneak in quick pictures while my boys played at the park during my girls' volleyball practice … that's mom life for ya. Haha!  **
I can't say enough how much I love that the Capsule Skirt allows me to finally have a level hemline despite my large derrière. That ability combined with pockets makes the Capsule one of my favorite patterns.
I also loved that the slightly heavier denim (heavier in comparison to my cotton knit and French terry versions) didn't fly up when the wind picked up at the park. I'm sure everyone else present appreciated that, as well! LOL
Happy Sewing!!  ~  Joelle