Who enjoys doing laundry?  **crickets, crickets**
Nobody? Me, neither! I've taught my second daughter how to wash and dry clothes. However, she usually quits on me when it comes to folding and, really, that's the worst part … especially when I finally sit down to do it and there's 10-12 loads because 7 people go through a lot of clothing!! I'd much rather sew up a new outfit than fold laundry and put it away! That's why I jumped at the chance to be part of the "Make Laundry, Don't Do Laundry Tour."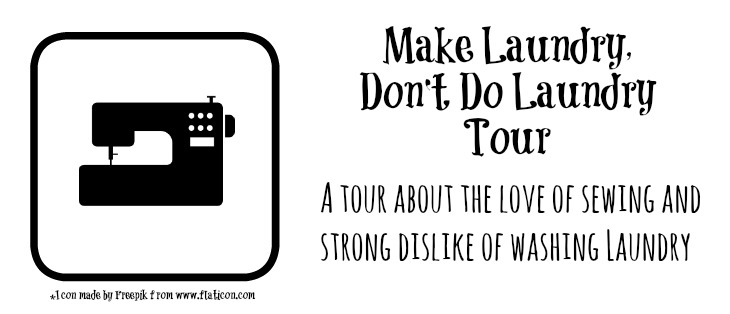 I signed up to make a "Go To" sew … meaning I'd be using patterns that I reach for again and again. Of course, I had to use my favorite: the California Dress & Peplum! Since I've been loving tunic-length tops lately, I also made a pair of 'Get Moving' Leggings AND I sewed both in just over an hour's time! Even when adding in my fabric cutting time of around 30 minutes, it was way faster than running a load of laundry! Plus, it was a LOT MORE FUN!!
I cut my floral rayon spandex jersey a scant two inches shorter than the California's "above the knee" length to be sure it would cover my booty without being too long. To make it an even faster sew, I used my "cheater" method on the neck and armhole bindings. Then, rather than following the pattern's elastic waistline construction, I opted to repeat my exposed elastic waistband hack using 1 inch wide bright pink elastic. This time, though, I kept it at the height of my natural waist rather than raising it to empire height like last time. I finished the bottom with a lettuce-edge rolled hem in pink thread on my serger (and, yes, that 40 minutes listed above includes the time it took to change my serger thread colors, lol).
For my 'Get Moving' Leggings, I chose the knee-capri length. I have two other pairs this length and find myself reaching for them every time they're clean (and sometimes I run a middle-of-the-night laundry load just so they'll be clean for morning). They're simply the perfect length for warm weather because they're long enough to eliminate my thigh "chub rub," but still bare enough leg to stay cooler during hot days. For this pair, I used a navy cotton spandex that I got from a Girl Charlee bargain lot. I timed myself sewing them and it was just under 25 minutes, even including the dreaded hemming (sometimes I leave full-length leggings un-hemmed, but I feel like the shorter lengths need a proper hem).
I seriously LOVE how fast most of the EYMM patterns come together! I know you wouldn't expect to hear any different, considering the theme of this tour and that this is the EYMM blog, but I wouldn't be Kymy's assistant if I didn't truly love her patterns. They fit and flatter such a large range of sizes and the majority are considered beginner-friendly (which translates to fast, yet satisfying, projects for intermediate/advanced sewists)!
The "Make Laundry Tour" is a fun way to showcase these two and the many other patterns that the other talented bloggers have sewn up. There are lots of great stops on the "Make Laundry, Don't Do Laundry Tour" that you should go check out!
Plus, I know everyone loves a giveaway and this tour has THREE great prize packages donated by a fabulous group of sponsors, including patterns from EYMM! Two winners will be chosen from the following Rafflecopter giveaway. For a chance at the third prize package, go link up a picture or blog post of a recent project at Paisley Roots, Pear Berry Lane, or The Crafting Fiend. Hurry, both the giveaway and link up end this weekend!
Happy Sewing!! ~ Joelle