I love having a "faux belt" elastic waistband on my dolman-capsule mash-up. It makes being stylish one step easier since I don't have to mess with putting a real belt on (and then readjusting it every time my 2-year-old pulls on my clothes, lol). I decided it was high-time I try a similar method on my favorite dress pattern, the California Dress & Peplum!
I started by constructing my dress as per pattern instructions, except for the elastic waistline directions. I sewed a piece of 1.5 inch black elastic into a loop to use as a waistband. I marked the waistline on the dress the same way as in the pattern, although I did move it up a few inches to hit me at empire height, which is just my personal preference.
As I folded the bodice down like the pattern instructs, I slipped the wide elastic inside the fold on the right side of the fabric, matching up the center front and back and side seams to quartered marks on the elastic. So then, instead of sewing a casing to thread elastic into, I stitched all the way around 3/8 inch in from where the elastic edge sat tucked into the fold. I stretched my wide elastic to the same width as the dress as I stitched so when released the dress gathers just a bit at the seam. After turning the dress right-side-out, the exposed elastic naturally lays up toward the bodice.
I love, love, love the outcome! The only thing I'll change next time is to move my waistline markings back down a little. I didn't take into account leaving space for the width of the elastic to fit above my seam and below my bust so it's a little closer to my chest than I'd like … oops!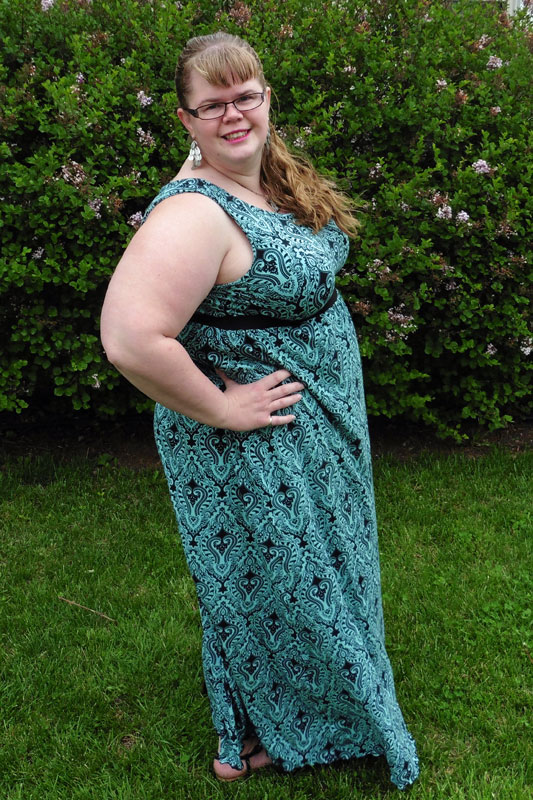 Luckily, that's an easy adjustment to make! I'm looking forward to making another California with an exposed elastic waistband!
As always, if you try out one of my hacks or sew up any EYMM pattern, I'd love to see you share it in the EYMM Facebook group or on the Facebook page.
Happy Sewing!!  ~  Joelle