Did you pick up the Freestyle Harem Pants on last week's Manic Monday sale and need some inspiration to sew up a pair or three? Well, you're in luck because today we're kicking off the Freestyle Harems Blog Tour, featuring both women's and youth sizing! (Psst … if you missed the sale, check out the end of this post for a coupon code good during the tour!)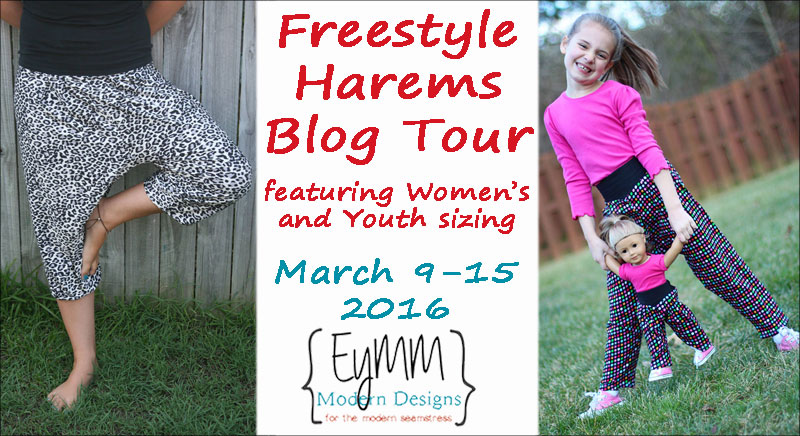 Over the next week, a handful of talented ladies will be showcasing their versions of the Freestyle Harems on their blogs. After making my daughter's each a pair last week, I was excited to make some for me! Today, I get to show off my new pair!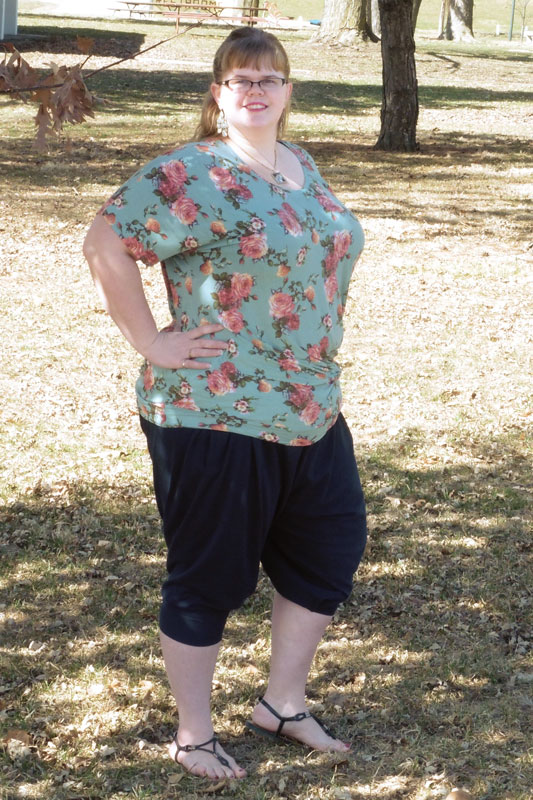 I made myself a capri-length pair from lightweight cotton spandex. I sized down two sizes from where my measurements are on the chart because I wanted a slightly trimmer fit, tho I used the waistband elastic measurements from my regular size. I can see more of these in my sewing future so I can wear them all summer long!
I used the vertical welt pocket tutorial from late last summer to add pockets to this pair. I think adding pockets doubled my construction time, but it's worth it! As much as I've been enjoying wearing leggings recently, I missed having pockets, lol!
My new Freestyle Harem Capris are super comfortable and the navy color will coordinate with many of my shirts. Today, I paired them with one of my favorite Asymmetrical Drape Tops, made from dusty blue floral rayon spandex from Girl Charlee.
Make sure to check out the rest of the Freestyle Harems Blog Tour during the next week. (Note: The links below won't be live until their scheduled date.)
March 9 – Joelle at EYMM (this post, today)
March 10 – Patricia from Sew Far North
March 11 – Tami from Sew Sophie Lynn
March12 – Kelly from Analog Bytes
March 13 – Lore from Blessed x Five
March 14 – Larissa from Connected by a Thread
March 15 – Aimee from Capture, Craft, and Cook
During the blog tour, you can get the Freestyle Harem Pants on sale! Use code FREESTYLE to save 25% on the women's or youth sizing or on the bundle, expires at 11:59pm PST on 3/15/2016.
Happy Sewing!!  ~  Joelle