Tomorrow will officially kick off the blog tour featuring EYMM's many Mommy & Me Pattern Bundles. Each of the dozen bloggers participating will be showing off their own creations of one style in both women's and girl's sizing. I can't wait to see what they all come up with! Plus, Kymy's offering us a sale to save on all the Mommy & Me Bundles during the tour (read all the way to the bottom for the coupon code)!
I was talking about the tour to my husband and my girls overheard and asked what I was making them for the blog this week. LOL  Luckily, Kymy's patterns are pretty quick and easy and so I decided to whip up a few shirts to make them happy! We all three love the Asymmetrical Drape Top, so that's what I chose to make this week.
Since my girlies are getting too old to want to be matchy-matchy, we went searching through my stash and each picked out different fabrics. Then the girls went to bed and I got to work cutting and sewing! Haha!
My youngest daughter measures into a size 10, but she doesn't like things to fit too snugly, so I used the size 12 pattern that I already had traced so it would fit her more loosely. She isn't very girly, so she chose this light blue polka dot cotton jersey. I got this fabric in a bargain lot from Girl Charlee and it was originally white with olive-green dots before I threw it in with some other fabric I was dying blue. It's a nice lightweight fabric and so her Asymmetrical Drape Top will be comfy to wear in even the hottest part of our summer!
My older daughter fits in a size 14 for width, but her height (5'7″) is a full 6 inches taller than the chart for size 14. Using the general rule of thumb to add 1/2 inch to the pattern for each 1 inch in height difference, I added 3 inches to the length of her shirt. She's sprouted up over 5 inches since last summer and I'm hoping she's about done since she's already taller than me!
This is my girly-girl and she picked out this coral and purple tie dyed slub cotton jersey that I got in my Girl Charlee KnitFix in April. It's fairly thin, so it works perfectly for the Asymmetrical Drape Top! I had just enough left to make a matching top for my best friend's daughter, who is the same age but much shorter. 😉 We're excited to gift the second shirt to her when she comes to visit from the east coast later this month!
For my top, I sized down from my measurements because I like a closer fit. My bust measures at the bottom end of 2x and my hips fall in 3x sizing. I cut out a size 1x with 2x band for myself. I used this gorgeous print I found among the performance fabrics at JoAnn. I *think* it is a poly spandex blend, but can't find my receipt or find it online to confirm that. What I do know is it feels silky and comfortable and it matches my Freestyle Harem Capri Pants I made for that tour back in March. I can't wait to wear my Asymmetrical Drape Top all summer long!
My girls are thrilled with their new Asymmetrical Drape Tops. We had lots of fun with our photo shoot … so much fun that 97% of our group pictures came out blurry cause they wouldn't stand still! LOL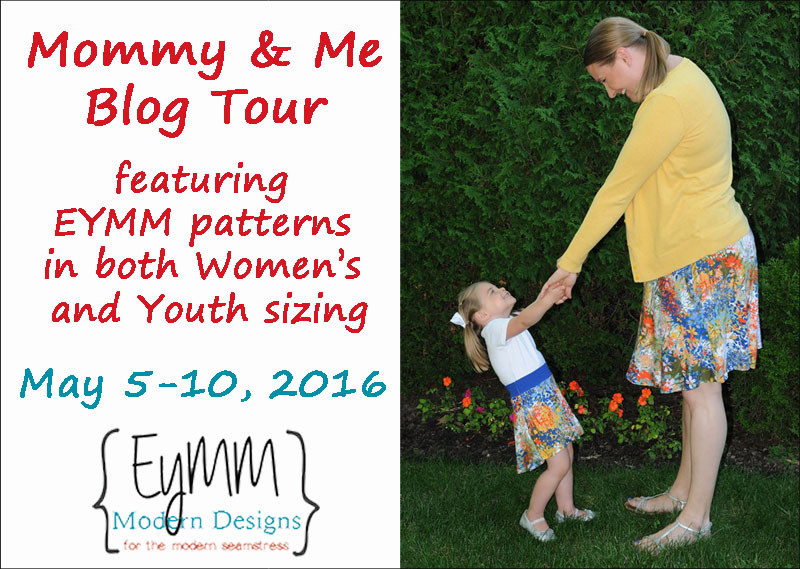 Make sure to check out all the stops on the EYMM Mommy & Me Blog Tour! (Note: the direct links below won't work until their scheduled day, but feel free to click through and check out their blogs any time!)
May 6
The Wholesome Mama, Wally and Grace, Call Ajaire
May 7
Rebel & Malice, Blessed x Five, Coral + co.
May 8
Welcome to Our World, Analog Bytes, Pear Berry Lane
May 9
Sewing by Ti, Pretty and Precious, Creative Counselor
During the tour, all Mommy & Me Bundles are on sale!  Use coupon code MOMMYANDME2016 on the EYMM site to save 25% on any Women and Youth Size Pattern Bundles until May 10 at 11:59pm PST (note: build your own bundles are excluded from this sale).