Sorry I've been a bit scarce this past week. My kids had their school concert, then I spent almost the whole night sewing matching jammies for my kids and their cousins, then we drove 350 miles to my mom's house for Christmas, where I was sick for three days. I got to feeling better just in time to pack and go home, unpack and repack, and drive to Maryland to surprise my homesick sister who just had a baby. Whew!
Anyways … I knew that for Christmas day, I wanted a more casual outfit that would be comfortable to feast and relax in. I knew that a raglan tunic and leggings would be just the ticket!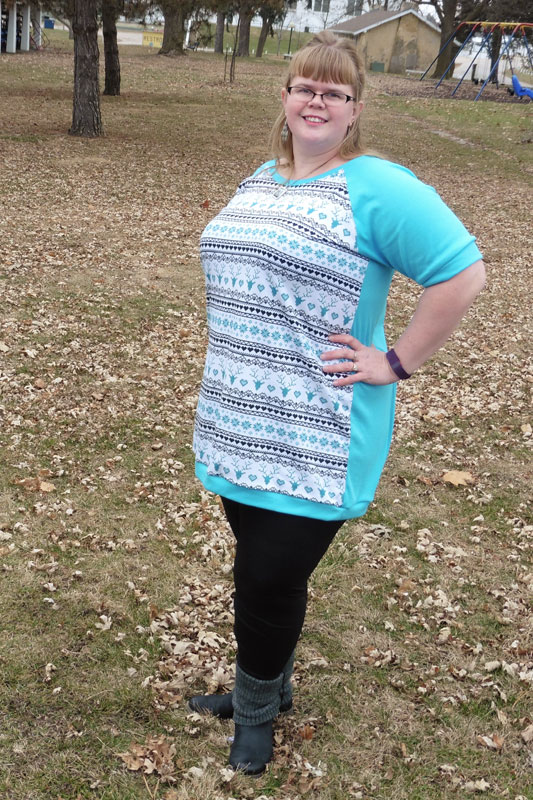 My latest 'Get Moving' Leggings are a black textured pleather-ish performance fabric that I got at JoAnn Fabrics. They're just slick enough that my shirt doesn't catch on them when I walk (like sometimes happens with my cotton/spandex pair). I was a little unsure about the slight shine and texture that looks like twill/denim ridges, but I love them on me!
For my raglan tunic, I used my modified copy of Callie's Nightgown & Nightshirt. I had one yard of Girl Charlee's Fairisle Deer in the turquoise colorway that I got last winter and forgot to use … oops! Paired with a solid turquoise for the sleeves and back, it was perfect for this year's casual Christmas outfit. My sleeves are slightly shorter than the one I made for Thanksgiving because I had less of the turquoise fabric to work with. 😉
Paired with my new boots, I wore this comfy outfit to help with my son's Pre-K class, then wore it for Christmas day, and am likely going to rock it again for New Year's! Yay for looking good and still being super comfortable!
Happy Sewing!!  ~  Joelle