I'm not quite sure how it happened so quickly, but I now am the mother of a 10-year-old. That's double digits … and boy does she have the tween attitude and so many opinions about what she wears!
Thank goodness she still loves when I sew for her … it's just that now she has to pick out the pattern and the fabric and doesn't want any ruffles. For her birthday (which was yesterday), she wanted a camping theme … complete with s'mores and sleeping in a tent (although it had to be pitched in her bedroom because it was rainy outside).
When she mentioned her plans months ago, I bought a "Happy Camper" panel from Peek-a-Boo Patterns Fabric Shop, but (because I'm cheap and got it from her remnant sale) it was a little short for my tall girl. "T-shirt surgery" to the rescue!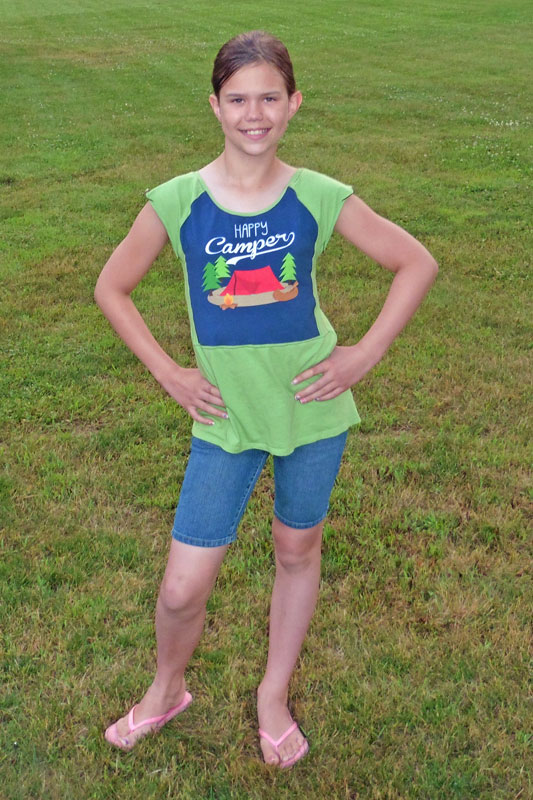 Instead of sewing her a birthday dress, this year, my daughter requested a very short sleeve raglan shirt ("… almost like a tank top," she said). Since she loves the fit of her daisy play dress and the several nightgowns we've made, I decided to hack Riley's Nightgown & Sleep Shirt to make a raglan tee. We dug through my stash and found a lime green adult-size tee to use around the panel. I want to mention that you don't necessarily have to be upcycling another tee to use one of the "t-shirt surgery" methods I've written about, but it does save time if you can re-use the existing bottom hem.
This time around, I squared up my panel and measured my pattern, then sewed green rectangles to three of the sides to fill in the rest of the pattern. After stitching the sections together, I folded the whole thing in half and cut out the front of the shirt. After some debate, we decided the back and sleeves would just be plain green. I cut the sleeves length about 1/2 inch below the end of the angled raglan seam and used my serger to put a lettuce-edge rolled hem on them before sewing the shirt together. In the spirit of upcycling, I even seam ripped the neckline ribbing off the old shirt and used it on her new raglan (it is a bit narrower than the pattern calls for).
She loves her finished camping shirt and I love that it's more modest and age-appropriate than most store-bought clothes in her size. It's definitely a win, win situation!
Happy Sewing!!  ~  Joelle