Guess what?!? My 9 year old sewed her very first knit garments yesterday! She's been hounding me for more lightweight Riley's Nightgowns for summer and apparently she decided she was done waiting on me to get around to them. 😉
Yesterday was a no-school day and she asked early in the day if I'd help her sew nightgowns. She'd already picked out her fabrics and found the pattern traced in her size. I helped her cut pieces, since I've cut myself before with the rotary cutter and didn't want her to risk it. Also, we were racing the clock to get both gowns cut out before her baby brother woke up. He likes to walk on and play with any fabric he sees spread out, which kind of gets in the way of accurate pattern cutting.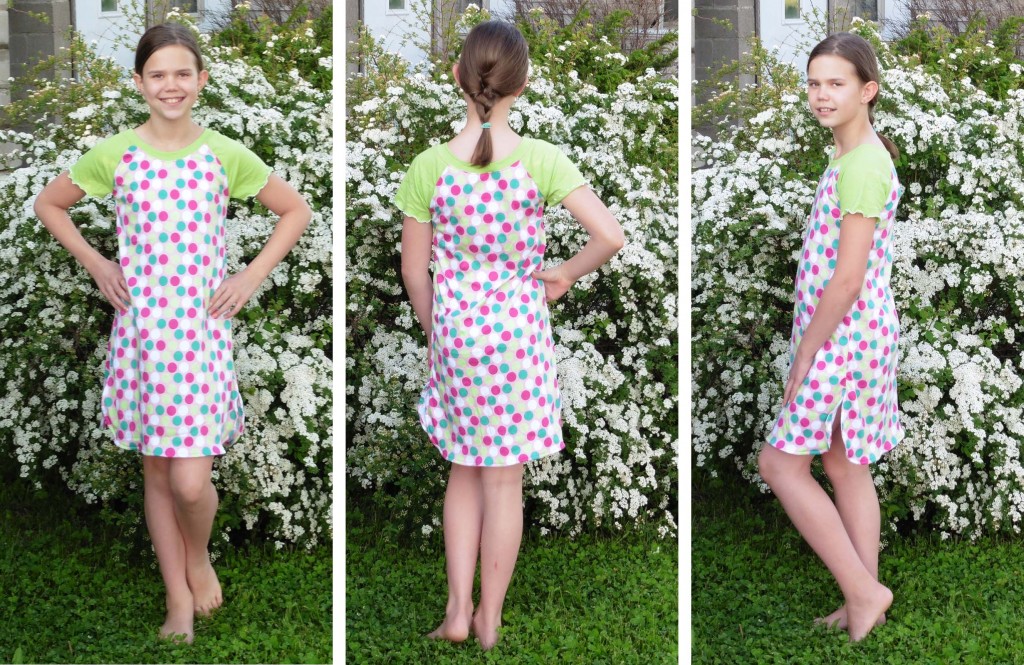 Riley's Nightgown & Sleep Shirt is a raglan sleeve pattern, which I think is the easiest kind of sleeve to attach. My girlie sewed all the raglan seams, side seams, and top stitched the necklines after I serged them onto the gown.
I did the hem facing on the pink and green nightgown because it can be a bit tricky and she's easily frustrated. For the blue gown (and all four sleeve hems), she requested we serge a rolled hem since she likes the lettuce edge and wanted to try doing it herself. When it came to actually using the serger, however, she chickened out and made me do it, haha!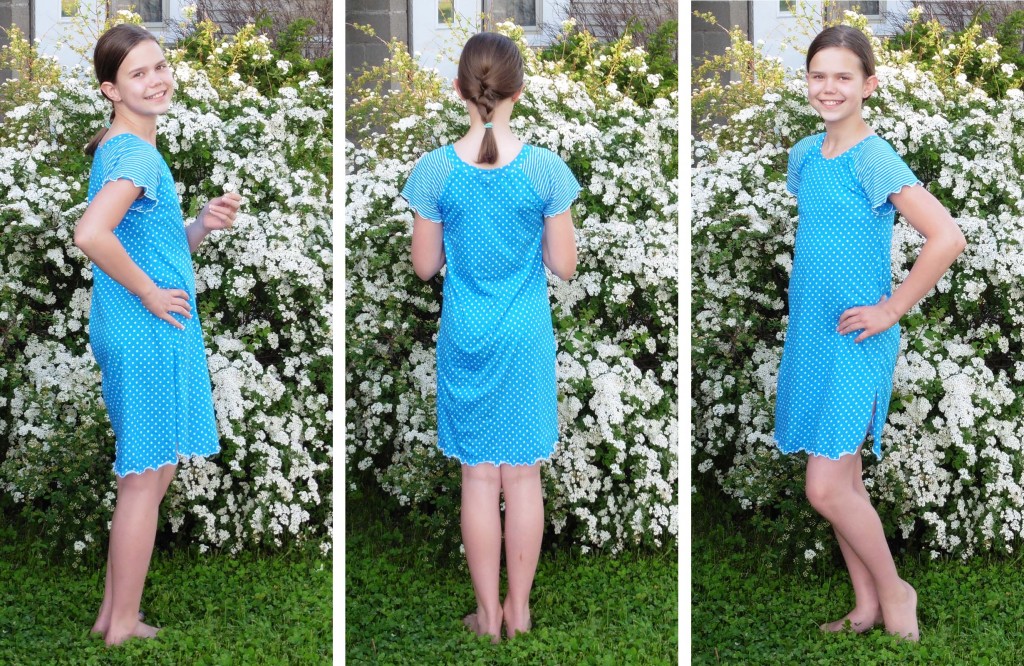 When she finished and turned her new nightgowns right side out, my daughter was practically dancing in her seat. She was so excited to have sewn them herself … but then she had the dilemma of which one to wear first! LOL
I kinda love that she's picking up a bit of the sewing bug and is doing so well. I only had a few minor heart attacks when her fingers got too close to the needle!
One thing we did learn together yesterday is that she is very much a perfectionist like her daddy and I very much am not. One of my mottos when sewing my kids' clothing is that small mistakes are okay because the kids never stop moving long enough for anyone but me to notice! 😉
What would have likely taken me only an hour or two took my dear daughter most of the day to finish. A few tears of frustration were shed and she insisted on ripping out more than one seam that she didn't keep straight, but the look on her face in the end was worth it. She now has big plans and I may have to keep a closer eye on my fabric stash! Haha!
Happy Sewing!!  ~  Joelle