Today I wanted to show off my cute and modest workout clothes for those who don't do tanks! I have a lot of friends who simply choose to dress modestly, or just aren't comfortable outside of the house in tank tops.  Add to that the current trend to have very open back tanks and sometimes it feels like modesty gets the short straw.  That's not the case though, because you can use 2 of my favorite, and oldest EYMM patterns, to make a trendy outfit that is still modest AND I have 2 more modest friendly tops in the works too for the next few months.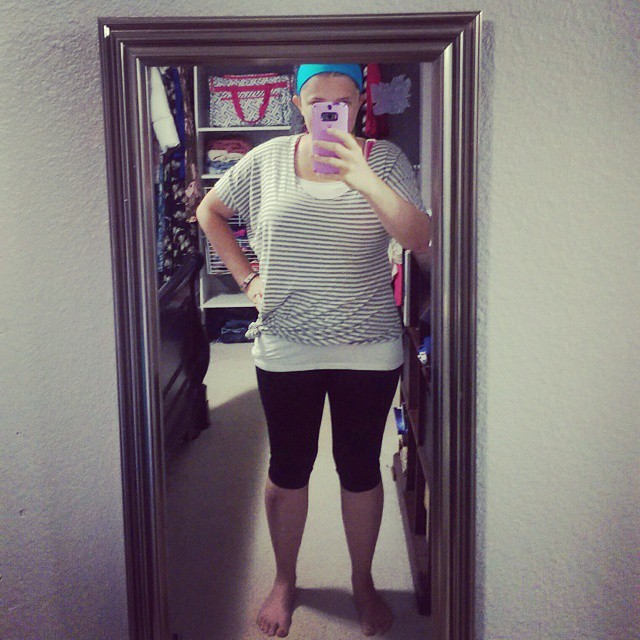 The outfit I wore today is actually not brand new, I made these last year and wear them all the time!  The tops is the EYMM Asymmetrical Drape Top, knotted with a hair tie, over a store bought cami & paired with the EYMM Get Moving Leggings. Both patterns include sizes XS-5X AND come in girls sizes NB-18 Tween too!
The top is made from a rayon blend jersey knit, view A, and I left all the hems raw (trendy + super fast to make). I made it 1 size bigger then I would for regular wear and balled the longer side of the hem up and wrapped it in place with a hair tie.  For the leggings I choose the shorter length capri with regular waistband and added the crotch gusset from the free tutorial on the EYMM blog.
I spent less then $20 on fabric for both the top and pants, and even if you buy both patterns at full price that puts the FIRST outfit at about $40 which is less then ONE pair of Lululemon capri's, and you can them over and over again no mater how much or many sizes your body changes while working out!