I love a good raglan! I've been meaning to use the Callie's Nightgown & Nightshirt pattern to make a few summery tops, since I love my sweatshirt hack so much. Finally found time to do it this week and decided to make it a flowy tunic for summer!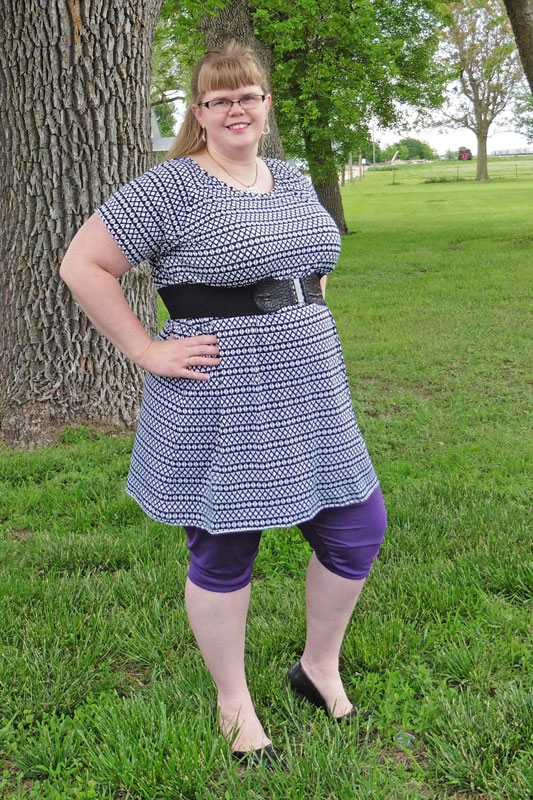 All I did for this "hack" of Callie's Nightgown was to cut the hem straight across just above where the shirttail curve starts on the nightgown length (as opposed to the shorter nightshirt length). I'm 5'6″ and mine wound up the perfect length to fully cover my bottom. I put a belt on to pull in the waist, since it was quite billowy in this thin knit. I'm thinking next time I might add an empire-height elastic waistband like on my last California Dress.
I really love this black and white knit I got from an online sewing friend who was de-stashing. I'm not positive on the content, but it is slippery smooth and has 4-way stretch. I decided to cut it crossgrain (meaning the fold was perpendicular to the selvage rather than parallel) so the stripes would run horizontally. This led me to placing the hem of the bottom and sleeves along the selvage edge and leaving them raw rather than hemming … score one for laziness! LOL
I paired my new tunic with fun bold purple Women's 'Get Moving' Leggings in knee capri length. This was the first time I've sewn myself leggings. Before this, I've only ever worn leggings as an under-layer to keep warm, but thought I'd try them with my tunic. I kinda fell in love with this look and may be making several more pairs to wear with my long tunics (or short dresses). It's cute, plus so convenient for chasing kids!!
Happy Sewing!!  ~  Joelle