Yesterday, we talked about how to find out what size you're bra should be.  While I know some readers already knew their correct size, many were surprised or full-on shocked.  Now, something to understand about patterns and the bust is that we are all shaped very differently!  It is simply impossible to make a 'one size fits all' or even 'one size fits most' pattern.  Instead, we have a 'one size fits the average bra cup size' situation.  Most garments and patterns are drafted with a B cup in mind.  While some indie designers may draft for larger cups, they will generally note it in the pattern directions.  If the pattern doesn't say, you can generally assume that it is drafted for an average B/C cup.  If you're concerned, you can always email and ask, if it's a digital pattern.  Due to garment ease, many full A cups and small D cups can also fit into these garments, though the final fit may vary.
Back in the 30's/40's/50's, when at-home patterns became popular, women didn't just sew garments, but they tailored them.  The patterns weren't designed to be whipped up and fit perfect as is, you were meant to tailor them to fit your body.  This is why the 'Big 4' commercial patterns use 5/8″ seam allowances. It is meant to allow room for you to alter/tailor the fit of the garment.  Today, bust lines vary even more in size and, because of that, simple tailoring isn't always enough.  Yes, you can take away some of the ease (extra room for movement) in the garment, but when you do that you LOSE movement.  'Can't I just go up a size?' Yes, you can, BUT that bigger size is meant for a bigger frame all over, NOT just a bigger bust and you will end up with arm holes that are too big and pucker on the neck and along the front arm opening and often gaping in the back.  If you are going to take the time to sew for yourself, you may as well take the extra step to get a good fit. 😉
While intimidating at first, one of the best things you can do is a Small Bust Adjustment (SBA) or Full Bust Adjustment (FBA).  These modifications are done to the pattern pieces to add fabric to the full bust without changing the size of the neckline or arms.  It also allows you to adjust darts and get a more tailored fit on a full or small bust.  We will be going over those in more detail over the next few days, but the big question is, 'How do I know if I need a SBA, FBA, or neither?'  First, you need to start out by measuring your bust!
MEASURING THE BUST
We are going to take 3 important measurements here, though the under bust is generally just used for bra sizing.  You want to wear a supportive, but NOT padded, bra while taking measurements. That being said, I do not recommend taking measurements over a minimizing bra or compressing sports bra.  Also, over a month or 2 your measurements can and will change!  If sewing garments, you will want to retake these measurements OFTEN.  When measuring, you want to pull your tape snug.
OVER BUST – This measurement is taken under your armpit, around your back, under your other armpit and then up OVER your bust.
FULL BUST – This is the measurement around the fullest part of your bust, keeping the tape parallel to the floor.  This will generally be across the nipples.
UNDER BUST – This measurement is around the rib cage right under your bust. You again want to keep your tape parallel to the floor.
CALCULATING SBA OR FBA
Take your FULL BUST – OVER BUST = ______.  For example, if your full bust is 42″ – over bust 38″ = 4″ difference.  The average size B cup has a 2″ difference, so if yours is more than .5 smaller or bigger then 2″ you most likely will need to do a bust adjustment on woven garments that are even semi-fitted.
Less than 1.5″ difference = SBA
1.5-2.5″ difference = Sew as is
More than 2.5″ difference = FBA
Many knit garments have enough stretch that they don't need to be altered much, which is why they are often favorites of those with bigger or smaller busts.  But, if you are making a woven garment, you can use the information above to determine whether you need to do a SBA or FBA to the bodice.   Stay tuned and join us over the next 4 days, as I will be showing how to do SBA and FBA on 4 different styles of patterns!
Don't forget to come back and check out the rest of our 'All About the Bust' series this week!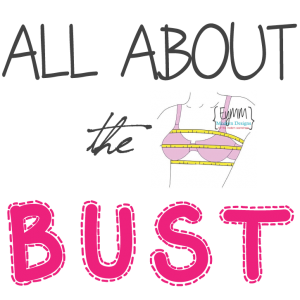 Measuring the Bust, Bra Sizing & Fit
Whether or not to do a Small or Full Bust Adjustment (SBA & FBA)
SBA & FBA for Princess Seam Garments
SBA & FBA for Traditional Side Dart Garments
SBA & FBA for Strapless & Halter Bodices
SBA & FBA for Knits