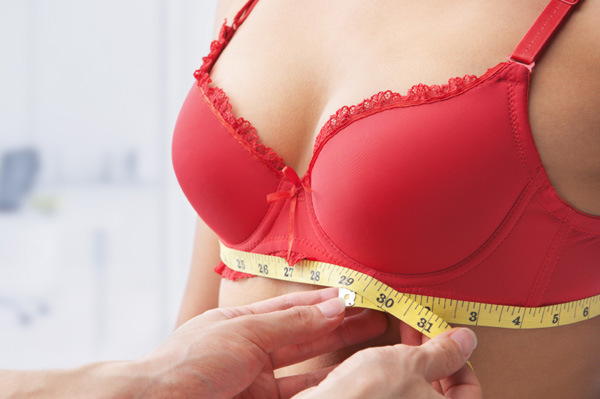 Not only is it important to wear the right size, but also the right TYPE of bra.  Approximately 80% of women are currently wearing the wrong size bra! A properly fitting bra will make your clothes fit better, hold your bust up higher and often times make you look 10lbs lighter.  It will also ease strain on your neck shoulders and back.  Also, in a properly sized cup, the underwire should fit comfortably.  I know many women who gave up on underwire bras because the wrong size will hurt, dig, and poke.
Breasts that are not properly supported in active or daily activity risk cooper ligament damage.  These ligaments are largely responsible for maintaining the shape and configuration of the breast.  This is why ladies who wear better bras, and wear them regularly, have higher younger looking breasts as they age.  This is also why ladies who wear poor support or no bras tend to give into gravity much faster.  And the sooner 'the ladies' head south, the sooner you will have an increase in back, neck, and shoulder pain.
Sports bras are for SPORTS! These bras are great for sports and active activities. Did you know that the sports bra is only 38 years old and the first prototype was created with 2 jock straps in the 70's? A nurse friend recently posted this interesting article on the history of the sports bra, which is a good read. It talks about some of the reasons why it's important to wear a good supportive bra. That being said, while sports bras are great for sportswear, it's important to have a properly fitting regular bra for everyday wear.
Not all brands are created equally, and neither are all styles.  For the most consistent fit with good support, no matter what shape or size, I recommend a molded cut t-shirt bra with an underwire.  The molded cup gives a small amount of lining without padding and offers additional support while helping your bust maintain a nice shape.  Styles like plunge and demi can cause huge variations in fit from brand to brand.  BUT using this math will give you a good place to start.  If you are larger then a DD, I recommend going to Nordstrom's to try on bras, they carry a large variety of larger cup sizes for all shapes and sizes.
2 very important facts that most women don't realize…
FIRST: Straps are NOT for support, 90% of your support should come from the band!  only 10% is from the straps. If your band is too big, you are placing all the support needs on the straps, which is not what they are intended for.  Therefore, your bust will hang lower than it should AND it will dig into your shoulders and cause back pain.
SECOND: Cup sizing does NOT stop at DD!  Most US stores are awful if you have a fuller bust.  If you are bigger than their DD, they bump you up a band size to 'make it work.'  The cup size may be similar and fit, BUT you are now giving up all the support from the properly fitting band!  While some stores like Nordstroms are starting to carry larger cup sizes,  I recommend staying away from places like Victoria's Secret.  While there MAY be some ladies who know what they are doing there, most do not.  Thanks to online sites that offer free returns and exchanges, we now have a lot more options and access to properly fitting bras.
MEASURING THE BUST
Okay enough about WHY, time to look at how to measure yourself to get an idea of where to start.
We are going to take 3 important measurements here! Two are used for determining your bra size, the 3rd is used for sewing/garment purposes.  You want to wear a supportive but NOT padded bra while taking measurements. That being said I do not recommend taking measurements over a minimizing bra or compressing sports bra.  Also, over a month or 2 your measurements can and will change!  If sewing garments, you will want to retake these measurements OFTEN.  When measuring, you want to pull your tape snug.
OVER BUST – This measurement is take under your armpit, around your back, under your other armpit and then up OVER your bust.
FULL BUST – This is the measurement around the fullest part of your bust, keeping the tape parallel to the floor.  This will generally be across the nipples.
UNDER BUST – This measurement is around the rib cage right under your bust, you again want to keep your tape parallel to the floor.
BRA SIZING
This of course can vary by brand and style, as well as breast shape, but this will give you a solid starting point! NOTE: The band size has nothing to do with how big or small your bust is!  It is based on how big around your rib cage is right below the bust.
BAND SIZE:  For the band you want to take your UNDER BUST measurement and round it up to a whole number, if not already. So if your under bust is 31.5″ you would round up to 32″.  An under bust of 32.5″ would round up to a 33″.  Once you have a whole number, you are going to round it UP to the next even number.  So both 32″ and 33″ would round up to 34″.  THIS IS YOUR BAND SIZE.
CUP SIZE:  For your cup size, you are going to take your FULL BUST minus your UNDER BUST.  So if your full bust is 39″ and your under bust is 33″ you would figure 39″-33″ = 6″.  So there is a 6″ difference between the 2.  This number, 6″ in this case, is the number you will use to get your cup size! Each 1″ difference equals one cup size.  Use the chart below to find your cup size.
With our example of a 33″ under bust and 39″ full bust, we would be looking at a 34F.
ETA: A note from an EYMM fan who is an experienced bra fitter.  For plus size ladies you may find that you need the band even tighter to hug the rib cage since there is a little more padding on the back.  In this case you may want to try a bra one band size smaller and one to two cup sizes bigger.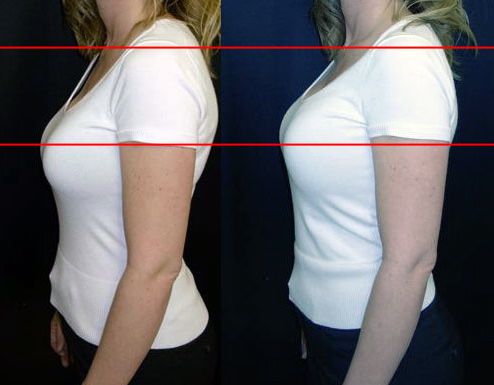 Now, are you one of those sizes past the magical DD 'cap' that you find in most bra sizing???  Don't panic and DON'T listen to bad advice to go up a band size.  Yes, a 34F cup is going to be about the same size/volume as a 36D cup (when you go up a band size you generally go down 2 cup sizes).  So, yes, when you put it on you can 'fit' into it.  That being said, your band is now too big which will cause poor support, pulling/digging straps, and underwires that dig and poke, as well as a lower (a.k.a. sagging) bust line.  You can alter some bands to fit but, I will be honest, it's a better idea to invest in a properly fitting bra instead!  It will change your world.  Yes, it sucks because they aren't always the cutest and there is less selection, but I promise it's worth it.  I order a lot of bras off Amazon (from them, not 3rd party sellers) and from Bare Necessities because they have great shipping, good selection on bras no matter how petite or tall you are, large or small cupped, and they offer free returns and exchanges.  You DO have to check the sizing though, some come in UK sizing, for which the cup size labels are very different.
Your back will appreciate it now and you will appreciate the slowed down effect of gravity later. 😉
A properly fitting bra should have the band level and low in the back.  It should be snug without cutting in.  The front will lay flat and there will be no overflow or gaping at the top of the cup. You should always buy your bras with the hook on the biggest setting. A brand new bra will be snug, the bands stretch out and you go down a hook as you wear them. If you buy a 'it fits super perfect right now' bra on one of the hooks farther in, in 3 weeks the band will be stretched out and it will be too loose :).
This video below is from the Nordstrom's website and is a great visual to help when sizing/fitting a bra.  They also have a great selection of bras in store.  I know that budget is often an issue I totally get it!  If you try them on in store then watch for sales online.  Bare Necessities often has 25-30% off coupons and free shipping which are great on clearanced colors of nice bras ;). You are better off having 1 or 2 bras that properly fit then 4-6 that cost less but don't fit properly.
One other option is many of my friends make their own bras.  I have tried and I just love my molded cups too much.   But if your interested I have heard amazing things about this craftsy class on bra making and it's even on sale right now!
Sewing Bras: Construction & Fit
with Beverly Johnson 
Are YOU wearing the right size bra?
Don't forget to come back and check out the rest of our 'All About the Bust' series this week!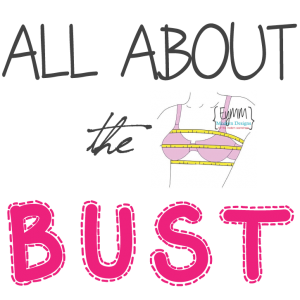 Measuring the Bust, Bra Sizing & Fit
Whether or not to do a Small or Full Bust Adjustment (SBA & FBA)
SBA & FBA for Princess Seam Garments
SBA & FBA for Traditional Side Dart Garments
SBA & FBA for Strapless & Halter Bodices
FBA for Knits