December has arrived and, with it, so begins the time crunch for finishing holiday sewing projects. Riley's Nightgown & Sleep Shirt is the perfect easy pajama pattern for your munchkins to get "All Tucked In for the Holidays."
Designed to feel like wearing dad's old shirt to bed, this raglan sleeve pattern is great for girls or boys. The two length options and two sleeve options provide a variety of choices to make just the right PJs for your kiddo. Over the next week, we're lucky to have 11 ladies showing off their versions of Riley's Nightgown & Sleep Shirt.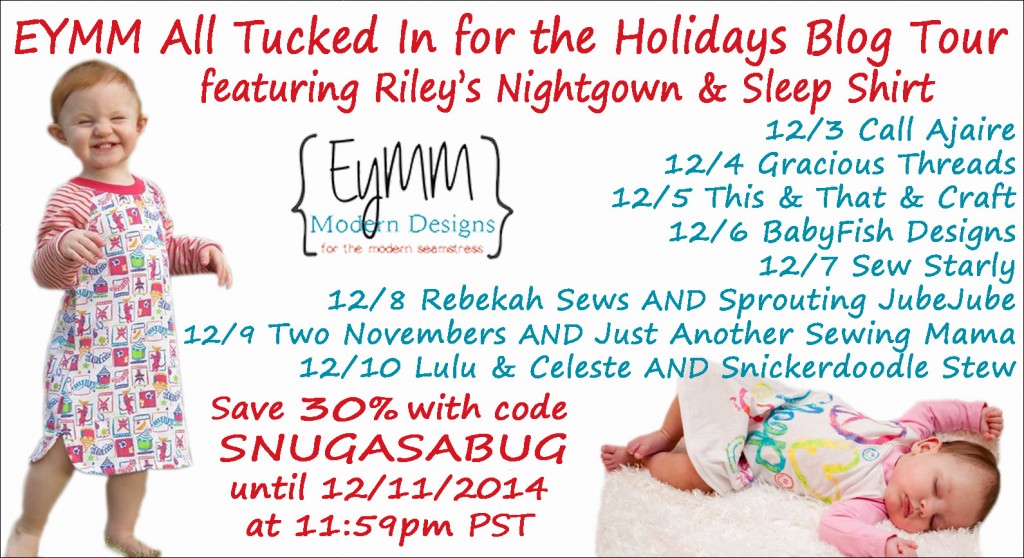 You can use the code SNUGASABUG to save 30% off your EYMM nightgown purchase until 11:59pm PST on Dec. 11. You can use it on Riley's Nightgown & Sleep Shirt (girl's sizes newborn to 18tween), Callie's Nightgown & Nightshirt (women's sizes xs-5x), or the bundle of both size ranges.
Here's this week's line-up for you to check out for some nightgown inspiration:
12/3 — Call Ajaire
12/4 — Gracious Threads
12/5 — This & That & Craft
12/6 — BabyFish Designs
12/7 — Sew Starly
12/8 — Rebekah Sews  AND  Sprouting JubeJube
12/9 — Two Novembers  AND  Just Another Sewing Mama
12/10 — Lulu & Celeste  AND  Snickerdoodle Stew
I can't wait to see what these ladies have in store for us!
Happy Sewing!!  ~  Joelle