I actually got the twins Easter dresses done nice & early for once. I bought this fabric last year but loved the dresses I made with the test fabric so I just used those & saved this. So after seeing that I didn't like what I was seeing in stores, even the Gymboree stuff, I got very excited to make these but I knew if I wanted them done I needed to start NOW. I LOVE the cobalt tulips on it, it is a different color palette then you normally find most Easter dresses (I'm not one for pastels) and it is dressy yet casual at the same time.  I can see them wearing them all spring & summer.  I love how they turned out, as do the girls. Now I just need to get more of the ribbon to make them headbands with flowers to match.
This is the 'Natalie's Dress' from YouCanMakeThis.com (save 15% now through March 11th with the code 'celebrate') I have to say I LOVE it, but as a warning like the other dresses I have made from her patterns I found it to run a tad small so I suggest making a tester first. My twins are slim & they can barely get their arms in them because of the shorter style bodices without plackets where the skirt meets the bodice. That being they go together fast & easy and I plan on making lots more of them. The 3 things I did different are:
1.) I gathered the skirt instead of hand pleating it… it was easier & I like the look better.
2.) Instead of doing fabric ties sewn into the side seams I made the dress & then found pretty 2″ ribbon to match… I sewed it on the front of the dress from side seam to side seam with stitching on the top & bottom edge of the ribbon which left ties on both sides. I used 1 yard of ribbon on each, but I think 1.5 would work better for longer ties/bigger bows.
3.) I found that there really isn't room for 2 buttons, so I just used one small pearly one instead.
Here is their mini-photo shoot… I will get better ones later when they are all decked out… and yes Baylie thinks shes a super model!
Baylie on the left, Carlie on the right!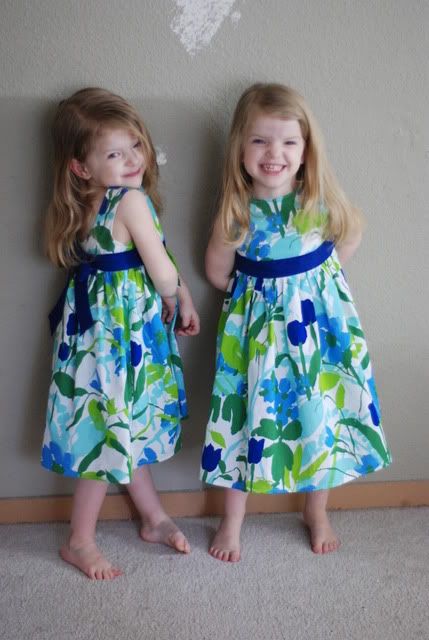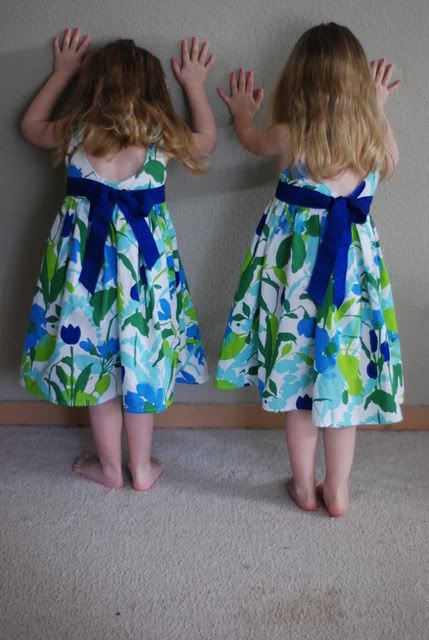 Carlie…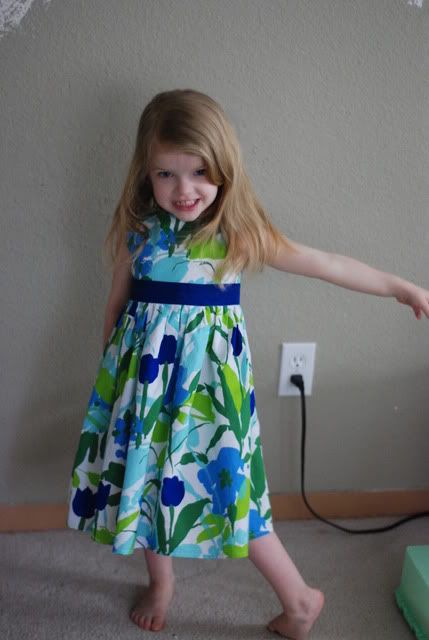 Baylie…