First off let me say that though I wish I did, I was not the one who came up with this awesome idea!  All the credit goes to Marzipan from Sewing Mamas.  Anyways I have purchased a couple different types of nice woven tags and have been very pleased with them, but no matter what type they are or how they are attached they always seem to itch!  I was reading on the Sewing Mamas forum one day & a mama who was having the same problem asked the question to which Marzipan came to the rescue!  These 100% cotton twill tape tags or clothing labels can be made and applied a few different ways.  They are soft, wash well and are durable… though the best part of course is the no itch/scratch part.  Also twill tape comes in a variety of sizes & colors from 1/4″ to 1 1/2″!
I know lots of mama's had lots of little questions, & after using them a few times & being very pleased I wanted to make a tutorial to share.
Twill Tape Tags & Clothing Labels
Supplies:
100% Cotton white or natural colored twill tape in various sizes that match up with your stamps
Picture & letter stamps to create your tags (make sure they fit the twill tape you have)
Ink Pad (I use just a plan craft ink pad, but you can use fabric ink/dye)
Scrap of paper
Measuring device
Scissors
Iron
Sewing machine or needle & thread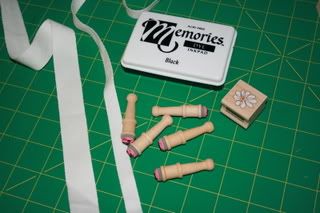 STEP 1:  On your scrap of paper stamp out the designs you want to use & measure how big they are…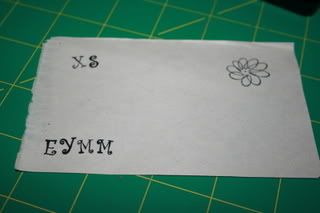 STEP 2: Cut your twill tape… if you are going to make the fold-over sew IN tags that you want to double the length of the design & add 1″.  Exp my 'EYMM' design is 1″ long double that & add 1″ so I cut 3″ peices of twill tape.  My 'XS' design it set the other way & only about .5″… double that & add 1″ I cut those at 2″ each.  Finally the sew ON tags… these you measure and add .25″… so my stamp is almost 1″ so I cut the tape at 1.25″  Remember this is a lot of trial & error!!!  Do what looks best with your stamp & particular size of twill tape!!!
STEP 3: For the fold over tags you want to fold in half & sew a 1/4″ seam allowance on the raw edge.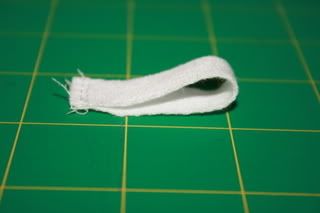 STEP 4: STAMP!!!  For fold over sew IN tags you want to start at the bottom & work your way up… for sew ON tags just stamp in the middle.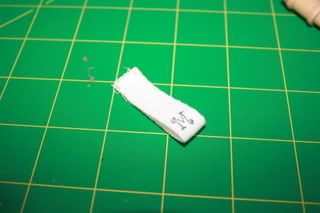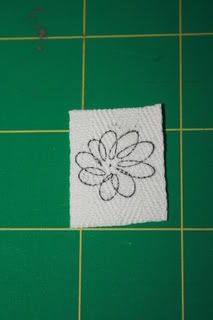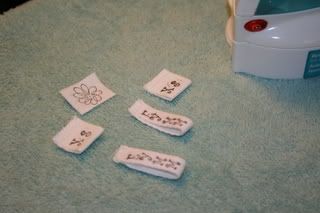 STEP 5: HEAT SET!  With your iron set on cotton gently mover your iron over your tags for 30-60 seconds.  You want them to get hot because this sets the ink into the fabric, aka staining it!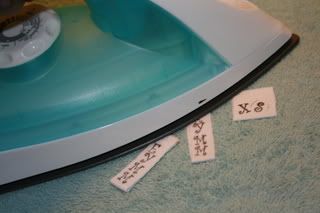 And your tags are DONE!!!!  Who would have thought it was so easy & inexpensive to make your own tags?
USING YOUR TAGS 🙂
For the fold over sew IN tags you do just that!  You can also sew in multiple tags for your label & then a size tag for example.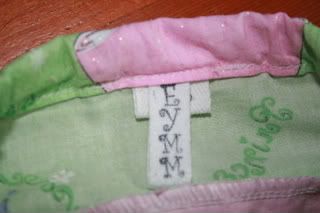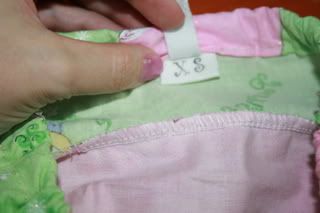 For sew ON tags you sew them on the exterior or interior of an item… simply sew them down with a 1/8″ seam all around the edge.  With these types of tags the raw edges will FRAY!  It is 100% cotton & there are only 2 things that can really help… either zigzag it on like an applique or you can use fray check which seals the ends BUT fray check will dry hard & make them itchy as well as it doesn't wash well.  Here are pictures of how to put these kind on!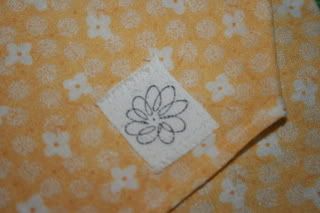 Finally this is a repeat picture but this is a picture of the first tags I made for the twins dresses… it has held up VERY well these dresses have been washed on warm with stain fighter & then machine dried at least 5 times.
I hope that this helps lots of mamas, aunties, friends & grandmas out there label their wonderful creations!