If you hadn't noticed, I do a lot of sewing for my oldest daughter. Her off-the-charts height for her age (she's now 5'11" and not even 12 years old yet!) makes it hard to buy age-appropriate clothing. Besides many of the styles being a bit too mature for her, many store-bought things just aren't long enough either! So when Carrie announced she was hosting the "Growing Up Handmade" blog tour over at Beri Bee Designs to celebrate sewing for tweens, I jumped in with both feet! I'm excited for all the inspiration in this tour … read all the way to the bottom to check out the other blog stops and enter the giveaways!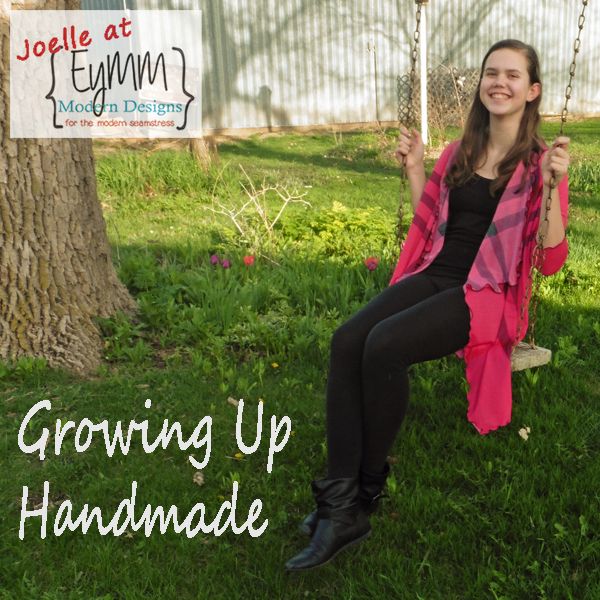 Besides needing clothes that fit well and are age-appropriate, my dear daughter has a running list of what she will and won't wear. She loves soft knit clothes and so EYMM patterns fit well in her wardrobe. Currently, she's on a leggings kick and loves her black 'Get Moving' Leggings the most. I think I'm going to make her another pair because she wears these every time they're clean … sometimes twice a week! Wearing leggings so often, though, means that she also "needs" an abundance of tunic-length tops, since she prefers her rear end be covered in tight pants.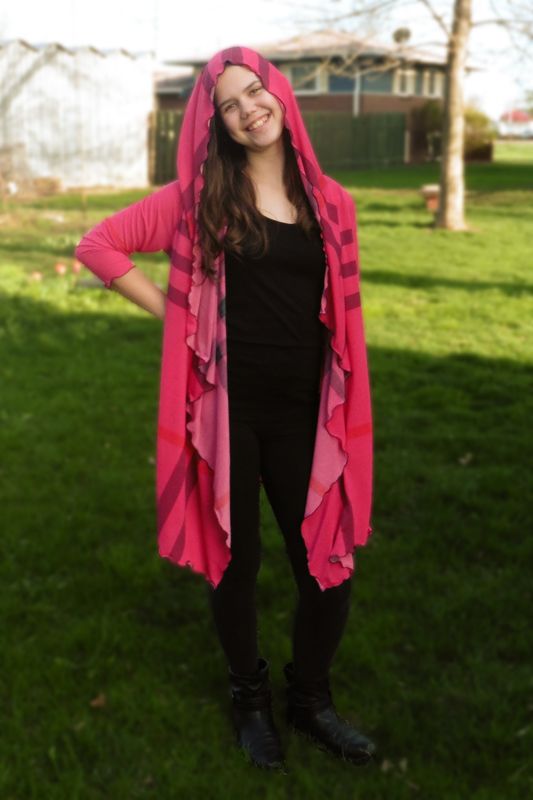 I picked up this hot pink and black large plaid ITY fabric from So Sew English a while back, hoping it would meet the coolness factor needed to make it into my girl's wardrobe. She approved it and then we took a look through my patterns. She's been begging for another cardigan for a while now, so I figured now was the perfect time to make her a new Four Seasons Cardigan.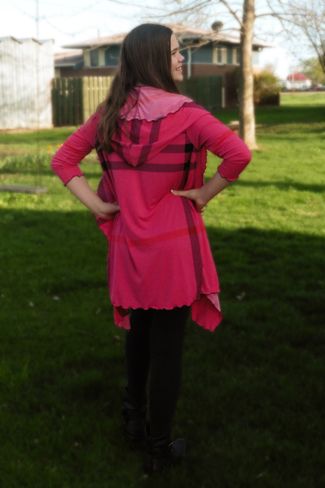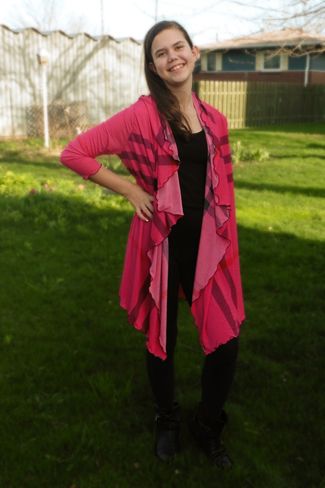 Rather than adding length to compensate for her height, I decided to just make the Duster version of the Four Seasons pattern and let the hem fall where it would on her tall frame. It worked out perfectly, since she wanted the back to be just past her butt. She chose the 3/4 sleeve length because "long sleeves are just annoying." Hahaha!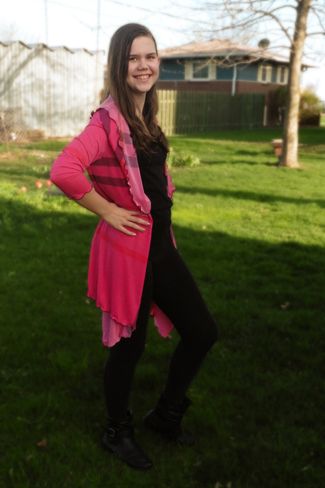 I'm thankful that she likes the ruffley "lettuce edge" look of a rolled hem on my serger so that I didn't have to fold over all the edges for a traditional hem around the hood, down the fronts, and across the bottom of the cardi! That definitely makes the Four Seasons a much faster sew! I sat down at my machines at 4:45 and was done by 5:30!! (Note: I printed, taped, and cut the pattern and fabric the night before after small children were tucked in bed and not around since it took most of my living room floor, lol.)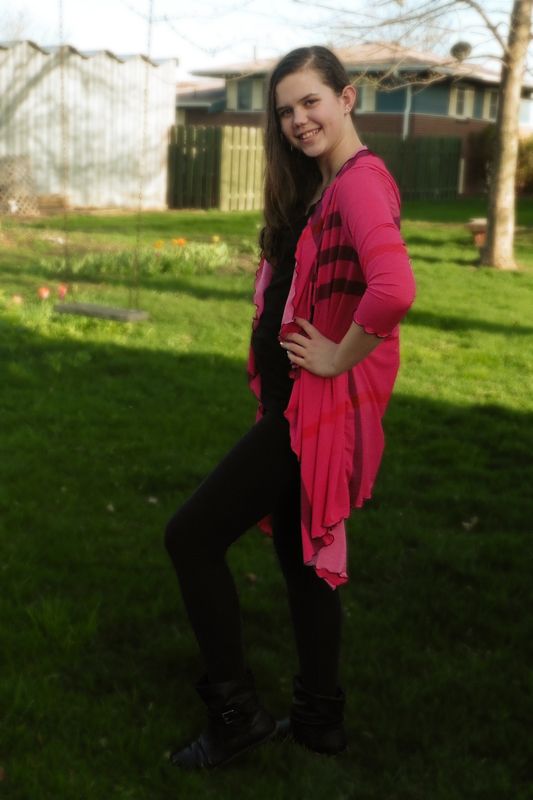 I'm in love with how the Four Seasons Duster fits her and the bright pink is so youthful against her beloved black 'Get Moving' Leggings. It strikes the perfect balance between meeting her too-cool tween standards without being too mature for my liking! If I can just figure out how get her to stop growing so fast! At least she still enjoys wearing handmade clothing (she even tells her friends sometimes!), so it's totally worth the additional forethought on my end to be sure what I sew will get worn often. 😉
Ready to see some more "Growing Up Handmade" inspiration? Go check out all the other stops on the blog tour!
Monday – April 17th
Handmade Boy | Paisley Roots | Cucicucicoo: Eco Sewing & Crafting
Tuesday – April 18th
Beri Bee Designs | Phat Quarters | Sewing By Ti | Sew and Tell Project
Wednesday – April 19th
The Wholesome Mama | Rebel & Malice | Vicky Myers Creations