I love the Women's Asymmetrical Drape Top and have kinda missed wearing it since I've started wearing my 'Get Moving' Leggings more often. So this week, I decided to add enough length to properly cover my butt so I could comfortably wear it with my leggings!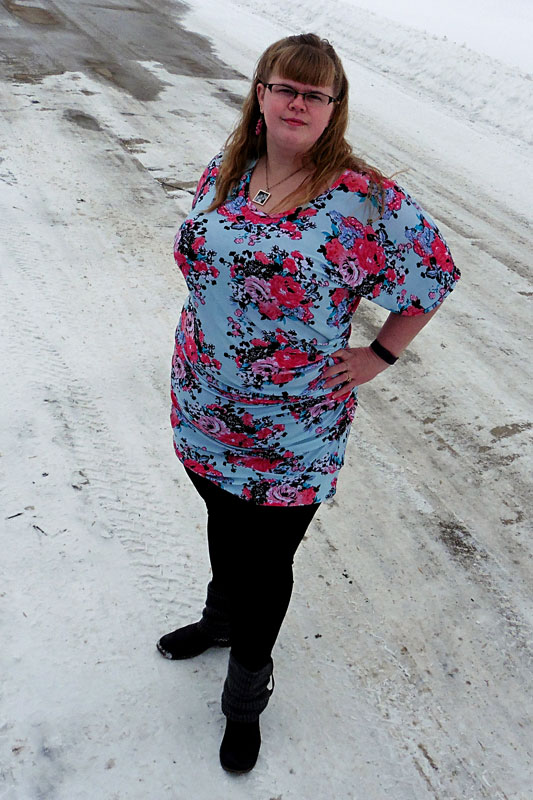 To make the Asymmetrical Drape Top into a tunic, I first cut the body of my pattern and spread it apart to add length. I made my cut parallel to the stretch arrow marking and about 2 inches above the highest point of the bottom hem. I brought the bottom hem down 6 inches, taped paper into the opening to fill it in and hold the two pieces together, and used my new pattern piece to cut out my tunic. Then I constructed the shirt according to the pattern instructions.
Once I tried it on, I realized that without the bottom band sitting on my hips, my top was hanging straight rather than scrunching up like it's meant to be worn. To resolve this issue, I cut a couple of pieces of clear elastic to sew into the side seams and ruche it up. For the size 2x, I cut an 11 inch piece for the longer side seam and a 6 inch piece for the shorter side seam. I pinned the top of the elastic just below the sleeve curve and stretched it tightly while sewing it to the seam allowance on each side. Once I let go, the elastic retracted and ruched up the side seams so my tunic looked more like the Asymmetrical Drape Top pattern intends (and, bonus, the resulting wrinkles are great for helping camouflage my tummy rolls).
I love this tunic so much that I'm planing to make a couple more! It goes so well with my leggings and if I want to wear it with jeans, I can just pull the band up higher so it sits at shirt length!
Happy Sewing!!  ~  Joelle