I am excited to announce that I made this Kymy's Dolman Top from cutting to hemming in just under 30 minutes this morning!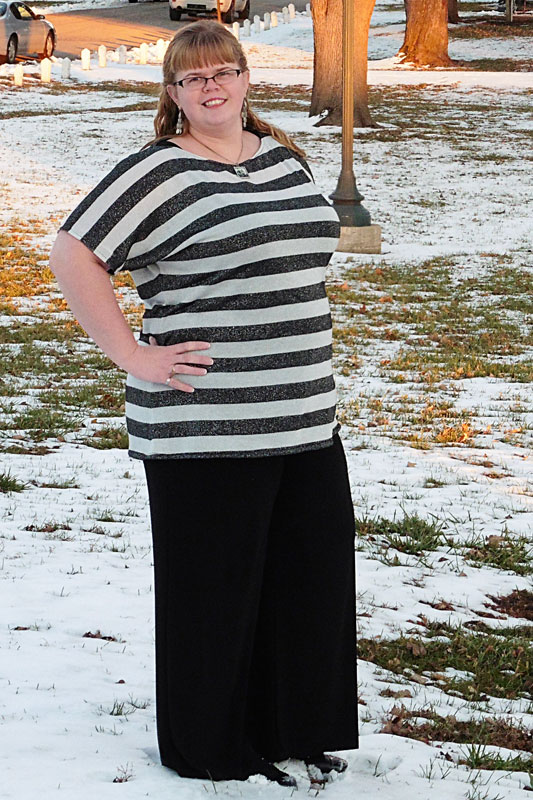 See, I had a holiday party luncheon to attend today and, as I was getting dressed, I was wishing I'd been able to sew last night rather than holding a feverish toddler. I had planned to make this gorgeous sparkly sweater knit into a Kymy's Dolman Top to wear today.
While mixing up my dish for the pot luck, I got to wondering how fast I could whip my shirt together. My casserole had to bake for 1 hour, but by the time I finished the dishes (cause there were no clean plates for my hubby and little boys to use for lunch while I was gone) I only had 30 minutes left before walking out the door.
I grabbed my View D/E pattern pieces (I sewed E), fabric, and rotary cutter and mat. Despite the toddler trying to drive his car on my mat, I quickly cut out my fabric … yay for integrated sleeves and only 2 pattern pieces! I hemmed the neckline, serged the shoulder and side seams, and hemmed the sleeves and bottom. I finished just as the oven timer beeped, pulled my dolman over my head as I walked to the kitchen, grabbed my dish from the oven, and made it to my party on time! Yeah!
 I love how quickly Kymy's Dolman comes together and how fabric choice can make it appropriate for almost any occasion. I scored this lightweight sparkly sweater knit while in Florida for Thanksgiving for only $2.50 per yard at Walmart. I bought enough to make a Kymy's Dolman Top for my best friend (her's has the View D ruching), a top for me, and I have some left over that I think I'll stash away for next winter!
Happy Sewing!!  ~  Joelle