A few months ago, I was asked if I would like to participate in a fun mommy MAKEover blog tour.  The goal of the tour is to MAKEover our 'Momiform' with some new handmade clothing items.  I will be honest, I don't have nearly as much time to sew as I would like and, because of that, I rarely sew for ME.  If you are in the EYMM Facebook group, you are probably aware that I have lost nearly 27 pounds in the last 4.5 months by eating better and getting active.  I still have another 15-20 pounds to go but, with fall arriving, none of my old cooler weather clothes are fitting, and honestly, even if they did, they aren't generally stuff I want to wear, lol.  So I decide to sign Joelle and I up to do something nice for ourselves ;).
Kymy's Momiform MAKEover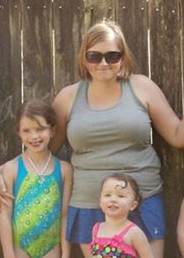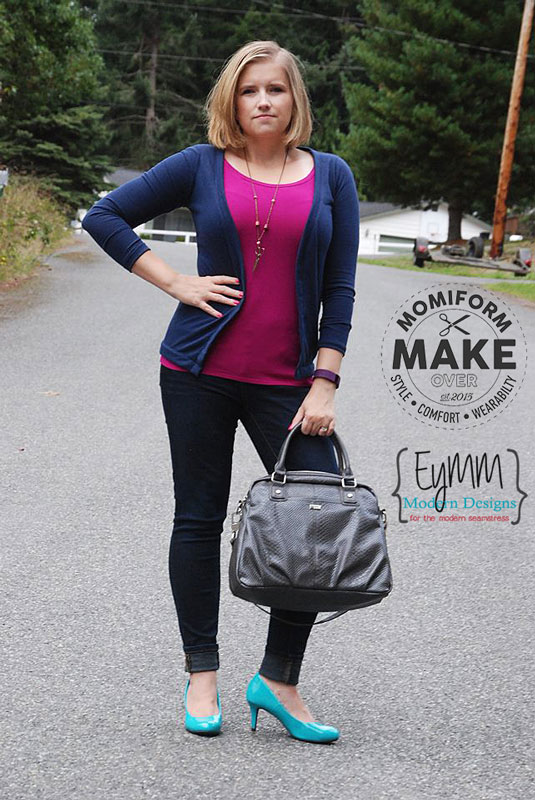 I have always carried extra weight in my tummy.  I am an apple shape with a very large bust and all extra weight goes straight to my tummy and, over the years, I have learned how to hide it with loose t-shirts and my husbands 2XL hoodies, which are way to big for me.  Not only was I hiding my tummy, but I think I was hiding part of me.  Hiding behind the baggy clothes (which made me look even heavier), the kids, the busy schedule.  But you know what?  All that hiding and it didn't make me feel any better.  I am not doing any special diets, taking pills, patches, shakes or wraps, I am just watching my portions and working on keeping a nicely healthy and balanced diet and significantly changed my activity habits.  I still have my cake and eat it too, I just eat a smaller piece and make sure I balance out my eating the rest of the day ;).    I also reached out to a mutual friend and started doing her Tabata Bootcamp class twice a week.  Other than that, the biggest help to changing my habits has been my FitBit.
I started with a FitBit Flex for the first 3 months.  The app has a food log that tracks and compares my calories in versus calories out and tells you how many calories to eat to lose different amounts of weight based off your actual activity levels.  It tracks sleeping, steps, and you add in your work outs as well.  I did challenges with my friends, but the main thing is that it just made me aware of how much I was moving!  I would notice 'I am 500 steps away from 8,000' and I would decide to go do some chores or go for a walk instead of sitting down to watch TV.
As I started creeping up from 2,500-5,000 steps a day to 5,000-8,000 I found I was starting to enjoy working out more and I kept pushing my self a little more.  In August I upgraded to the FitBit Charge HR and I seriously LOVE it.  Is it perfect?  No, but it is a great guide and tool.  The heart rate feature has made a big difference in my working out and training.  I plateaued for a while and when I got the Charge HR I realized that some of my work outs were more calories then the generic ones and others less.  So, in turn, I was actually under eating by more than 800 calories a week, which is bad for your body because it starts storing fat.  It helped me to adjust what I was doing, which meant eating a little more each day, and I have once again started losing weight.
I have lost 26.9 pounds in 4.5 months.  While the weightloss is nice, the inches lost is a MUCH bigger deal.  I lost 12″ off my waist alone!  The bigger deal is that my waist to hip ratio has went from .98 which is a VERY high risk of type two diabetes and heart disease to .74 which is NO additional risk!  That is a HUGE deal.  I am feeling MUCH better, I am stronger, and my autoimmune disorder and fibromyalgia are both much more manageable.   The biggest thing of all though is that I can keep up with my kids … and they actually get tired before I do!  They are my everything, BUT I have to remember that having healthy, happy kids means they need a healthy, happy mom ;).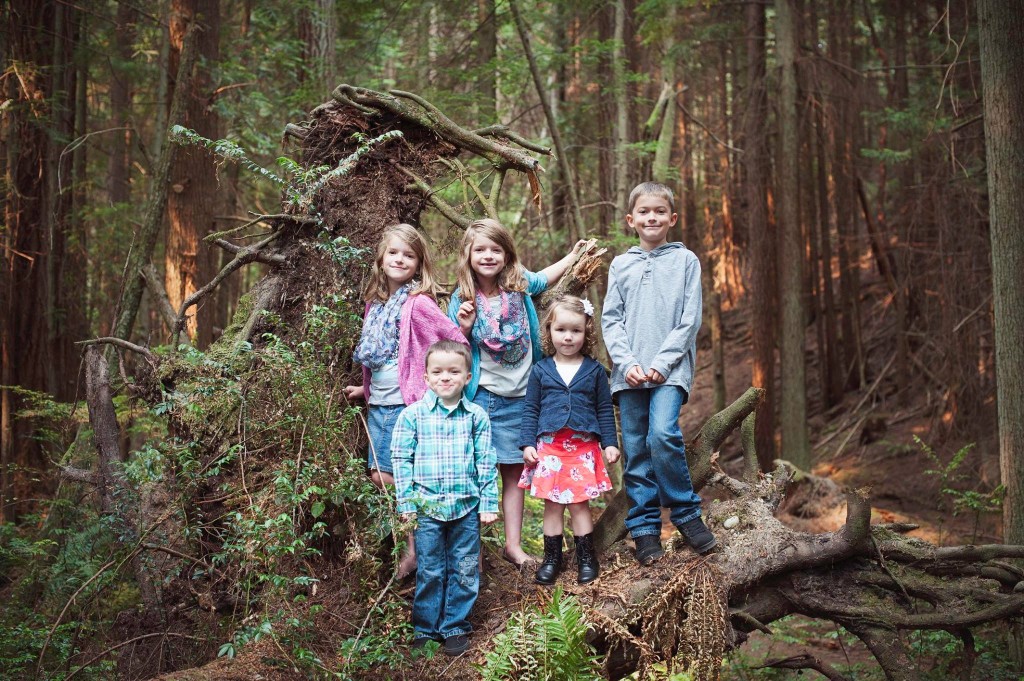 Getting stronger on the outside has made me stronger on the inside!  I don't want to hide in the frumpy, camouflaging clothes anymore.  This summer, I lived in my activewear.  When taking my 5 kids school clothes shopping, though, I decided mom deserves new clothes too!  The only problem was, even though I am much smaller, I still have plenty of fit issues … so it's time to sew something for ME.
This is one of my typical outfits this summer.   It's better then the jeans and crazy big sweatshirts of my past Momiform but, with school starting, I wanted something a little more fun.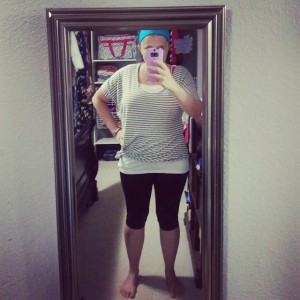 So for my Momiform MAKEover I made myself 3 new shirts, a cardigan, and a pair of leggings. I have a few other pieces that I started but need to alter and will have to share with you later when they are finished. I cheated and didn't make any 'real' pants, but I will tell you why.  I have shrunk a lot and I am still shrinking.  Pants take time to make and are something you want to wear a lot.  When I am only in a size for 3-6 weeks, it's just too much time and money, especially when I can get used and sale jeans for $12 or less a pair ;).  So I got two cute new pairs of skinny jeans on sale cheap and am just making them work for right now!
Outfit #1 was the first idea I had when I heard about this.  I wanted something that was simple but could be dressed up a little more.  I paired my new skinny jeans with the turquoise pumps my 4 year old found on clearance for $7 at Payless Shoes, the new purse I earned from hosting a Thirty One party with my awesome consultant Rachel, and my favorite scissor necklace I got off Etsy years ago.  And of course my favorite accessory, my FitBit Charge HR that is a big part of the reason why I am needing to sew myself some new clothes in the first place!  The MAKEover part of this outfit is the top and cardigan.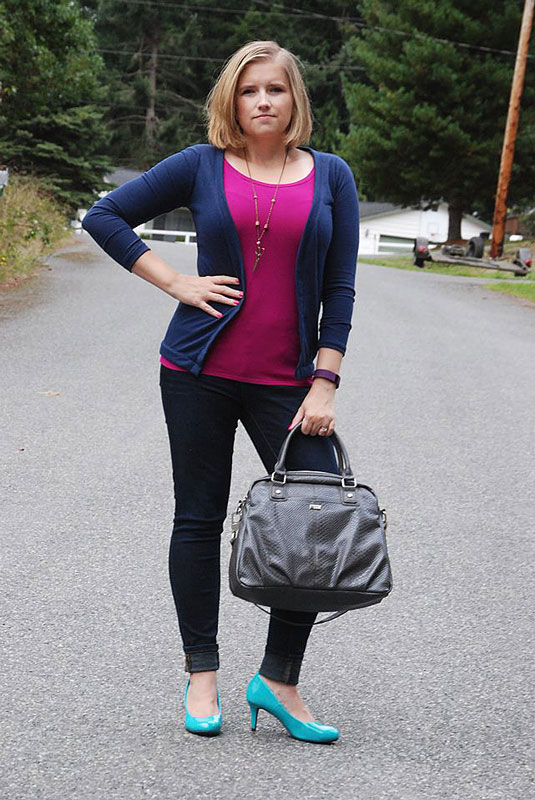 I am still adjusting to my new size. The free
Perfect Fitted Cap Sleeve Tee
 from iCandy in a size medium using 4 way stretch cotton lycra jersey I scored at a yard sale and fits well.  The downside is it only comes in one size though it would fit a size small too, but it is a great basic fitted top that is perfect for layering!  Here in western Washington we build our wardrobes around layers.  The cardigan was supposed to be the same size and is the free
Knit Boyfriend Cardigan
also from iCandy. It too comes in only one size, medium I added length when I cut out the pattern pieces, but quickly discovered it was running really small for a medium even though I used a nice stretchy french terry knit I got from
Girl Charlee
.  I had to alter it a LOT, I think it would better fit a size XS or S.  I do love the finished look, but it is still a bit small.  The good thing is that I am still shrinking so hopefully it will fit better soon.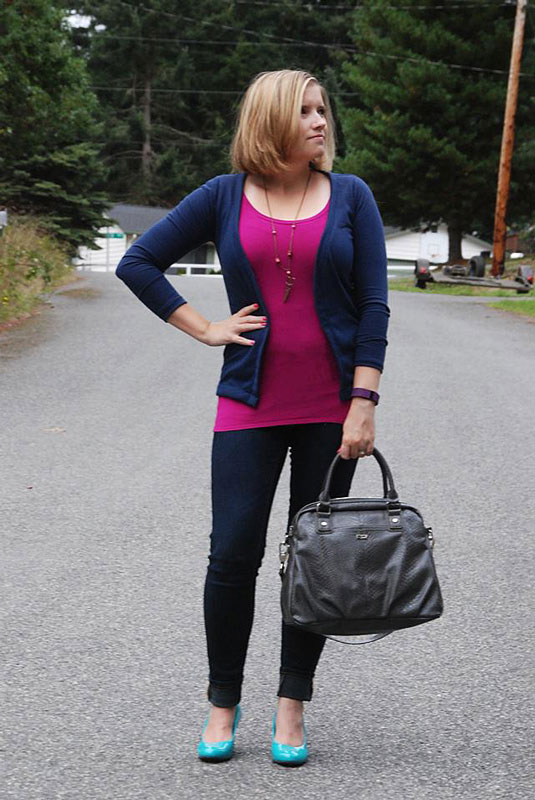 Next up in my new alternative to the simple t-shirt or lightweight hoodie, a trendy open neck raglan!  This slightly over sized raglan, has a wide neck and loose fit, and it is a new pattern in the works for EYMM.  It is based of a lot of the trends I have seen in graphic shirts the last few months.  I left the neckline unfinished, but it will include a finished version.  This is the 3/4 sleeve, but it will have long sleeves as well as an optional hi/low hem.  I used a lightweight french terry I got on our road trip last summer, and I can't wait to make more!  I paired it again with my favorite necklace and Fitbit.  Since it's an over sized style I tucked in into my skin jeans at the front just slightly, cuffed my jeans and tossed on my favorite magenta Converse!  For such a simple, fast and comfortable outfit I get a ton of compliments.  It is practical for everyday wear yet makes me feel a little more put together and confident!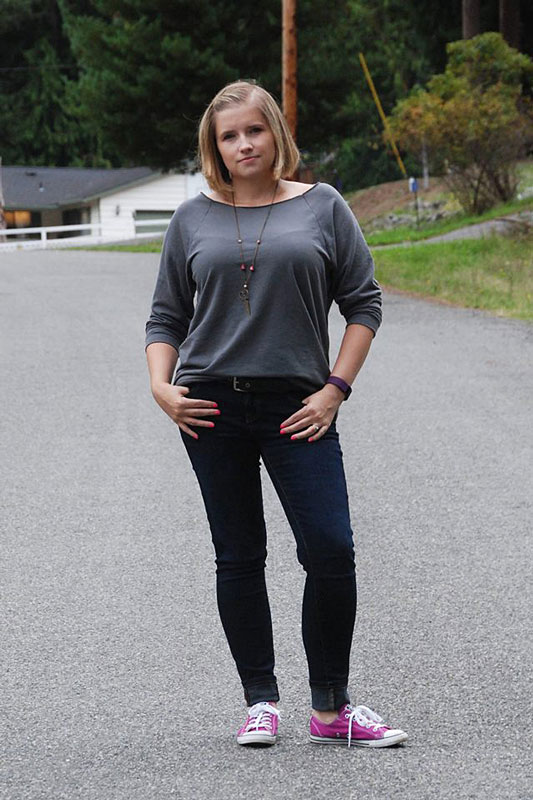 The last outfit I finished was something new to work out in.  Honestly in a very short time I have grown to love it!  As I have shrunken my bootcamp trainer and friend Patty has asked why I always wore such over sized tank tops.  Now they were less baggy when I started and she could see my shape when I moved around, but as I lost weight she couldn't anymore.  I finally came in one day in a fitted tank top and she was shocked.  Not that I had a different type of top, but she saw for the first time just how much my body had changed!
I got this amazing cotton lycra fabric from a Riki Custom Print Knit Fabrics on Facebook and fell IN LOVE.  When it arrived I wanted something for me so I decided to make the EYMM Everyday Essentials Cami as a regular tank.  This is the full cup version and it actually covers my J cup boobs and bra! It is practical for working out, but makes me feminine and confident at the same time.  I paired it with a boring new pair of the EYMM Get Moving Leggings because all of my mediums are now to big to run in and I needed some size small.  Honestly though, can you really have too many pairs of black leggings?  And one last time, you can't forget the Fitbit!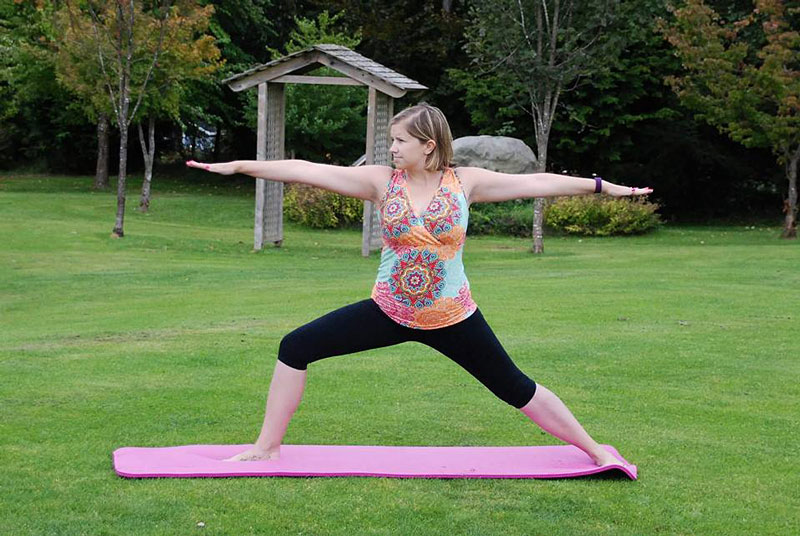 Joelle's Momiform MAKEover
So, if you follow the EYMM blog at all, you are probably wondering right now why in the world I would need to take part in the Momiform MAKEover Blog Tour. I sew for myself almost weekly and try to pick things that flatter in colors I love so I feel good wearing them. In fact, when Kymy told me she had signed us both up for the tour, she finished by tellng me, "I think it will be fun for both of us to do one post … though it's hard since you dress fabulous in handmade all the time! LOL"
Um … I didn't correct her at the time, but I have a confession to make. I have this terrible habit of "saving" my handmade clothes for when I go out and about, so I can *ahem* "show off" the awesomeness to other people.
Because of this, I'm really good about not leaving the house wearing lounge wear. I generally swap out my yoga pants for jeans and throw on a handmade top before going out the door. I'm lucky enough to be able to stay home with my small children and I have this awesome online job as part of EYMM, which encourages me to sew and write about it (my two passions combined!). Yet, 75% of the time, I'm walking around the house in too-tight RTW yoga pants and stained tops, looking something like this:
Don't think it's that bad? The photos really hide some of the yuckiness and simply don't do the awfulness much justice … here, let me show you what I mean:
And that doesn't even point out the 2-3 inch rip in the crotch! Haha! My poor husband has to come home to that mess almost every day (tho he probably doesn't mind the rip as much as the stains and poor fit, LOL). So I thought that maybe I should focus on making some nicer looking clothes to wear around the house, which leads us to my first look.
I made a pair of Patterns for Pirates Straight Palazzo Pants from sweatshirt fleece. They don't drape as well as the pattern intends, but they are so nice and cozy that I'll now reach for them more often than my icky RTW lounge pants. The only change I made was to add front patch pockets, so I'd have somewhere to stash my phone to keep it out of the toddler's hands.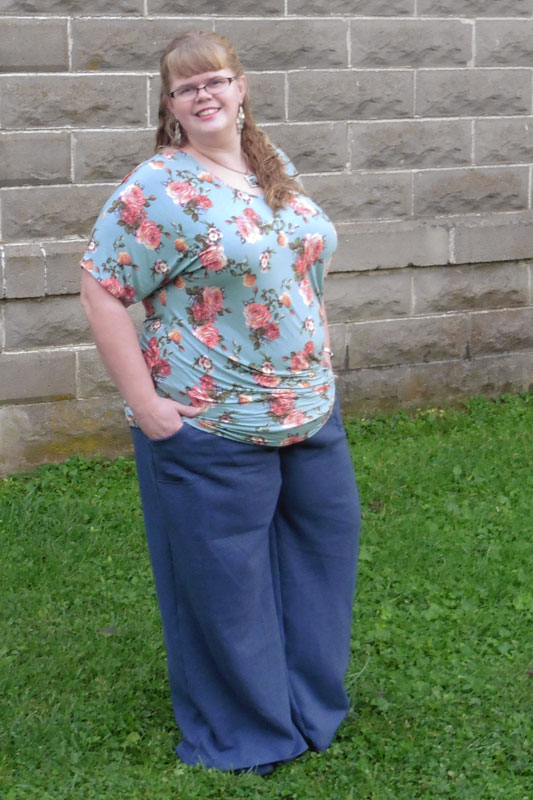 To balance out the fullness of the pants, I reached for one of my favorite EYMM patterns. I made this Asymmetrical Drape Top from a slinky, lightweight spandex jersey blend. It is super soft and the floral pattern is pretty on trend. I love how it clings in all the right places, but the gathers hide that post-5-baby tummy.
My second look is just as comfortable as my first, but is a bit dressier looking.
I normally fall in the "leggings are not real pants" camp, but thought I'd put together a leggings-based outfit since they seem to be the style this fall. After debating which top pattern would safely cover my derrière while still being appropriate for fall, I thought why not wear layers?
I first made a California Dress since it is my absolute favorite dress pattern and always makes me feel fabulous. To make it tunic length, I cut my hem about 3 inches shorter than the "above knee" length included in the pattern. Then, to cover my arms for fall weather, I got out my Candy Castle Patterns Citron Twist Shrug pattern and lengthened the sleeves to end at my elbow (which, besides being warmer for chilly weather, is more flattering on my large upper arms anyway). The bonus of wearing this shrug is that it pulls the dress in under my bust and eliminates the need to wear a belt in order to shape my waist.
I was running short on time, so for pictures I used my "knee capri" length 'Get Moving' Leggings that I made to go with my lace yoke hack Kymy's Dolman a couple weeks ago. I've got my eye on some wet look spandex in JoAnn's performance fabrics section to make a leather-look, ankle-length pair for fall!
My new outfit will be perfect for days when I have things to go out and do (like pre-school pick-up, shopping, or buying more fabric) but still want to be super comfortable.
I'm going to have to focus on changing my save-the-handmade-to-show-off mindset so that these and the many more handmade outfits in my closet get worn more regularly and my hubby can enjoy a better-dressed wife, even on days when I don't leave the house. Heck, maybe I'll even throw on a little lipstick before he gets home! Haha!
Happy Sewing!!  ~  Joelle
REMEMBER:
Scroll to the bottom of this post to enter the two separate Rafflecopters! 50+ winners will be selected!

Get 10% off your fabric order from now through October 1 at Michael Levine/LowPriceFabric.com with code: Makeover10
Get 20% off your pattern order now through October 1 at UpCraft Club with code: MOMIFORM

Are you MAKE-ing over your Momiform? Join the fun on Instagram with hashtag #momiformmakeover
---
Be sure to check out all the awesome series participants to get lots of momiform inspiration!
Reyna Lay Designs | Call Ajaire | Golden Rippy | Love Notions
Sew Not Perfect | Scientific Seamstress | Rebel & Malice
Creative Counselor | Mabey She Made It | If Only They Would Nap | Boy, Oh Boy, Oh Boy Crafts
Shaffer Sisters | FABulous Home Sewn | Fa Sew La | Baste + Gather
Lulu & Celeste | Swoodson Says | Phat Quarters | Hey June
Climbing the Willow | Everything Your Mama Made & More | Näh-Connection | 110 Creations
A Jennuine Life | Straight Stitch Designs | Sew Straight & Gather | KZJO'STUDIO
Wild & Wanderful | Mae & K | Handmade Frenzy | HattieLu Handmade
---

Sponsors
Special thanks to these major sponsors who generously donated the following items for the giveaway:
(There will a different winner for each line item so we can spread the love around!)
Janome – One Skyline S5 Sewing Machine*
Indiesew – Four $50 gift certificates (four separate winners)
Michael Levine / Low Price Fabric – Four $25 gift certificates (four separate winners) and 10% discount for readers through October 1 – code: Makeover10
UpCraft Club – Two $25 gift certificates (two separate winners) and 20% discount on patterns through October 1 – code: MOMIFORM
And the following pattern designers who graciously provided patterns for the series participants and/or contributed the following items for the giveaway:
Grainline Studio – Two patterns of your choice
True Bias – Hudson Pants & Southport Dress patterns
Colette -Two patterns of your choice
Closet Case Files -Two patterns of your choice
Sew Much Ado -Two patterns of your choice
Sew Straight & Gather – Three patterns of your choice
Golden Rippy – Two patterns of your choice
110 Creations: A Sewist's Notebook
Patterns for Pirates – Two patterns of your choice
Itch to Stitch – Two patterns of your choice
Mouse House Creations – Two patterns of your choice
Hey June Handmade -Two patterns of your choice
Peekaboo Pattern Shop – Three patterns of your choice
Go-to Patterns – One women's pattern of your choice
GreenStyleCreations -Two patterns of your choice
Puperita – One pattern of your choice
Sofilantjes – Two patterns of your choice
Charlotte Kan – One pattern of your choice
So Sew Easy – Two patterns or one bundle of your choice
OUSM Designs – Women's Thumbs-Up Tee pattern
E-Beth Designs – Two patterns of your choice
Muffin Head Patterns – Any pattern of your choice up to $10
GrayDay Patterns – Sandpoint Top or Athena Top pattern (your choice)
Scientific Seamstress – One pattern of your choice
Stitch Upon a Time – $20 gift card
5 out of 4 – Two patterns of your choice
Frianki Patterns – Two patterns of your choice
KZ Jo Studio – Two patterns of your choice
Straight Stitch Designs – Full collection of patterns
Sewing Patterns by Aivilo Charlotte – Two patterns of your choice
Striped Swallow Designs – Two patterns of your choice
Rose and Lee Designs – Two patterns of your choice
Sewing Geek Patterns – One pattern of your choice
Filles a Maman – One pattern of your choice
Bella Sunshine Designs – One pattern of your choice
Liola Designs – One pattern of your choice
Cali Faye Collection – One pattern of your choice
Tinman Patterns – Orbit Skirt pattern
Felicity Sewing Patterns – Two patterns of your choice
Winter Wear Designs – Two patterns of your choice
Ellie Inspired – Three patterns of your choice
Love Notions – One pattern of your choice
a Sparkly Baby – Two patterns of your choice
Terra's Treasures Designs – Two patterns of your choice
*Janome giveaway winner must be located in U.S.A. and is therefore on a separate Rafflecopter below. Machine must be picked up at a local dealer; it cannot be shipped.
This second Rafflecopter includes all the other sponsor items since they can be awarded internationally! You must enter both Rafflecopters in order to be entered to win both the sewing machine and the rest of the giveaway items. All patterns awarded will be in PDF format. Enjoy!