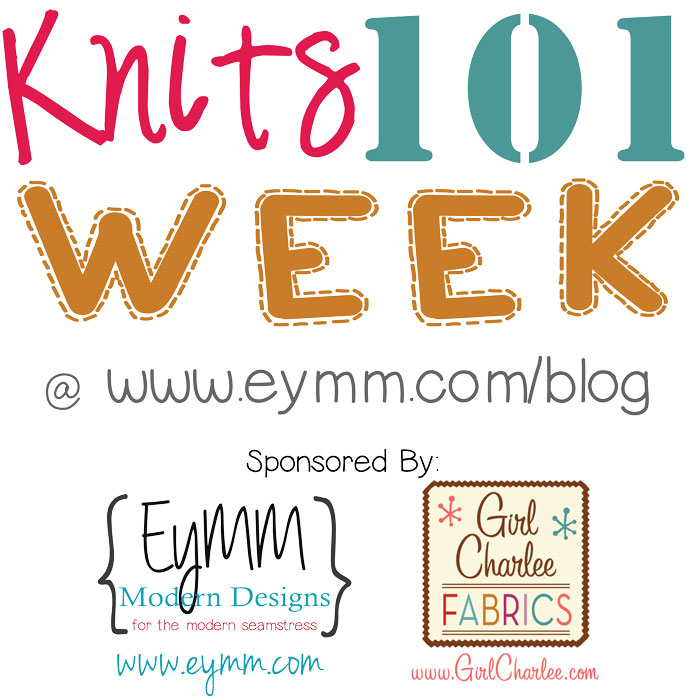 Being that most of the EYMM patterns are designed specifically for knits, one of the most common questions I get is 'Where do you find your knits?'  I answer that I purchase some locally, but, since I live nowhere near a fashion district, I do 90% of my fabric shopping online. I then get asked 'How do you know what you're buying?'  Also, when I tell people that I love and recommend Girl Charlee, some who have ordered in the past are cautious because they have purchased fabric that was not what they were expecting.
So, I am excited to announce the Knits 101 mini series!  Over the next week I will be sharing information about the different types of knits, weight, stretch, recovery and more.  I will also share tips for sewing with knits and talk about various machines that can be used.  While I will be sharing a lot of links to the Girl Charlee site, I will also be linking to many other stores and sites that I shop at online.
I am really looking forward sharing all this information with my readers, so I reached out to Girl Charlee and they offered to give away one of their extremely popular (and very hard to get!) April KnitFix bags!  I have gotten bags the last 2 months and have been very pleased with what I have gotten!
The best part? If you don't love one or two of them, they have a Facebook group where you can buy, sell, and trade KnitFix fabrics!  The KnitFix goes on sale on the second Tuesday of the month at 9am PST which is 4/14 for April so set your alarms. Inventory is limited and they rarely stay in stock for a full day! $69.00 plus shipping for six 2-yard cuts (12 yards total) … it's no wonder they sell out fast!
I personally love it because, while I consider myself pretty experienced with knits, I have tried new types of knits and different prints since joining and fallen in love!  Even the lighter weight knits are great for many of the clothing patterns from EYMM. 😉  If you don't already have an account, I do recommend signing up for a free account HERE to make check out faster.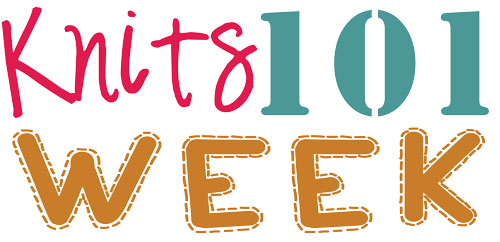 We will come back and include links as each day's topic is posted, here is a quick summary of topics we will be covering.

Day 1 ~ Knit 101 mini series intro (that's today, right here 😉 ).
Day 2 ~ Different types of knits and how to tell them apart.
Day 3 ~ Content & common blends of knits and what they are well suited for.
Day 4 ~ Fabric weight, knowing the fabric blend combined with the weight makes it easier to shop online.
Day 5 ~ Stretch and Recovery, different percentage blends, and 2-way versus 4-way stretch & FREE printable stretch guides.
Day 6 ~ Needles, thread, and machines!  what you need and what they are used for.
Day 7 ~ Knit Series Round Up, Winners & Knit Tips
On to the fun part … the giveaway!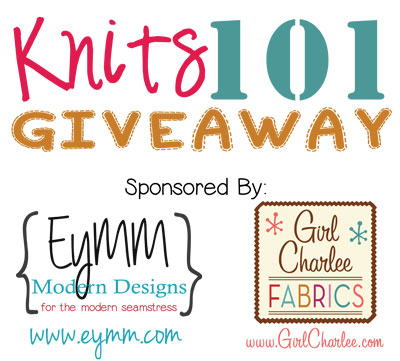 With all this talk about knit fabric and knit patterns why not have a little giveaway! To enter the giveaway see the Rafflecopter tool at the bottom of this post. You may complete as many or as few as you would like. The more entries the better your odds are to win. Prizes are provided by EYMM and Girl Charlee. The KnitFix prize is open to the US entries only. The digital pattern prizes are open internationally. Contest ends at 11:59 PM PDT on 4/13/2015.  No purchase necessary, many will enter only a few will win.

1 Grand Prize Winner will receive an April KnitFix from www.GirlCharlee.com ($69 Value)


1 Winner will receive a 5 pattern Build Your Bundle from www.EYMM.com ($49.75 Value)
3 Winners will receive a $15 Gift Card to www.EYMM.com
Thanks to all those who entered, but only 5 can win ;).  The winner of the Knit Fix is Christina B., the winner of the 5 pattern Bundle is Wendy M., and Cassie M., Sarah M. & Sarah S. will each receive a $15 EYMM Gift Card!
Don't forget to get YOUR KnitFix tomorrow at 9am and come back tomorrow afternoon for the series round up.