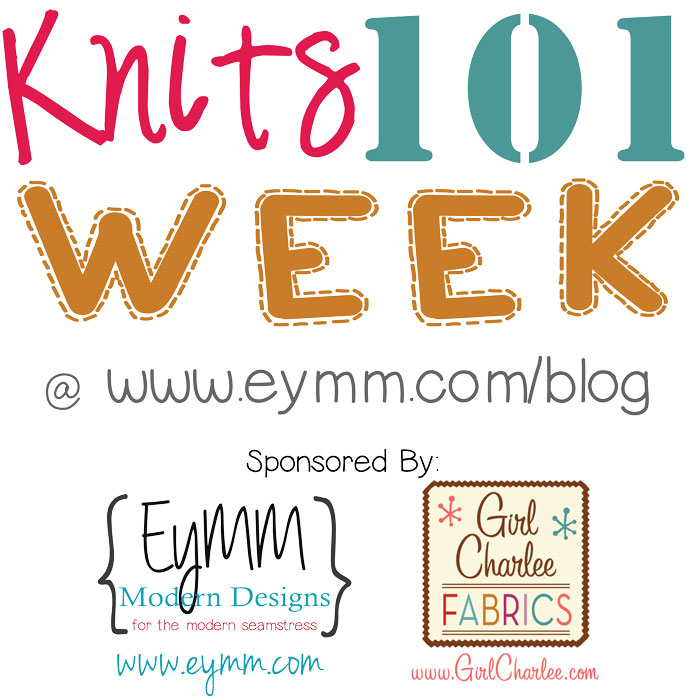 We have done it, a week all about knit fabrics! Hopefully with all this new found knowledge of knits you are ready to give something new a try.  Now that you have great information to reference I wanted to share some of my favorite online stores, great patterns for those new to knits and a quick run down of tips for sewing with knits!  You will also find links to the whole series at the bottom as well as the winners from the Knits 101 Giveaway!
KNIT FABRIC SHOPS
Girl Charlee is my go to one stop knit shop.  They offer a large variety of knit fabrics at great prices.    If you want to get to know a little more about www.girlcharlee.com and where they source their fabrics they were actually on the news recently.
I also LOVE their KnitFix.  I love getting a surprise selection of fabrics for a great price, it really pushes me to try something new and I love that the fabric cuts are big enough (2 yards) to be USABLE!
Rockywoods is my favorite site to order active wear fabric. Their site is a little dated, but they have a great selection of performance fabrics and affordable samples. www.rockywoods.com
Fabric.com is another site I often use.  They also have a large selection and while they include a lot of details they do not include weight information so it can make it a little harder to judge what it will feel and look like when it arrives.  I get some specialty fabrics there, many of my wovens, but it's a great place to get the Robert Kaufman Laguna Knits and Riley Blake Knits.  Both are great quality cotton lycra jersey knits that are perfect for children's clothing as well as womens leggings and tops.
The Fabric Fairy is a smaller shop but it has a good selection of quality knits as well stretch and elastic trims.  If you are a small business they even offer fabrics by the bolt!   Their selection of trims is most often when gets my money though because it is simply awesome!
BEGINNER KNIT PATTERNS
Here are a few of the EYMM sewing patterns that are great for those new to knits!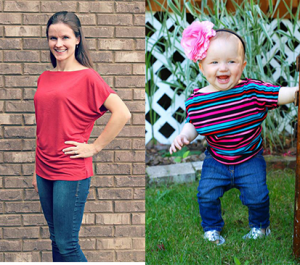 Get Moving & Jocelyn's Leggings
Calla Lily Skirt & Skort for Women & Girls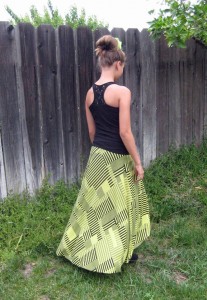 Four Seasons Cardigan for Women & Girls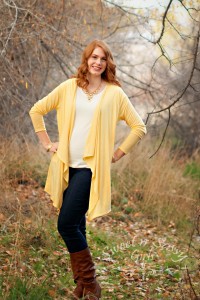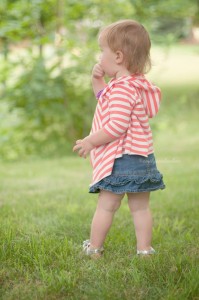 Asymmetrical Drape Top for Women & Girls

KNIT SEWING TIPS
Many of these cover things we have went over this week, but some are new.  This is a great list to print off and keep on hand in your sewing room.
~Pre-wash your fabric! Since knits are most often used for garments, this is pretty important for sizing in general. Also, just like wovens, different fabrics shrink at different rates and at times only in one direction. I have had one yard of cotton knit shrink almost 6" before (that is NOT the norm, but still!). There is nothing worse than taking the time to sew up a nice dress or shirt and then have it come out of the wash (it's not just the dryer!) 3" shorter than it went in.
~What TYPE of knit are you using? There are not only different contents of knits such as cotton or polyester as well as blends (I LOVE cotton/lycra), but there are 3 different main types. Jersey, interlock and rib knit are all knits made with different stitch patterns and they vary in thickness and stretch. You can often mix them together as long as you prewash.
~Know your needle. Use a ballpoint or stretch needle in regular and serger/overlock machines. There are also different sized needles, a 12 is standard, but an 11 or 10 may be better for lightweight knits. The reason for the ball point/stretch needle is that it goes between the knit fibers instead of ripping through them like a sharp needle. Sharp needles will often leave pin holes in the fabric at the seam, which with use/wear lead to bigger holes and seams falling apart.
~Stitch choice is IMPORTANT! Use a stretch stitch (examples to the right) or long narrow zigzag. If you do not, your seams will not have stretch and will likely break. Sergers create a stretch stitch, but I personally prefer sewing seams on my sewing machine.
~Guide the fabric but DON'T push or pull the fabric! This is probably one of the most important things about working with knits. Let the machine do the work, otherwise it stretches the fabric leaving you with wonky, stretched out seams. A walking foot can help with this, but with a little practice, it becomes second nature. This also means supporting the fabric NOT under the foot so it is not stretching the fabric around the needle due to its weight hanging off the machine.
~Use a stretch thread in your bobbin. Both Maxi Lock Stretch and Wooly Nylon are designed to stretch with your fabric, which decreases the chances of popping seams.
~Twin needles are our friend! If your machine can take a twin needle, you can use it along with a stretch thread in the bobbin for a nice looking and still stretchy finished hem.
~ Machine eating your fabric? When starting at the edge, start 1/2" down from the edge (using whatever seam allowance that is called for) and back stitch to the edge and then continue sewing as usual. This is more likely to happen on smaller seam allowances like 1/4" than larger seam allowances like 3/8" and 1/2".

ROUND UP
Day 1 ~ Knit 101 Mini Series Intro
Day 2 ~ Different Types of Knits
Day 3 ~ Content & Common Blends of Knits
Day 6 ~ Needles, Thread, and Machines! 
Day 7 ~ Knit Series Round Up, Winners & Knit Tips (that's today, right here

)

WINNERS
CHRISTINA B.

~ 1 Grand Prize Winner will receive an April KnitFix from www.GirlCharlee.com ($69 Value)

WENDY M.

~ 1 Winner will receive a 5 pattern Build Your Bundle from www.EYMM.com ($49.75 Value)
Cassie M., Sarah M. & Sarah S.

~ 3 Winners will receive a $15 Gift Card to www.EYMM.com
Thanks to all those who entered as well as followed along with the series :).  Don't forget to share it with your friends!
What was YOUR favorite part of the series? (other then the giveaway, lol) 
Did you learn something new?
a Rafflecopter giveaway