After sewing up new Freestyle Harems to demonstrate adding inseam pockets and making a matching shirt by request for my 7-year-old earlier this week, I witnessed a bit of jealousy on the part of her big sister. So, what's a good "seamstress mommy" to do? Why, I had to stitch up a new outfit for her, too, of course!
She and I perused the Bundle Up patterns, searched through my fabric stash, and settled on making a Tie Dye Diva Potato Chip Skirt with a Love Notions Jam Jam Sleepwear shirt to match!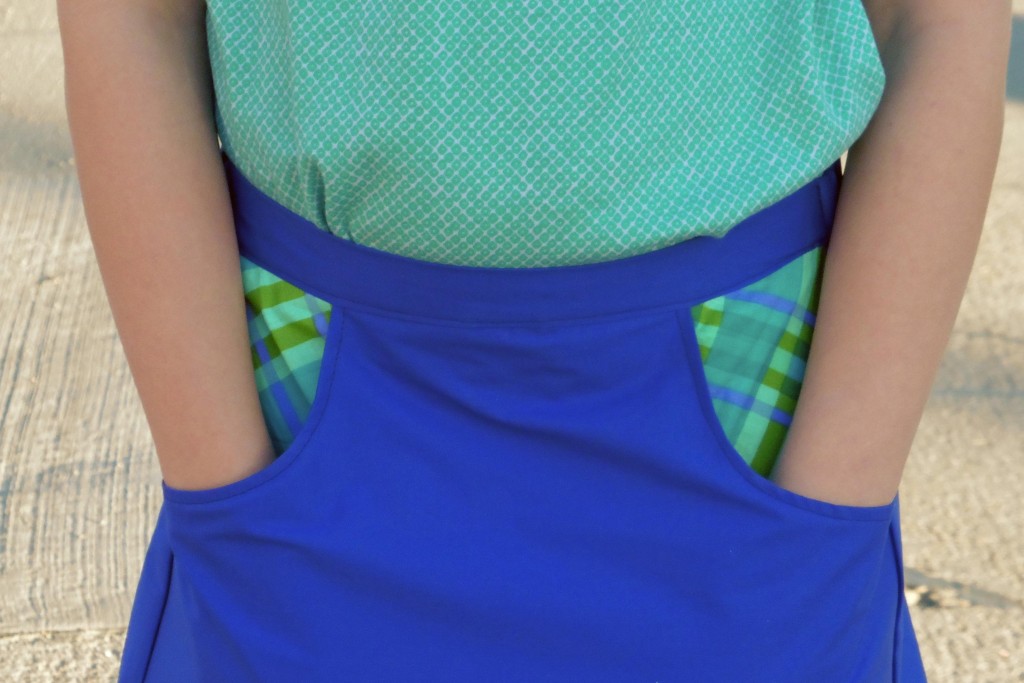 My dear 9-year-old seems to think that she's growing up and wanted her fabric choices to reflect that. She chose blue bottomweight for the main part of the Potato Chip Skirt and this lovely green and purple plaid quilting cotton for the contrast pockets. This skirt goes together super fast and I am predicting several more for both my girls' spring/summer wardrobes. Like eating chips, it'll be hard to stop after just one!
The only thing I had to change was to cut the back of the skirt in two pieces. This was completely my "fault" because I let girl child choose the fabric (which was left over from another project) and I didn't check to make sure there was enough until after she was in bed. My options were either to split the pattern piece (adding seam allowance, of course) or to risk the wrath of choosing different fabric and her not being happy. I thought this was the safer route. 😉  If you see the back view picture below, that's why it looks like the skirt has a back yoke. I think it's a cute addition, but wanted to let you know it's not part of the original design.
My girl has loved this green and white print knit ever since I made myself a shirt with it last fall and so she seized this opportunity to snag the last bit of it for herself. I just barely had enough left to eek out the pieces for the shirt from the Jam Jam Sleepwear collection (in fact, the sleeves are almost an inch shorter than the pattern because I was running out of fabric).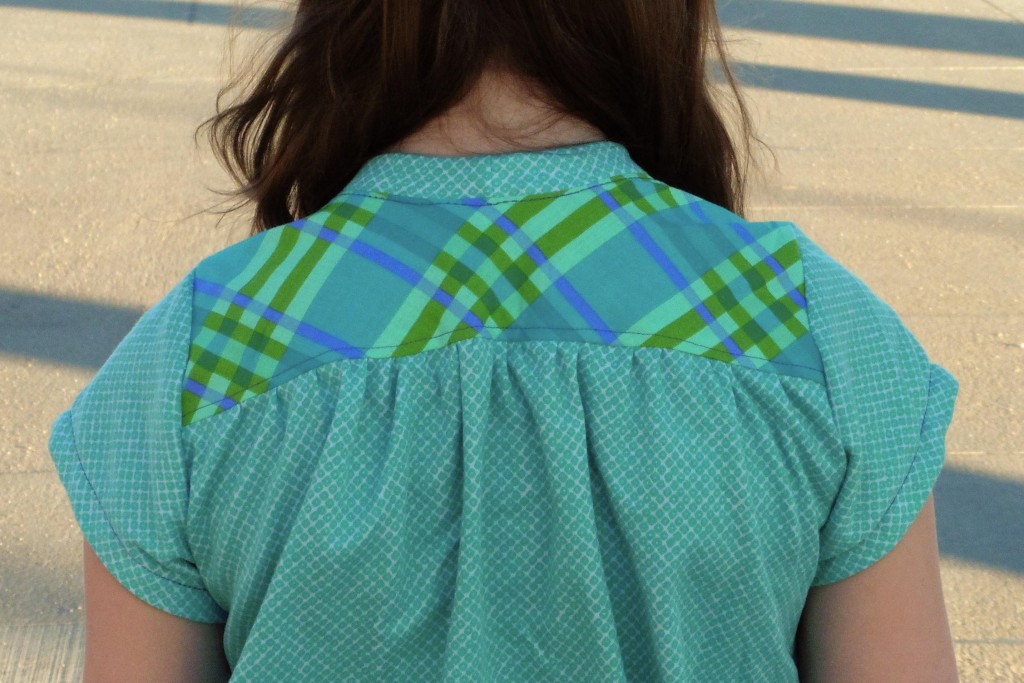 To tie the shirt and skirt together, I opted to try using the plaid woven for the yoke. I have a shirt that's knit with a woven yoke so I thought we'd give it a try. The Jam Jam Sleepwear shirt pattern is written for the whole shirt to be made from knit, so I cut the yoke out on the bias (45* angle from the grain) so it would have a bit of stretch as she moved around.
Best part about solving the jealousy issue this week was how quickly it was accomplished. I spent just over an hour taping the two patterns and cutting out all the fabric for both one evening. After the kids got on the bus the next morning, I sat down and sewed them both from start to finish in about 2 hours! That's my kind of project … short and sweet and yet still so satisfying!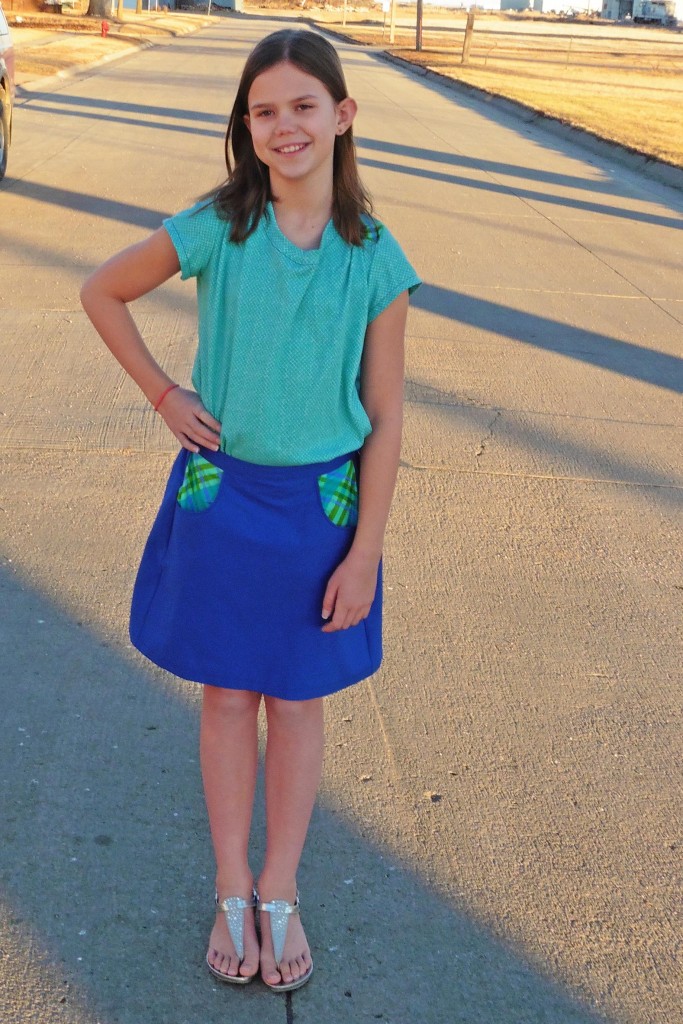 My picky girl has declared that she hopes it is warm on Sunday because she plans to wear this outfit to church, sandals and all! I think she's been spoiled by our weather hovering near 50*F for the last week and reaching above 60*F on the day we took these pictures. Sadly, I hear we're supposed to get snow Saturday and have a high of around 20*F Sunday, so my girl may have to add some leggings and boots to her new outfit. 😉
If you haven't picked out your own Bundle Up choices yet during this girl's collection, you've got until Monday night to make your purchase. The great prices on these fabulous patterns expires at 11:59pm on February 2 and they won't be available individually for two more weeks beyond that (and then they'll be at full price). So if you want to stitch up a Valentine's Day outfit using these patterns, you better grab them now!
Happy Sewing!!  ~  Joelle