Well, we're officially through with the first week of 2015. Are you "fully recovered" from the holidays and holiday sewing yet? I've been having quite the time pulling out of a post-Christmas slump.
I don't know about you, but I spent the last few days before Christmas scrambling to finish presents and other preparations. I swear every year that I'm going to get things done early so I can focus on the real reason for the season, but every year I seem to procrastinate until the last minutes. And now that it's all over and my kids are back to school, I find myself wanting to just cuddle up with my toddlers and stay warm.
Confession: Until this morning, I hadn't sewn anything since the weekend before the new year. That's almost two full weeks of not touching my machine or fabric!
I decided last evening that I just needed to force myself to sit down and make a project from start to finish in order to pull myself out of this slump. My girls have been begging for sweatshirts made like mine from a pony remnant I picked up last month, so figured "two birds, one stone" and pulled out my Riley's Nightgown & Sleep Shirt pattern.
I got them cut out before bed and stitched them both together within an hour after my kids got on the bus this morning. Score 1 for quick projects and getting my sewing mojo back! I'm hoping my girls will love their cozy new shirts when they get home this afternoon.
While I'm sharing my latest raglan hack, I thought I'd also show off my last project of 2014. My mom bought me this fabulous long-sleeve t-shirt and gave it to me when I visited her the week after Christmas. The only problem was that it was slightly too big and very boxy … not flattering at all! Callie's Nightgown & Nightshirt to the rescue!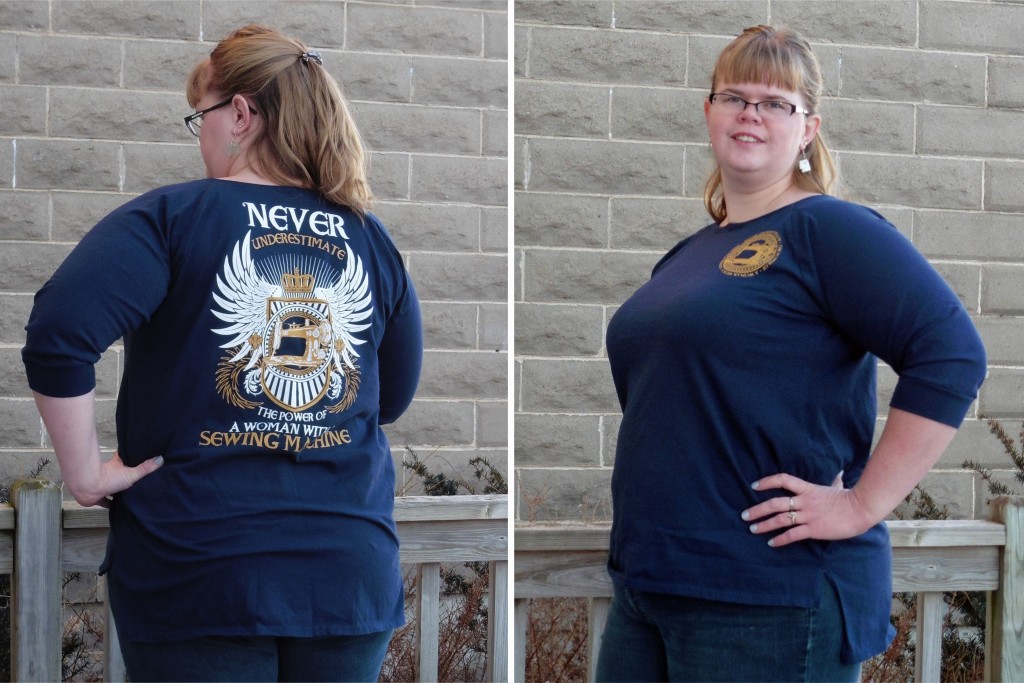 Luckily my mom has a sewing machine, so I could print out the pattern and "fix" my new shirt right away. (Sorry about the wrinkles on the back of my shirt in the picture above … I was hurrying because it was only 1*F before factoring in the wind chill) 😉
I chose to make 3/4-length sleeves and re-used the existing cuffs. I also took advantage of the original bottom hem, cutting it to fall a little longer in the back. I know this shirt will get LOTS more wear now that the fit is more feminine and flattering!
If you've found yourself in a post-holiday sewing slump, I recommend finding a quick, satisfying project to help pull yourself out of it. Hope you are enjoying the new year!
Happy Sewing!!  ~  Joelle