DIDN'T WIN?  That's okay, Funktional Threads is offering an exclusive 10% coupon code to EYMM followers.  Use code EYMM2WIN until 6/11 to get 10% off your order in the Funktional Threads Etsy Shop.
I have been very lucky to test some of Funktional Threads newest patterns lately including encouraging her to make a slim fit option which ROCKS.  While she has many woven & knit patterns the Rachel Knit Dress & Leilani Flounce Knit Top  are my favorites and both are perfect for upcycles!  Don't have a girl?  Her Jackson Raglan is perfect for girls & boys!
Her standard fit knit patterns are great for plus size & husky kids and those who prefer their tops loose.  Her new slim fit option on the 2 I recently tested is awesome for those who are average to slim.  Not only that but she includes directions to adjust them just to your needs whether longer or slimmer.
Not only are her patterns instant downloads which means you can get started right away, but they have a TON of different design options, they are are a big bang for your buck.  With 2 fit options with 8 sizes each there is a lot of pattern pieces, so she includes a handy print guide so you don't have to print off all 30+ pages, just the ones you need!  Her patterns went together easily and if you have any questions just send her a message or join her Facebook fan/customer group & she or one of her many customers would love to help you out.
So here are some pictures of the 2 patterns I recently tested for her!
1st up Angry Bird upcycles using the size 6 slim fit Rachel pattern with no alterations.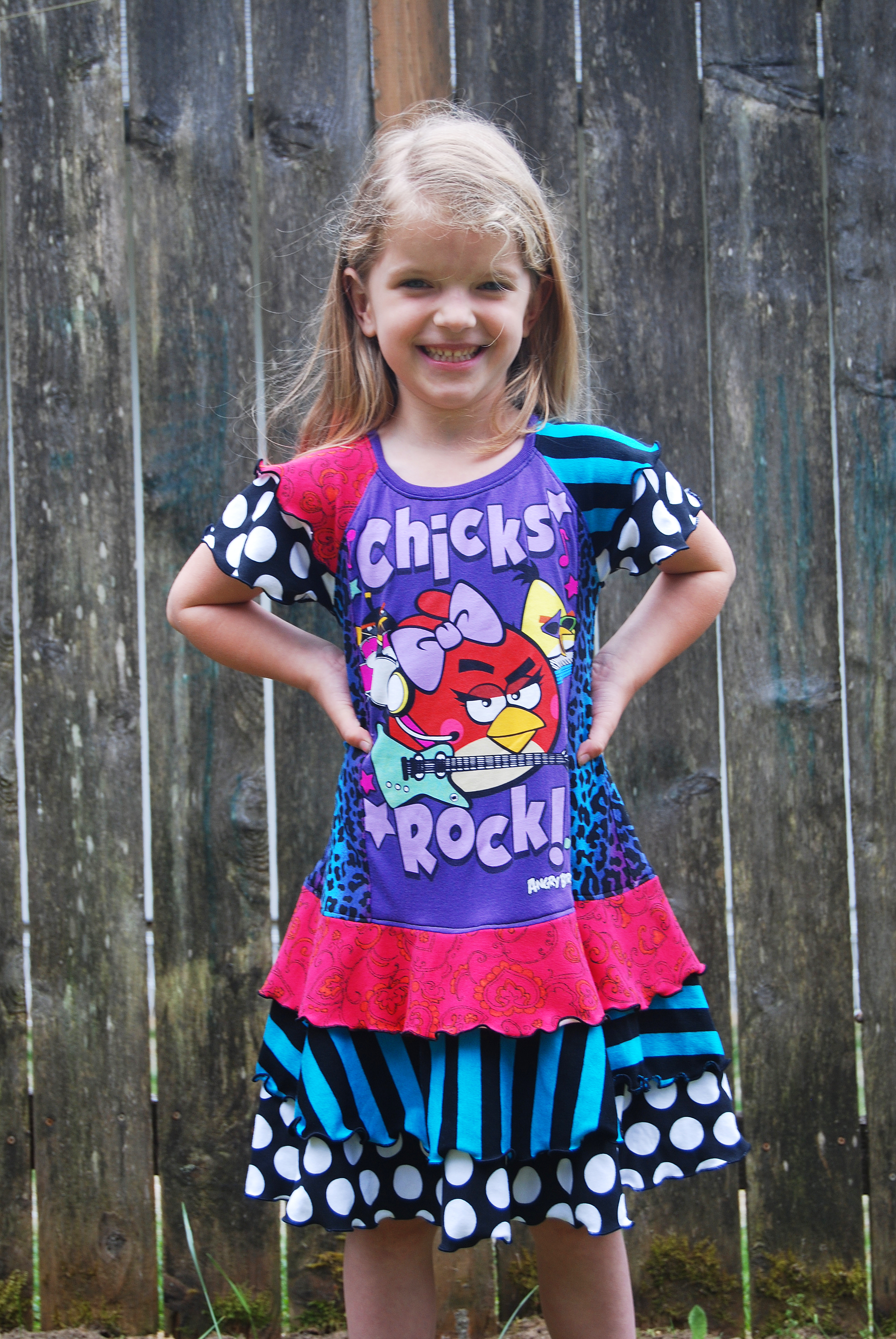 The 2nd pattern I tested was her Leilani Knit Top!  It went together quick, this is also the 6 slim fit.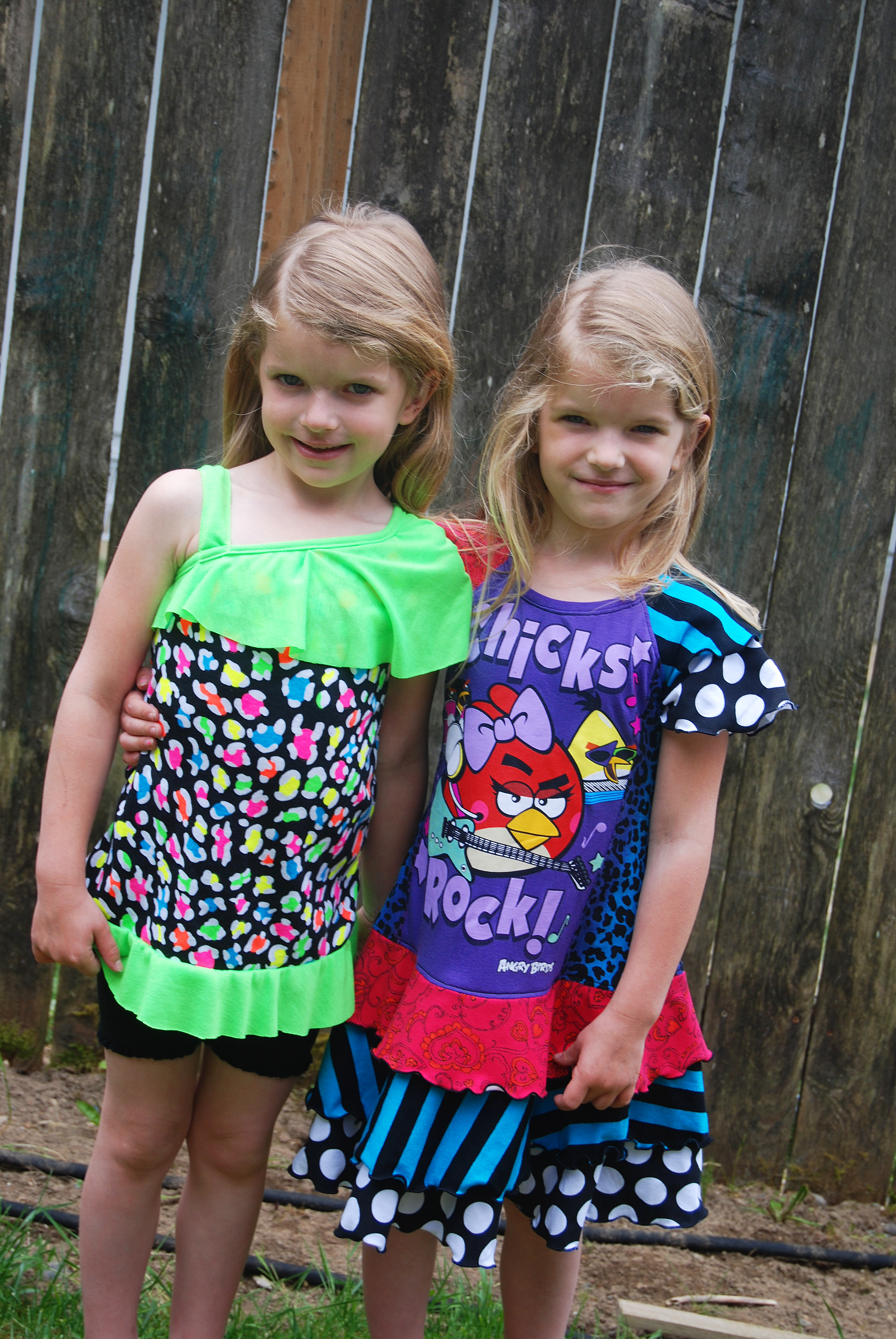 And finally I got a recent special upcycle order and was at a loss what to do, it was a simple & beautiful shirt for a Brave party.  Part of me wanted to go wild but when it came down to it simple was better!  I used one of the different top options in the Leilani pattern, shortened it a tad & added a circle skirt like the Rachel!  Lots of gold top stitching later and the details were totally worth it and made for a darling dress & very happy customer.
FUNKTIONAL THREADS PATTERN GIVEAWAY!
 3 winners will get their choice of any 1 pattern from the Funktional Threads Shop.
MEET THE DESIGNER:
Hi, my name is Lisa and I'm the designer behind Funktional Threads patterns. I began sewing when I was 10 or 11. I was a 'big girl' and had already realized that sewing would be the best way to have clothes that would be stylish and fit as I wanted. I soon discovered I'd also need to adjust the patterns I bought to fit better. By high school I decided I wanted to go to college to learn fashion design but things didn't work out for that to happen.
I continued to sew for myself and began drafting my own patterns when the ones available to purchase weren't the look I wanted. Soon, though, my career made sewing have to take a back seat, at least until I adopted my daughter and started to sew for her and later sewed to sell. At first, I tried again using commercial patterns but found I was soon drafting my own. Sewing friends began asking where I got my patterns and, when they learned the patterns were my own designs, they encouraged (OK begged) me to put some patterns into PDF format to sell. Many of those friends have been assisting with testing my patterns since the early days and continue to encourage me to add more patterns to my collection.
TERMS & CONDITIONS:  Contest open to anyone with an email account & access to a printer. Patterns are digital .pdf files that will be emailed to the winners.  Winners are responsible for printing them on standard US letter sized paper on their own.   Limit 1 prize per person. Enter up to 3 ways now until 12am EST 6/4.  Including comments & liking FB pages.  To enter just take a look at shop & pick which pattern you would like to win, come back & comment on THIS POST with the pattern you choose.  If you win that is the pattern that will be sent to the email address you provided.  After you comment to be entered you MUST VISIT RAFFLECOPTER TO FINISH ENTERING Facebook users can do so HERE & if you don't use facebook you can do so HERE (they are connected  it's just a matter of which you prefer to use).  After commenting it will give you 2 ways to earn bonus entries.
Don't want to wait a week for the giveaway to end???  Through the end of May she has some great coupon codes for her Etsy shop!
Save 10% on purchases over $10 – Use coupon code SAVE10MAY
Save 15% on purchases over $25 – Use coupon code SAVE15MAY
Save 25% on purchases over $50 – Use coupon code SAVE25MAY
Also don't forget there will be other giveaways going on all this week so check them all out!