Today is my turn on the 2018 Sew Americana Tour hosted by Katy M. over at Wild and Wanderful and sponsored this year by Katy K. at Sly Fox Fabrics. I've been looking forward to sewing red, white, and blue for this annual tour for months and am excited it's finally here so I can show off my newest creations! I found the fabric I wanted to use for my dress on a destash page on Facebook and snatched it up way back in March! Haha!
**Disclaimer: I received 2 yards of fabric for free from Sly Fox Fabrics to sew for this blog tour. Although the tour is sponsored, all opinions are my own.**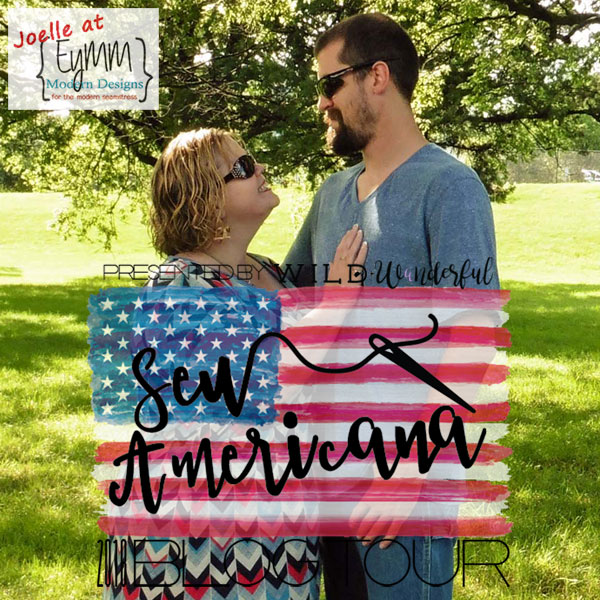 As excited as I am about my new dress, I'm even more excited that I got my husband on board this time! He can be a picky customer, so when Katy K. offered each of the tour bloggers 2 free yards of fabric, I sat down next to him with the laptop and opened the website for him to help choose. After steering him away from the completely solid colors, we settled on this Tri-Blend Jersey Solid in the Navy colorway, which has a heathered look. Currently, it's sold out, but if you love it there is a "notify me" option on the listing for when it's back in stock … or you can choose a different colorway or another patriotic fabric all together from the Sew Americana Collection on their website. Or if, like me, you're a fabric addict and just like to see ALL the pretty options you can either surf their website or join the Sly Fox Facebook Group for more fabric inspirations. Thanks, Katy K., for letting me play with some of your gorgeous fabric!
I was excited when the navy tri-blend arrived to see that it coordinated well with the fabric I'd bought for my dress … so much so that I decided to use it for my dress accent fabric to make us all matchy-matchy (which is something I've never done before!). I puffy-heart-love the end result!
I first used the navy tri-blend to cut and sew my husband a Parker's Vintage Fit T-shirt for Men in a size large with the tall hemline, which is the size his measurements fall in. I think I could have maybe sized down because of the thinner, drapey tri-blend fabric because it fits a bit looser than the last one I made him, but he didn't complain. The fit isn't terrible, but is just big enough across his shoulders to bother me since I like making things fit well. It's amazing what a difference fabric choice can make! He has told me that I don't need to worry about fixing it … though he usually buys XL shirts because he needs the length for his tall frame and so he's used to the shoulder seams hanging down his arm even farther than this.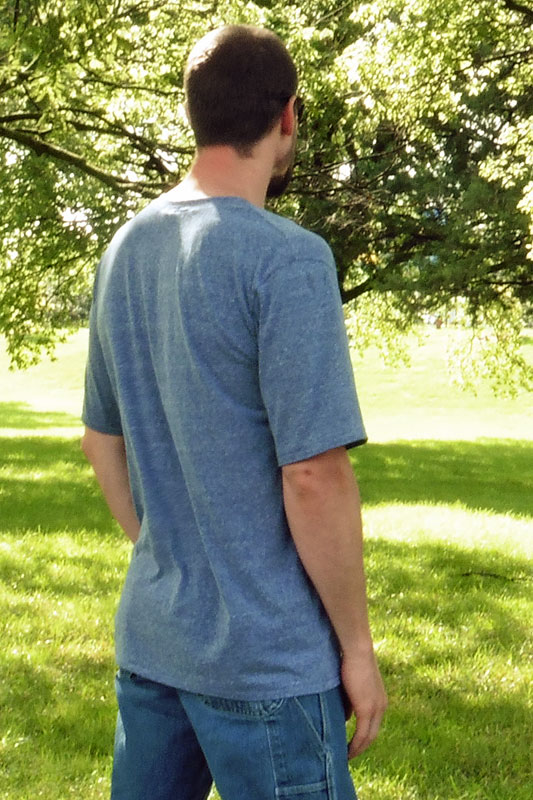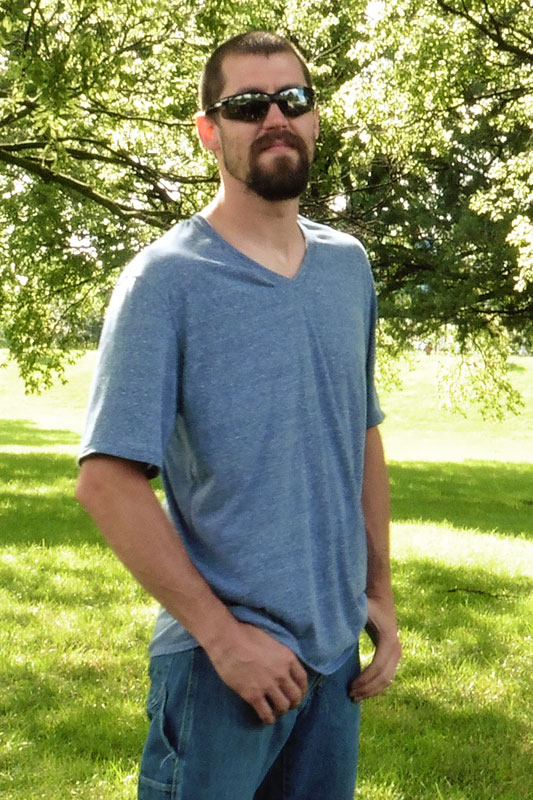 This is the first time I've made him a v-neck. He's told me in the past that store-bought v-neck shirts feel too open around the neckline, but I wanted to give it a try anyway because it's a shade dressier than a regular crew neck t-shirt. He grudgingly agreed that it's not uncomfortable and even perked up a little when I mentioned it was dressy enough for church if paired with khakis. Haha!
I imagine this lightweight tri-blend will be comfortable to wear in the summer heat and will work great for layering under a button-down in the cooler months instead of his standard white undershirts. The heathered look of the "solid navy" is just enough "print" to satisfy me without being too much for my "just make me a solid colored shirt" boring husband. 😉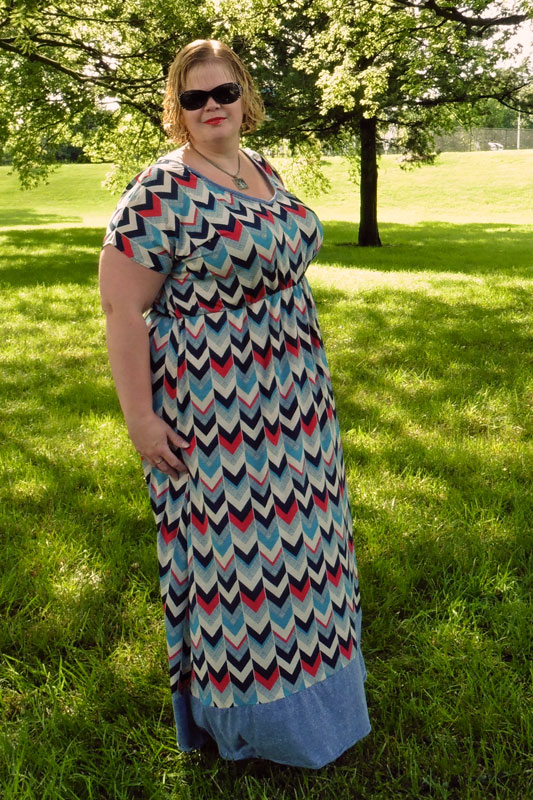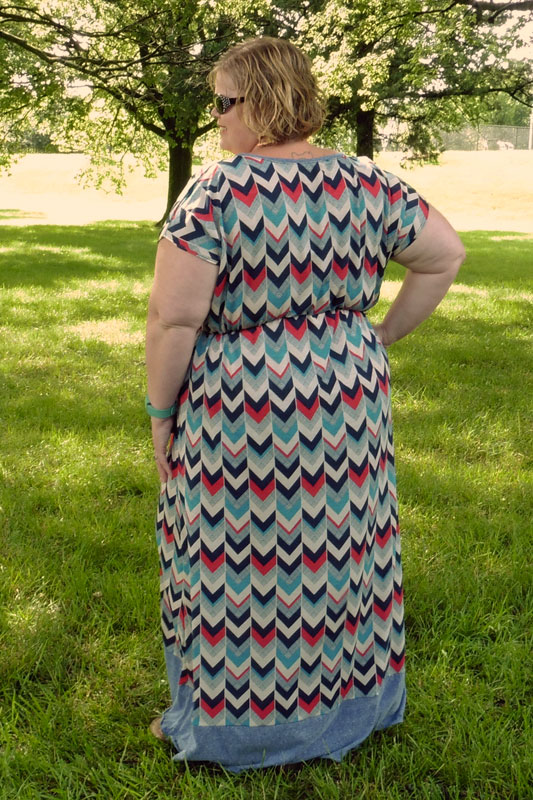 After I got his shirt finished, I turned my attention to my plan of sewing a California Dress. As I pulled my pattern out to cut into the fabric, I was thinking how I'd like to have more shoulder coverage but didn't want full-on sleeves like the California Cardi Sleeve Mash I've sewn in the past. I wanted to do something "new" (although, technically, I don't think anything is ever really new or original in the fashion world). I debated between using the top half of either Kymy's Dolman Top or the Boxy Boyfriend Tee and ultimately decided on the Boxy Boyfriend because the shorter cap sleeve was just what I was envisioning.
To mash these two patterns, I spread out my fabric, folded in half, and laid the California pattern on top and then laid the Boxy Boyfriend right on top with the tops of the shoulder of the two patterns aligned. Since the Boxy Boyfriend pattern is wider through the bodice, it covered the top of the dress pattern completely and I just blended them along the side seam where the skirt started to flare out. I used the cap sleeve length and v-neckline of the Boxy Boyfriend and the elastic waistline and floor-sweeping maxi skirt length from the California Dress.  As I was laying out my pattern, I noticed that I was just a little short of fitting both front and back of the floor-sweeping length (my favorite!) on the yardage I had. Luckily, I'd already decided it would look great to accent it with the Sly Fox navy tri-blend and I had just enough left to cut out the bottom inches and the neckband to tie the look together.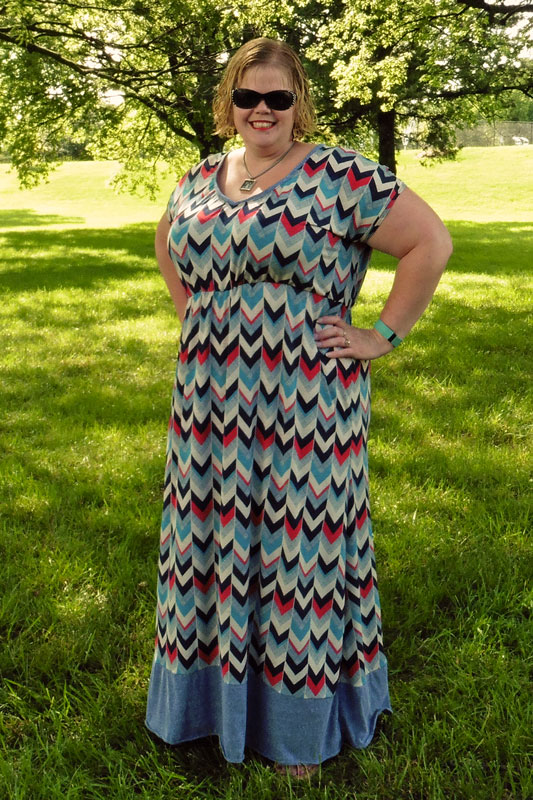 It is a match made it heaven! The red, white, and blue patterned ITY (Interlock Twist Yarn) fabric is also perfect because it feels cool to wear and the drape of the fabric in the skirt is gorgeous. This is the first time I've used ITY for the California Dress, but it certainly won't be the last!
And now to finish up with some gratuitous extra pictures since it's not very often that my husband and I have our photo taken without any of our kids. We'll celebrate 14 years of marriage next week and this might be only the third time since our wedding that we've posed for more than a selfie together without kids! Many thanks to my 10-year-old daughter for being my budding talent photographer!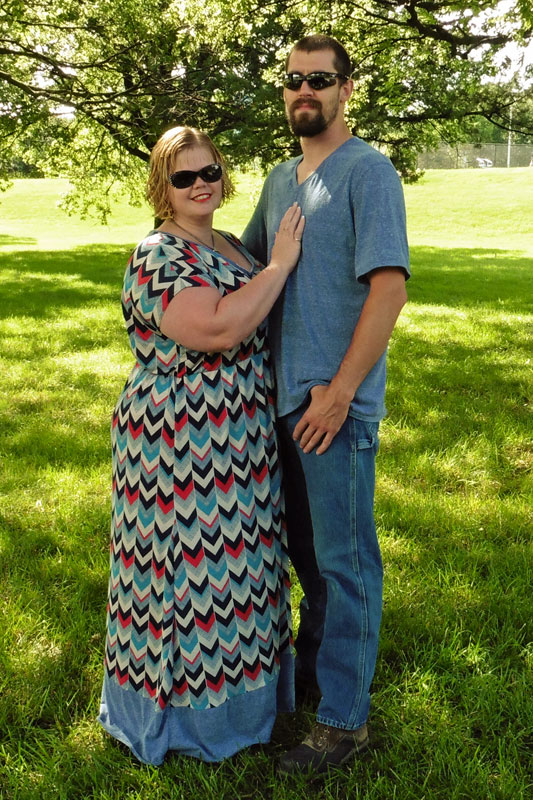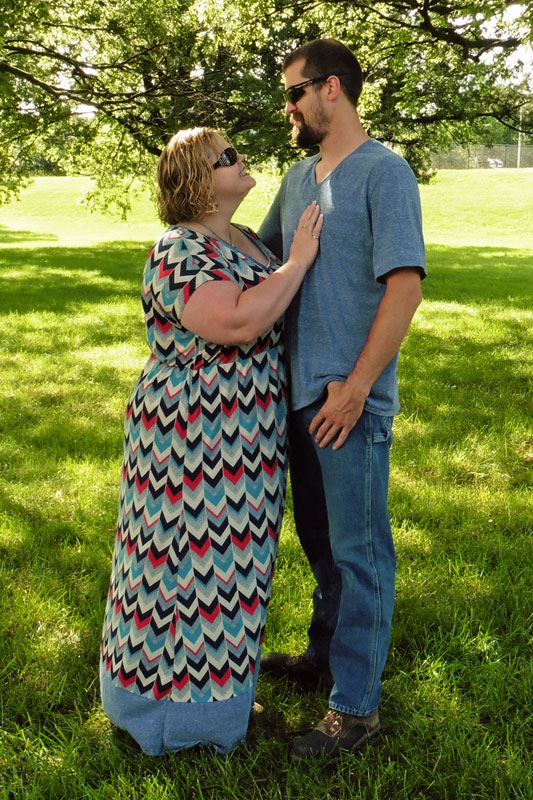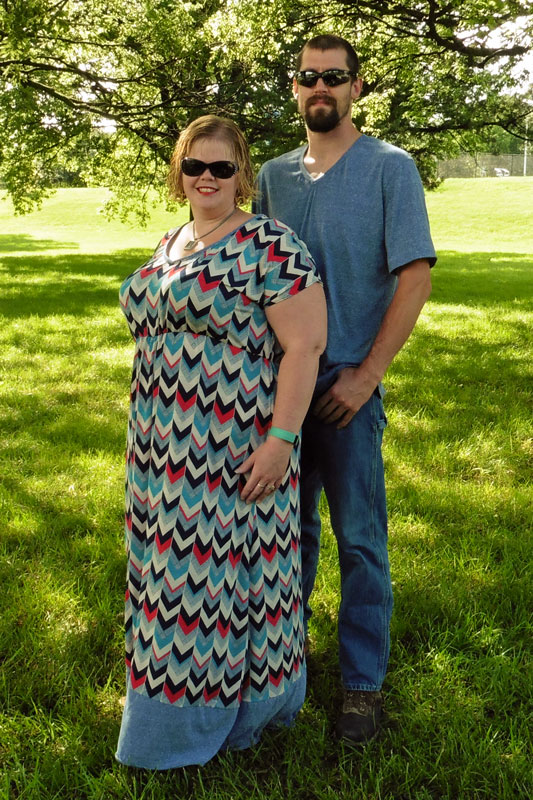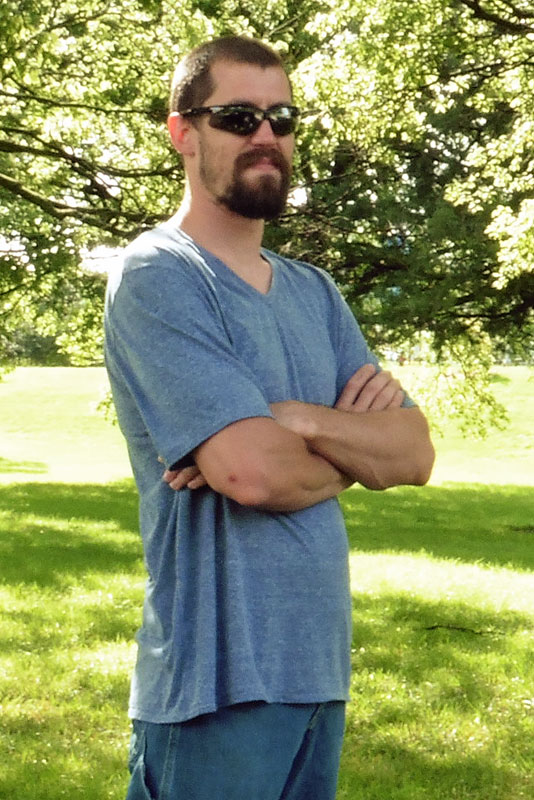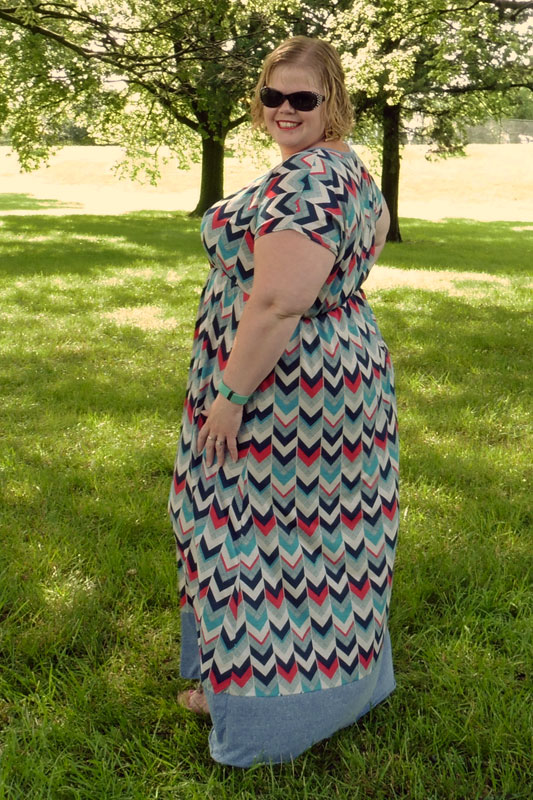 Thank you, Katy M., for hostessing this awesome blog tour each year at Wild and Wanderful and many thanks to Katy K. for supplying many of the bloggers with fabric from Sly Fox Fabrics to show off for this year's Sew Americana Tour!
Happy Sewing!!  ~  Joelle
P.S. Don't miss out on all the other stops on the 2018 Sew Americana Blog Tour! These talented ladies have "sew" much beautiful inspiration to share!
Monday, June 25:
Wild + Wanderful | Marvelous Auntie M | Handmade Boy
Phat Quarters | Call Ajaire
Tuesday, June 26:
Musings of a Seamstress | Sea of Estrogen | Sew and Tell Project
5 out of 4 Patterns | Little Heart Threads
Wednesday, June 27:
Middle River Studio | Elli & Nels | SewSophieLynn
Pear Berry Lane | The Eli Monster
Thursday, June 28:
Auschick Sews | EYMM | Mama & Leia
Seams Sew Lo | Stitched by Jennie
Friday, June 29:
Stylin' Stacy | Rebel & Malice | On Wednesdays We Sew
FairyTale BT | That's-Sew-Kari | Very Blissful