Living in a small town (I'm talking "population 700" small) where we don't have any extended family within 60 miles and being the parents of 5 lovely children means that date night doesn't happen often for my husband and I. On the rare occasion we do go out, it unfortunately doesn't require a fancy dress or high heels. We usually get dinner and a movie in a nearby bigger town (ahem, 20 miles away) and maybe take a walk around a big box store sans kids. However, I'm always up for sewing a new outfit for date night, even if it isn't super fancy, so I hopped on board when Tibeca mentioned hosting the Date Night February Tour over at Sewing By Ti. Plus, she's offering our readers a coupon code for her fabric shop Simply By Ti … you can find it at the bottom of this post!
For my date night look, I pulled out the bright red rose print double brushed poly/spandex named "Edith" that I bought from Knitpop back at the end of November. It's super duper soft and I'd been saving it for a special occasion … what better reason than date night?!?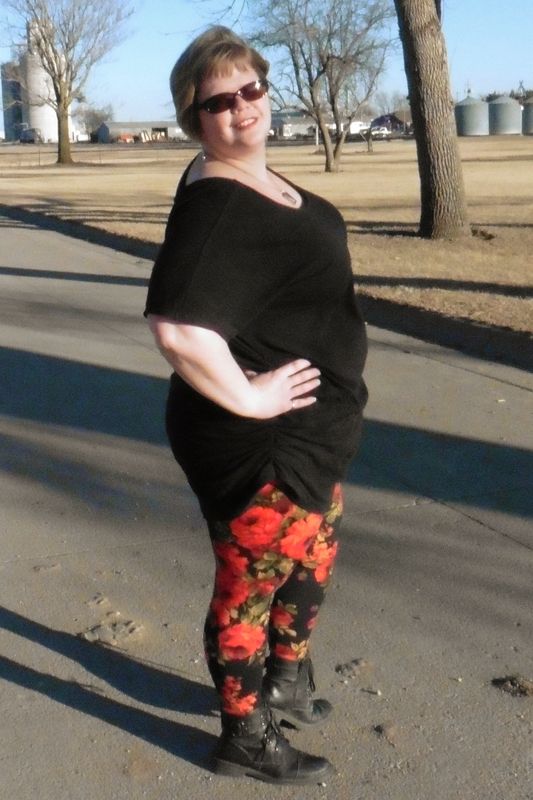 Since our date nights are typically pretty casual, I decided to make a pair of 'Get Moving' Leggings so my legs could enjoy the buttery soft fabric. As I was stitching them up, however, I realized that I didn't own a sleeved black shirt that I could pair with it and February in our neck of the woods is usually too cold for tank tops!
I had reached for my old stand-by Kymy's Dolman Top pattern and for my black cotton/spandex, when I got to thinking that perhaps date night called for a lower neckline than the included wide boat neck. I paused for just a moment before deciding to mash Kymy's Dolman with the scoop neckline of the California Dress in order to show off just a bit more skin. 😉
In my excitement (because pattern mashing is exciting to me, haha), I even managed to remember to snap a couple photos to help explain my process for anyone else wanting to have a go at making a scoop-neck Kymy's Dolman!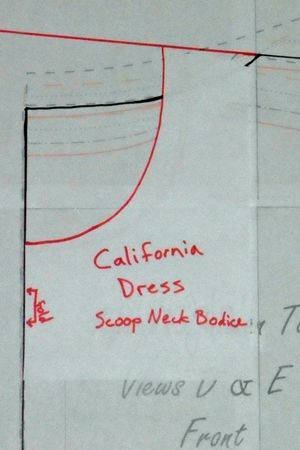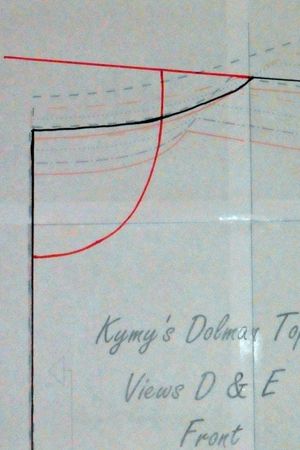 I started by printing Kymy's Dolman so that I'd have a fresh copy to work with. While at my computer, I also printed the page** of the California Dress pattern that contains the scooped neckline that I wanted to use and the pages with the neck binding piece.  I used a black sharpie to trace the lines on the dolman pattern of the size I intended to make (which, by the way, is a 2x) to help it stand out and I went ahead and cut the corresponding size of the California's scoop neckline.
**Note: Since the misses sizes and plus sizes are nested separately in the California pattern, be sure that you choose the correct page(s) for the size you're making/mashing.**
I could clearly see that the Kymy's neckline is much wider than the California scoop, so the next thing I did was extend the shoulder line up and toward the center fold (see the red line in the above photos). Then it was as easy as aligning the "fold" lines of the two patterns and sliding the California neckline so that the shoulder point touched the shoulder line of the dolman pattern and tracing the scoop neckline (also in red in the above photos).
Now, you could repeat these steps for the back of Kymy's Dolman but I found that the front and back are so similarly shaped outside of the original neckline that I just use the front pattern piece for both front and the back (since I'm not making a higher back neckline this time). 😉 Don't forget when cutting your fabric to cut out the neck binding pieces for both the front and back scoop!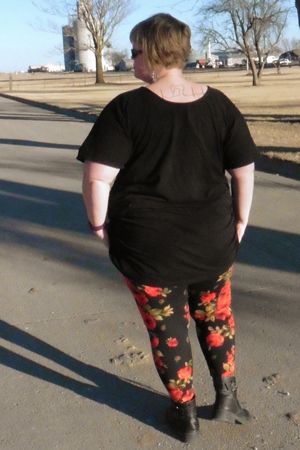 Construction is pretty simple once the neckline mashing is done. Sew together the shoulder seams and side seams, attach the neckline binding as per the California pattern instructions, and hem the sleeves and bottom edge (unless you chose a banded version of Kymy's Dolman). If you choose to do View D, like I did, you'll also add the ruching to the side seams and that's all, folks!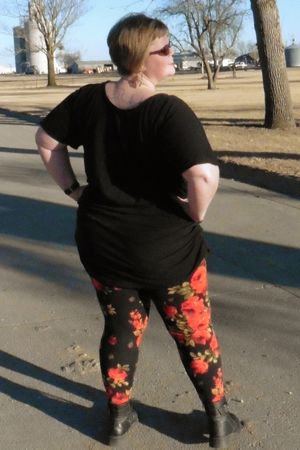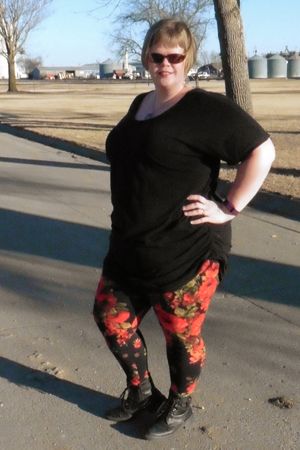 The only other "alteration" I made was to add about 5 inches of length to my top and add only 1.5 inches to the ruching elastic so that it would be long enough to comfortably cover my derriere. 😉 I can not wait for date night to come around so I can feel smoking hot in my red rose 'Get Moving' Leggings and scoop-neck Kymy's Dolman!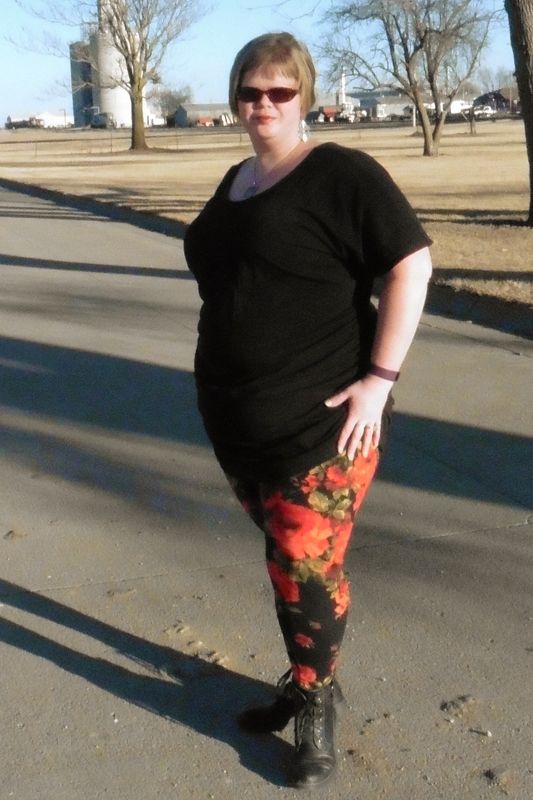 If you're like me, you're going to love all of the inspiration contained in the Date Night February Tour. Be sure to check back all this month to see what patterns everyone sews up!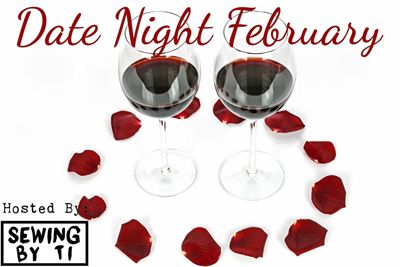 Wednesday, February 1st: Sewing By Ti
February 2nd: Crafty Like a Rox
February 3rd: Sewing By Ti
Sunday, February 5th: Embrace Everyday
February 6th: Tenille's Thread
February 7th: Robynne and the Bobbin
February 9th: Sewingly, Michelle
February 10th: Sewing By Ti
Sunday, February 12th: Embrace Every Day
February 13th: A Phoenix Risen
February 14th: Creative Counselor
February 15th: Creamer and Chaos
February 16th: Everything Your Mama Made and More
February 17th: Sewing By Ti
February 18th: Sew Like a Sloth
Sunday, February 19th: Very Blissful
February 20th: Tenille's Thread
February 21st: Mamoose Handmade
February 22nd: Rebel and Malice
February 23rd: Margarita on the Ross
February 24th: Sewing By Ti
February 25th: On Wednesday We Sew
Sunday, February 26th: The Fairy Dust Bin
February 27th: Sewing By Ti
February 28th: Sew Haute
Of course, date night in the sewing world means, "Time to make something to wear!" If you're looking for fabric for your date night sew, I've got great news! Simply By Ti is offering 10% off all orders for Date Night February readers! Coupon code DATENIGHT is valid until 11:59pm MST on Feb. 28, 2017.
Happy Sewing!!  ~  Joelle