I've been embroidering more and sewing less over the last few weeks. I discovered a new "addiction" of making key fobs and finger puppets in my machine's embroidery hoop and had been stitching out many to try my hand at selling at our local Farmer's Market. Now that the market days are over for the season here, I decided it was time to switch back to sewing, but was feeling rather uninspired. I asked my daughter what I should make because I "needed" to sew something and she didn't hesitate in ordering a new Asymmetrical Drape Top. Guess that's what I get for asking! LOL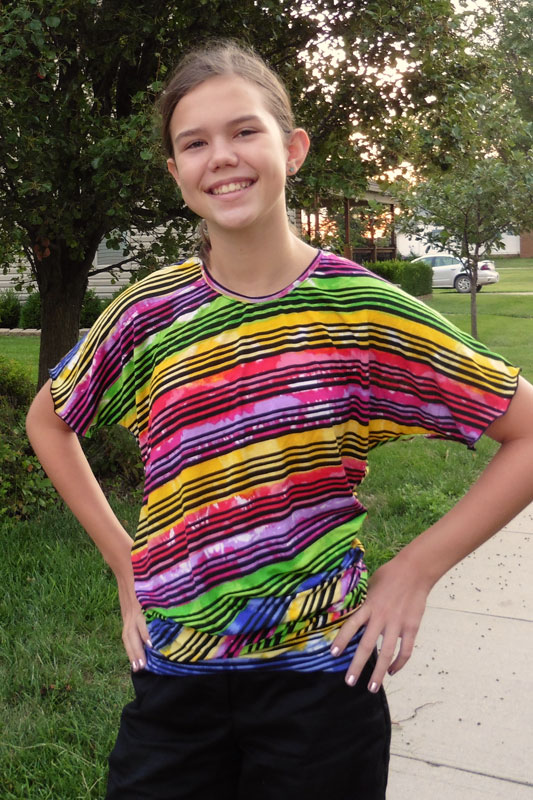 She picked this sheer rainbow stripe out of my stash and I've had it so long that I can't even remember where I bought it! There was not quite enough fabric to match the stripe colors on the side seams. But there was enough to make her size 14 shirt (with several inches added since she's now 5'8.5″!!), and that's what matters!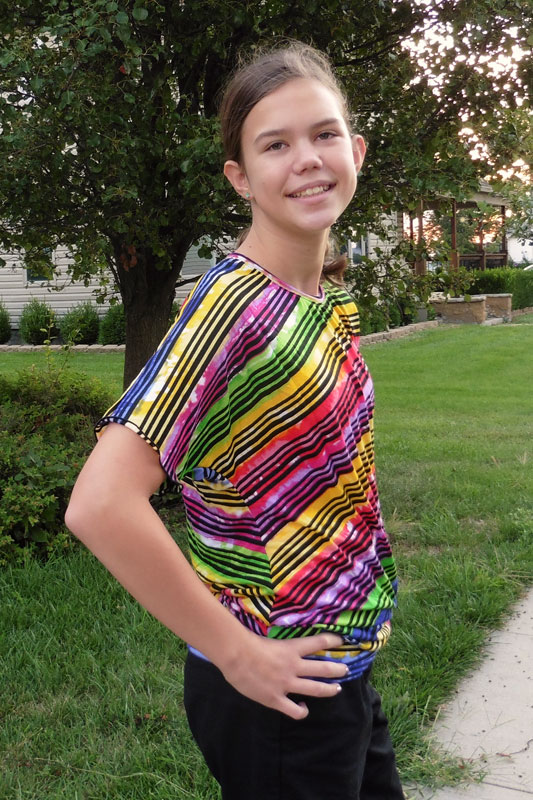 I did my best to match the black stripes down the side seams and tried to ignore the fact that the colors weren't matching from front to back! Luckily, the drape will help hide the mismatched side seams anyway. Haha!
She "ordered" her new shirt just before going to bed last night and I cut and sewed it in the first hour after the kids were quiet upstairs. A fast sew like the Girl's Asymmetrical Drape Top was just what I needed to bring me out of a sewing funk and bring back my mojo!
This morning, I think she was a little surprised that I had it ready to try on and take pictures before school since she thought I was going to make it today during school hours. We took some pictures, then she changed back into her uniform shirt and got on the bus to school a happy girl. She said she can't wait to wear it all day tomorrow!
Happy Sewing!!  ~  Joelle