I've been going back and forth for weeks over whether to sew myself a new dress for Easter or just wear something from my closet. I love making dresses, but the reality is that a stay-at-home mom only needs so many and I fear I may have already surpassed that number because of the awesomeness of the California Dress & Peplum pattern. 😉
To justify it to myself, I wanted to make something different! I thought and thought and then remembered a dress that Lydia of Little Kiwis Closet had made using the EYMM Kymy's Dolman Top pattern. You can see Lydia's version by joining the EYMM facebook group and then searching the group for "dolman modified dress."
Quick and easy … and perfect!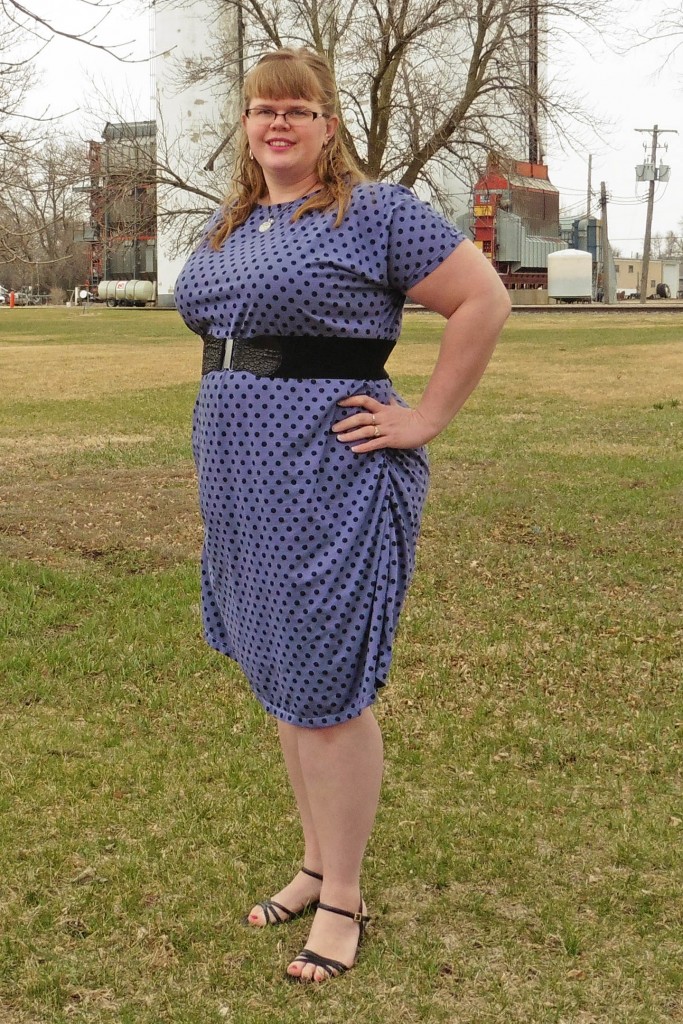 Please excuse me while I climb on my soapbox for a minute because, a year or so ago, I'm not sure I'd have even considered making myself a sheath dress. I've always shied away because I viewed it as a "skinny" style, which I am most definitely not right now. But I've come to the realization that everyone is beautiful, no matter what the size tag says. What those tags "say" are just arbitrary numbers/letters assigned to distinguish sizing … and who cares what that number/letter is, so long as you feel good wearing the garment. Confidence is beautiful!
We all deserve to feel gorgeous and have the chance to wear any style and/or colors we so choose, despite what is manufactured and sold in stores. I know from experience that plus-size clothing departments often carry lots of dark solid colors and usually looser, baggy tops and dresses. If I want to wear something that I can't find in my size in stores, then why not make it and try it out anyway? If it doesn't work for me, then so be it, but I'll never know unless I try. The bonus is that I can tailor it to fit me!
** Stepping down from my soapbox **  😉
Speaking of tailoring to fit, I know that my hips are a larger size than my bust and I've accepted it. So I knew that if I was going to lengthen Kymy's Dolman into a dress, then I would have to grade it out two sizes for it to fit around my hips/bum comfortably. (Please excuse the cruddy night-time picture … that's when I get to do most of my sewing!)
After grading it out, I pretty much measured straight down and added 18 inches of length. I had put on one of my dolmans and measured from the hem to my knee and gotten 16 inches, so I added a couple more just to be safe and not end up too short.
I sewed the dress together and ended up cutting off 5 inches and folding up another inch for the hem to make it land at my knee. So, long-story-short, this dress is about 12 inches longer than the View D Kymy's Dolman. I mention the view because the View D pattern piece is longer than A, B, and C because of the included ruching. For my dress, I placed the bottom of the elastic ruching right at the top of the hip curve (close to where the original top's hem would have been).
I also decided that a white dress was not a good choice for a mommy of a toddler, so I threw it in the washer with a bottle of dye. I actually used Rit's Navy Blue liquid dye and added a bottle of Royal Blue since I knew from experience that the navy usually comes out purplish. Apparently, the addition made little difference and I ended up with a dark lavender dress anyways. Oh, well! I love it anyhow!
Now that I've got my outfit figured out, I have about a week to finish up my kids' Easter outfits. I've planned, but not yet started on dresses for the two girls, shirts for the two older boys, and a romper for baby boy … wish me luck!
Happy Sewing!!  ~  Joelle