Recently on Pinterest I fell in love with 'The Perfect Fitted Cap Sleeve Tee' from iCandy. It is a cute simple tee that can easily remain causal, layered or dressed up!   Depending on the colors you use it can be part of your wardrobe year round. Unfortunately it does only comes in womens size M but it would fit many size smalls and should be pretty easy to adjust.

For my fabric choice I used a nice medium/heavy weight cotton lycra (spandex) blend because even though it looks like it has little shape is is very fitted & stretches a bunch! I sewed it entirely on my sewing machine because I didn't have the right thread for my serger & honestly it turned out great!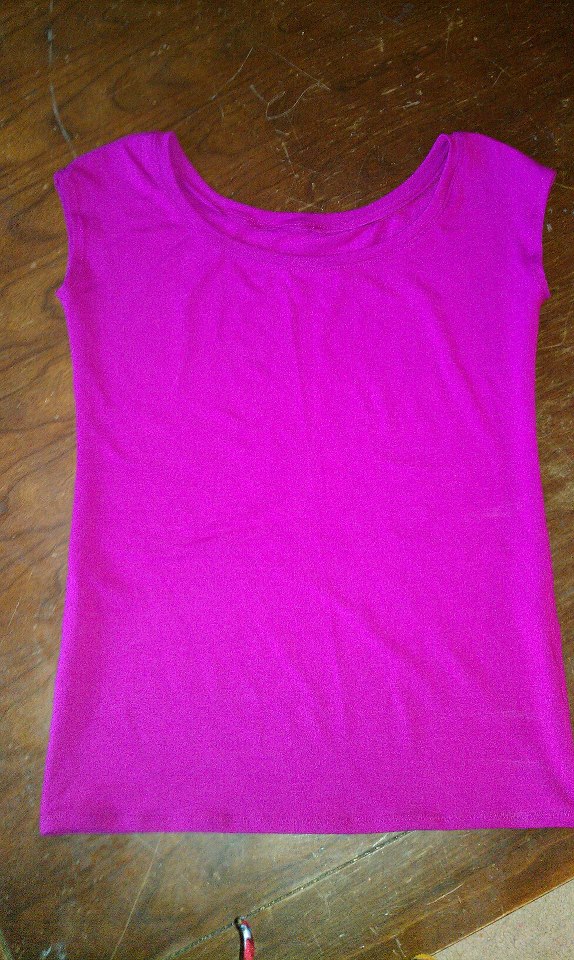 I changed 2 things, the first was I added 1″ to the length & did only a 1/2″ hem instead of 1″ on the bottom.  I don't think this is a must by any means, just personal preference, but if you are like me and like longer shirts and or are busty I think it helps.
I also changed up the neckline a bit! I did the neckline according to the method I shared here last week which led to me cutting it just 26″ long not 28.5″. Part of the neck line change also involved quartering it differently. Their tutorial uses the shoulder seams & middle front/back for quarter marks, since the front is lower then the back it means you stretch it more for the front then the back because those 'quarters' are bigger then the ones on the back.  This leads to the puckers in the front like in their hanger pic. It looks fine on in their pictures, but they may not smooth out as much on someone with a smaller bust.  Finally I also top stitched it with a straight triple stretch stitch and other then no serging on the neckband, shoulder & side seams I think it has a pretty store bought vibe!  Because of my choice of decorative stretch stitch for the hem I didn't have to finish the edges either!  I used a wider stitch so it covered the raw edge similar to a cover stitch.
Overall this pattern went together super easy.  I don't sew with knits a ton, but it took me less then 30 minutes to assemble and hem.  I even impressed myself with how well my top stitching turned out, it's been a while! lol
I do recommend the neckline changes, but I plan on making many more of these!!!