Wow I managed to find some hidden motivation tonight!!! I made up a large order of cloth wipes and managed to cut to many so then made some as an extra treat for a swap buddy. I then decided to use up some scraps to make Parker some cute little monkey ones with the organic bamboo velour scraps. So I made up 40 double layered wipes total. That's 80 8″X8″ cuts & I get 20 out of a yard of flannel. So that's 4 yards! I cut squares with my rotary cutter & then free handed the corners right on the serger, not to bad for the first time doing it!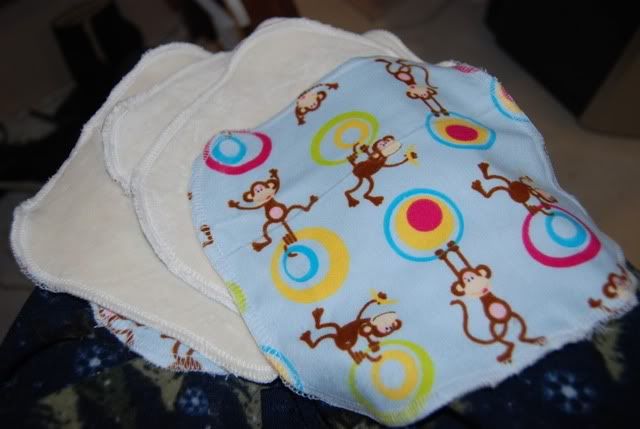 THEN I made a super soft flannel Pack 'N Play sheet for my swap partner to. Of course the snuggle flannel I bought from JoAnn's managed to shrink more then usual so I had to cut it weird & used the whole 1.5 yards with a bunch of tiny scraps instead of the normal 1 yard I get with almost no scrap.

I thought I was done, then when getting ready to turn off the lights in my sewing room I found the muslin I had been looking for! SO I made 6 extra large (44″X44″) muslin swaddle blankets. I managed to sew up 13 yards of fabric tonight!!!
Aden + Anais has made these muslin swaddling blankets popular & I have wanted them since I saw them but I an WAY to cheap to pay $45 for 4 thin blankets. So I went & bought the cotton muslin & made some… they cost me about $2.33 each.
Now I have the them in the wash to soften up the fabric & make it all crinkly! You know the reason why no one likes ironing muslin, but the more you wash it the softer it gets.
I have seen a bunch made with cotton gauze too on etsy for around $18 each, but the fabric is $12+ a yard around here & my blankets are 1 1/4 yards each, so they are a lot pricier & the fabric is thinner & doesn't last as long. I can't wait to see them all dried up & soft. I again just cut squares & free handed the corners right on the serger!