Sorry it has taken so long!  Things have just been crazy around here & I totally spaced that I hadn't posted the tutorial yet until Linda sent me a PM this morning :).  If you are wondering what apron I am referring to the original post is here…  SOOO first is first cutting the fabrics!!! This is pretty easy & can be done with a rotary cutter pretty fast 🙂  I have bought yardage in multiples so you might be able to rework it… I will give you sizes of the pieces that need cut!  Don't forget to check out all my other free tutorials including my list of 139 free apron patterns & tutorials!
All my measurements are for 1/4″ seam allowances. You need 3 fabrics…
'A' = the chest square fabric
'B' = the skirt fabric
'C' = the strap & ties fabric
Toddler Size (2-4)
Fabric A…
cut 1 square 8″x8″
Fabric B…
cut 1 rectangle 14″x22″ (for direction fabric your 'top' & 'bottom' will be the longer edges)
Fabric C…
cut 1 strip 6″x33″ (neck strap)
cut 1 strip 6″x8″ (top edge)
cut 2 strips 3″x48″ (waist)
Girls Size (4-8)

Fabric A…
cut 1 square 9″x9″
Fabric B…
cut 1 rectangle 16″x26″ (for direction fabric your 'top' & 'bottom' will be the longer edges)
Fabric C…
cut 1 strip 6″x34″ (neck strap)
cut 1 strip 6″x9″ (top edge)
cut 2 strips 3″x52″ (waist)
Your pieces should look something like this…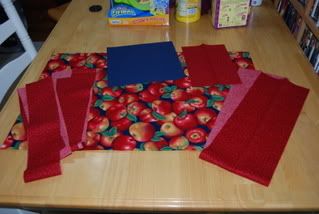 Now you want to make your bias style trim out of the 2 6″ wide pieces of fabric C.  To do this I use an iron… fold in half long ways once & iron a crease….
Now open it up & fold your edges into the center crease & iron!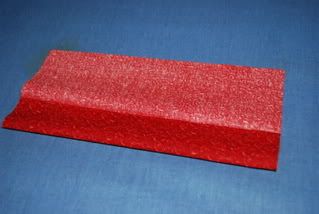 Once you do this with both the edges fold back in half & iron one last time!!!!  Now your piece should be just 1.5″ wide but just as long as originally…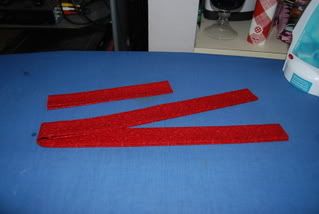 NOW you want to open the short piece up so that you can see the raw two edges… now you take your square of fabric A & line it up with the center of the piece & then fold it back down!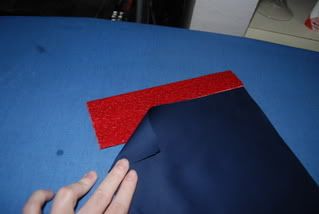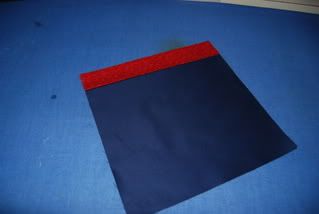 Pin if need & take it to your sewing machine!  Since I pressed everything I just take a 1/8″ straight seam down it.  If you aren't sure if its straight you can always install it like regular bias tape.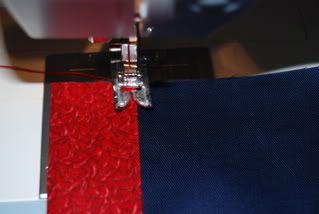 Now you want to add the neck strap!!! Its always a good idea to try it over your kiddos head before sewing in place, but this should fit easily over most little girls heads.  Anyways you want to use the same technique that we used on the top piece of opening it up & lining the square up with the middle edge & folding it back down.  You want to start each end at the bottom edge of the square like in the picture…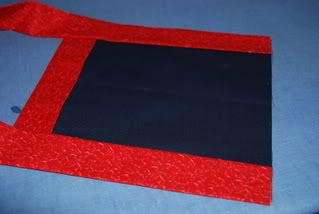 Pin & sew in place the same way!  Just continue around the neck strap sewing it closed until you get back to the other side of the apron.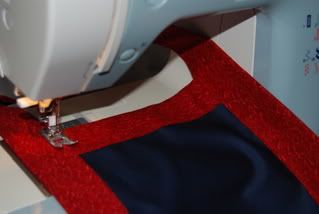 Time for the skirt!!! Hem the 2 short sides & the bottom…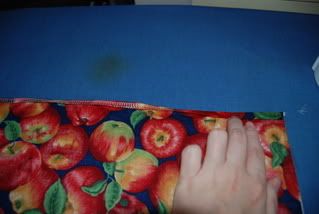 Apparently I forgot the pictures on this part!!! Now you are gonna wanna use what ever method you choose to gather… the 2 rows of basting stitches works great for this small peice.  Run 2 rows of LONG (highest number on stitch length) stitches 1/4″ apart close to the top edge of the top of the long side…   then pull on the bottom (bobbin) threads to gather.  You want to gather it to be 2 inches WIDER then the top piece (10″ for toddler, 11″ for girls)… now set this aside.
The funnest part (this may take a little patience!)  Now you want to take those 2 last LONG 3″ wide pieces of the C fabric…  with right sides together you want to sew all but the 11″ in the middle.  The easiest way to mark this is to fold in half & mark 5.5″ on each side.  This makes more sense in the pictures!  Basically you want to leave the middle open so you have a place to put the top & skirt in.  With wrong sides together start at one mark AWAY from the center… turn, sew the end, turn & sew to the next mark… stop & backstitch… NEEDLE UP & to the next mark & start again… stop again at the mark on the other side…  You should have something like this…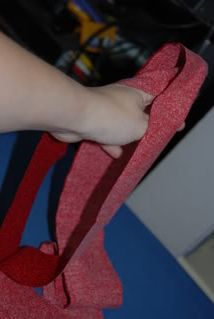 Noe you need to turn the straps right side out! It should look like this halfway through… make sure to get your corners good.
Now your almost done!  Once you have both ends turned use your iron to fold the edge of the open part down… it should be easier since it wants to follow the seam…  it should fold in about 1/4″ & look like it is sewed too…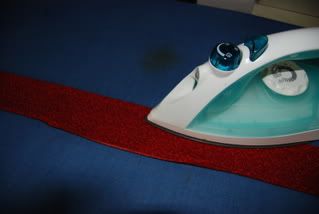 NOW get that top piece & the skirt back… time to pin & top stitch!  You want about 1.5″ of the top to go in the waist band so the top looks square… if you can't eye it you can mark 1.5″ up from the bottom edge & line it up.   Then with the skirt you want about 1/2″ to go inside the waist band.  Make sure they are centered ( I 'mark' my centers with a light crease of the iron) then pin!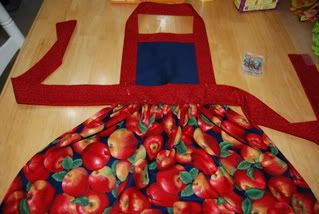 Take to your machine & you want to sew 1/8″-1/4″ all around the waist section… this will make a nice finished look & sew in your top & skirt pieces!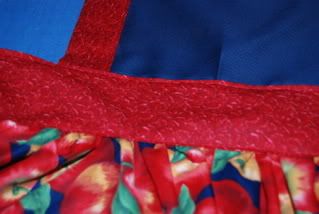 & TADA!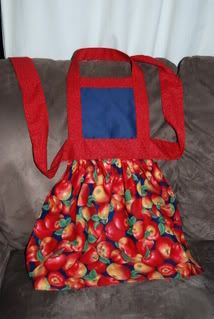 OPTIONAL: To personalize just embroider, appliqué or paint the little angels name on it!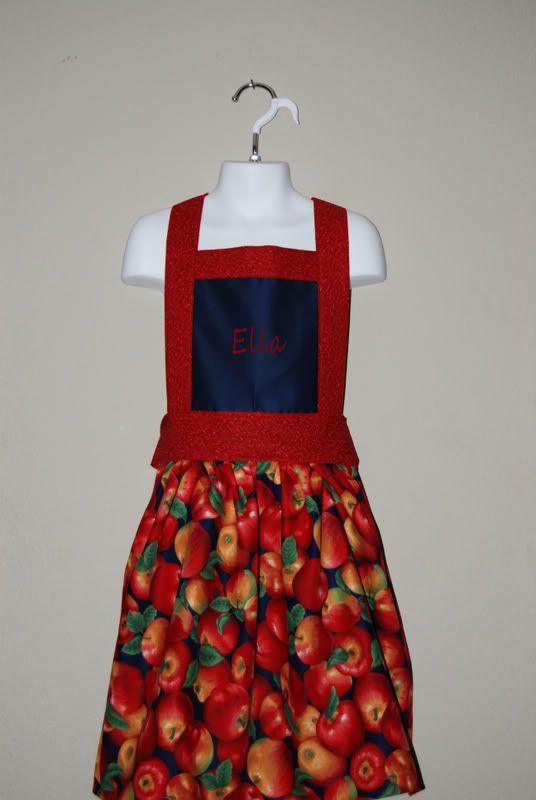 If you have any questions, pictures of finished aprons to share or found an error in my late night tutorial please feel free to email me.