June has arrived (already!?!) … and, with it, the heat of summer is here! That means it's high time to add to my summer wardrobe, so I hopped on board when Tibeca said she was hosting the "It's Getting Hot In Here" tour over at her blog Sewing by Ti. After making my EYMM swimsuit a couple weeks ago, I decided that I needed a cover-up to wear to and from the pool.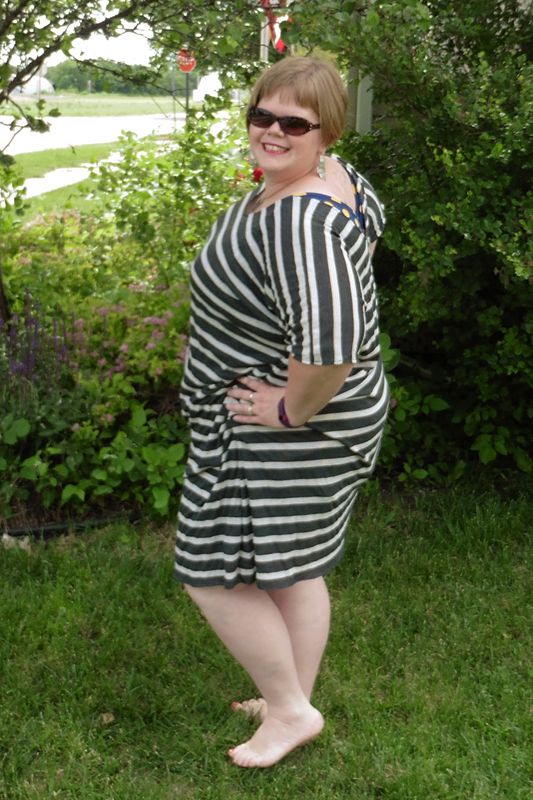 My sewing project started with this cool knit I found among Walmart's bargain fabrics. It's hard to see in my photos, but the off-white stripes are similar to a crocheted lace rather than being a opaque color. While the off-white stripes are see-through, the gray ones are regular solid knit (I think it's a poly/spandex blend).  I decided the peek-a-boo stripes would make a fun swim cover-up … and then I had to choose a pattern.
I wavered back and forth between using the California Dress pattern or Kymy's Dolman Top pattern. I wanted the shoulder/arm coverage of the dolman sleeves for a bit of sun protection, but wanted the length and looser skirt of a dress so it wouldn't feel tight over my swimsuit. After mulling it over (and procrastinating until the last minute, lol), I decided to go with Kymy's Dolman … with a couple modifications.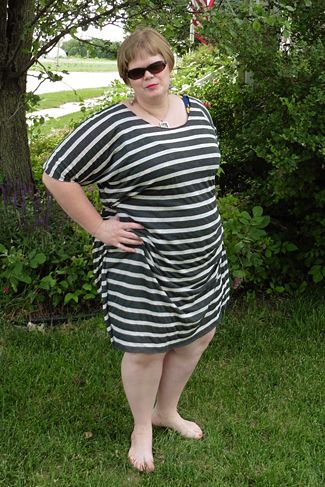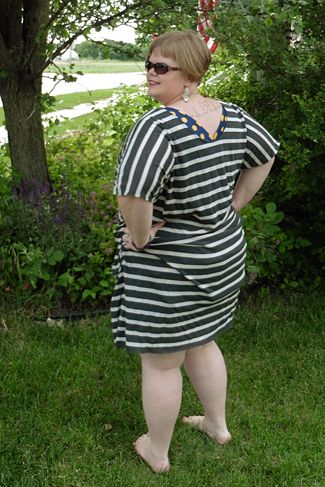 The first modification I made was to mash the California Dress pattern's scoop neckline onto Kymy's Dolman for both the front and the back (like I did back in February). To keep it a little more casual (and because I don't mind if my swim cover-up falls off my shoulder), I chose to fold over and hem the neckline instead of putting a band on it.
My next change was to cut the bottom about 8 inches beyond the View D hemline so that it would be longer than my swimsuit. Since I added length, my side seam ruching does not reach all the way to the hemline since the elastic didn't stretch that far. I also added some width by cutting about an inch or so wider than the pattern's side seam line. This makes the lower body of the dolman fit looser so it won't be tight over my suit. I sewed the rest as per the pattern instructions, although I left the bottom unhemmed because I'm lazy to lend itself to an "undone" pool look. (Yeah, I'll go with that reason.) 😉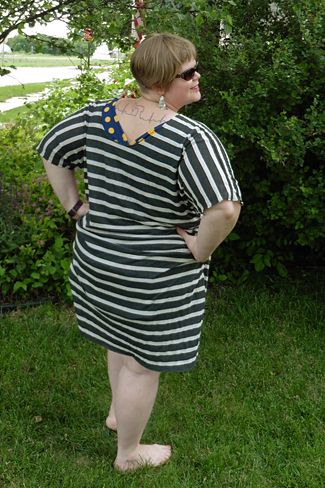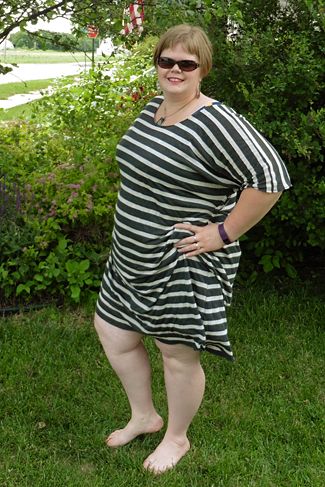 I'm glad I've gotten myself all outfitted for the pool this summer. Now to get myself motivated to make my girls new swimsuits since they just won't stop growing and last year's suits are too small! LOL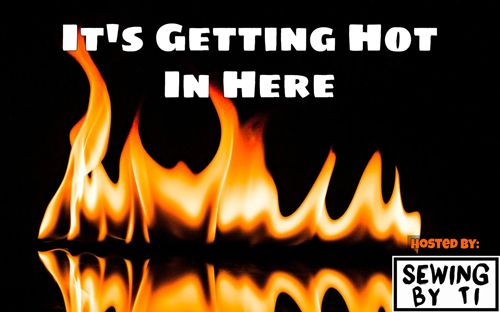 Make sure to stop by the other blogs on the "It's Getting Hot In Here" tour and check out all the inspiration for summer weather sewing! (Note: The tour links below won't work until the dates listed, but feel free to click through and read their other posts any time.)
June 1st- Sewing By Ti
June 2nd- Sewing By Ti
June 5- Stitching and Making
June 6- Doodle Number 5
June 7- That's Sew Lily
June 8- EYMM
June 9- Ma Moose
June 12- Tales from a Southern Mom
June 13- Robynne and the Bobbin
June 14- Hazelnut Handmade
June 15- Anne Mari Sews
June 16- On Wednesdays We Sew
June 19- Tenille's Thread
June 20- It's Liesel
June 21- Lillie Pawillie
June 22- Needles to Say
June 23- Sewing By Ti
June 24- Fox Flower Lane
June 26- Indulging Mum
June 27- Creative Counselor
June 28- Sprouting Jube Jube
June 29- Anne Mari Sews
June 30- Sewing By Ti
Happy Sewing!!  ~  Joelle