This promotion has expired.  You can still visit the links below to find out how to make your ouw DIY LuLaWho? outfits. With EYMM patterns.
Don't forget to check the blog often as well as follow us on Facebook or join our Facebook Group for the most up to date announcements on sales and other promotions.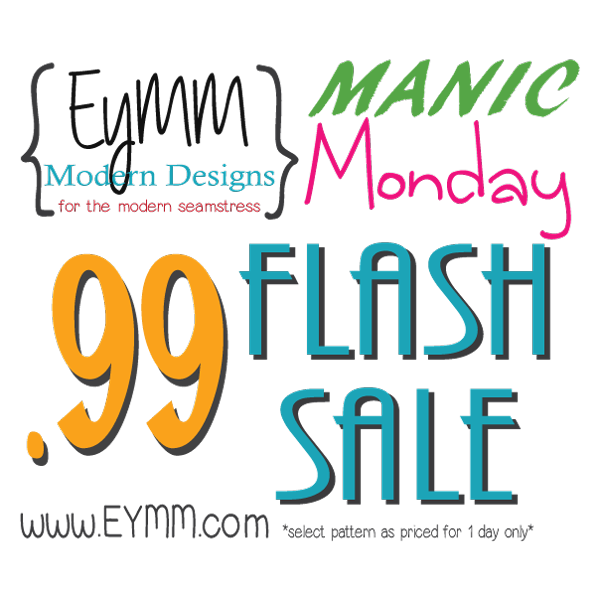 10/24/2016 Manic Monday Flash Sale!
Based on the popularity of Aimee's Sew it Yourself Irma tutorial we decided to do a LuLaWho? theme for our Manic Monday Sale!
Most people have seen the signature Irma top and leggings from this currently very popular boutique brand of comfy, stylish and practical clothes.  Many stay at home moms have fallen and love and some (including a few of my friends) have even started selling it!  Their brand name is protected by trademarks so I can't post it, if LuLaWho? Isn't a good enough hint, just Google 'buttery soft leggings' if in the US and you can find it quickly.  That being said prints are very limited, they only sale in Facebook Groups and at Pop-Up Boutiques/parties and range from $25-70 a piece for womens styles. Well many of my sewing friends still splurge on occasional pieces because of some of the unique prints and the buttery soft leggings, many have tracked down similar fabric to make their own, and EYMM happens to have 2 of our oldest patterns that are perfect for sewing some yourself!
An interesting fact, the EYMM Piko Top was released about 6 months before the company started actively selling their clothes!  It feels exciting to have caught on to a trend before it was a trend, lol.
This features 2 of our most popular EYMM women's patterns, Get Moving Leggings and Piko Top both in sizes XS-5X, for just .99 each when purchased from www.EYMM.com
Special valid 12am -11:59pm PDT 10/24/2016 on www.EYMM.com only.   No coupon needed all items priced as marked.
To make your own LuLaWho? inspired leggings you can get brushed poly lycra knits from many online stores now which are what they use on their super soft leggings.
These mid rise, elastic free, yoga bottoms are designed to be almost as tight as performance compression wear. Theory is, the snug fabric actually helps increase & improve blood flow while working out.  You can also find a free tutorial and pattern piece for adding a diamond crotch gusset to allow for movement and flexibility of the seams on the EYMM blog.
I personally find them just as comfortable whether running/working out, cleaning the house or even as an elastic free pair of leggings or long underwear for layering. If you want a more casual 'around the house' yoga bottom or maternity wear you can make them 1 size larger depending on where you fall on the size chart.  This pattern includes 10 womens sizes with 2 waistband options and 5 length options.
To make your own Irma inspired top with this pattern you want to use the the hi-low hem with the 3/4 sleeve.  You will use the instructions in the pattern to add 3″ length to the bodice.  To get the same fit as desired with the Irma's most people just make the same size they wear in the Irma.  Most people size down 2 sizes for the Irma so you can do the same for the Piko.  The only issue you may run into is if you make a long sleeved version you can't go down 2 sizes in the long sleeves because they are so fitted, you would need to blend sizes. You can read more about how Aimee did it over at Capture, Craft and Cook.
Trends this season are all about flowy, loose fitting, comfortable tops, including the oversized flowy piko style tops.  This trendy style of top has been popular in Europe and Asia and is quick to make, as well as versatile with multiple hem and sleeve options.  It is modest, yet still allows you to stay cool in the summer and the shape makes it easy for hard to fit shapes as-is!  Perfect for those draping knits you find all the time but don't know what to make out of them.  Not only is it a quick sew, but it is easy to adjust the length for tall or petite body types OR to lengthen into a tunic.
The womens version comes in 10 sizes from Misses XS-XL and Plus Size 1X-5X, but I have also included great custom fit instructions. It is a quick sew with amazing results.