Every year for July 4th, I make my kids each something patriotic to wear so I jumped at the chance when I heard that Katy at Wild & Wanderful had an opening in her Sew Americana Blog Tour. After securing myself a spot, I got to thinking that maybe it was my turn to get decked out in red, white, and blue this year!
This was a last-minute opening as someone else dropped out of the tour and I just got signed up less than a week ago (i.e. no time to go shopping), so I dug through my stash and found a red and white maxi skirt in my "to upcycle" pile and some denim-blue French terry that I had no plans for. French terry makes a perfect Capsule Skirt, so then I just had to decide on a top pattern.
I was limited by the width of the maxi skirt that I was upcycling, so I chose to hack the California Dress  to a tunic-length tank top. I use the term "hack" lightly here since all I did differently from the pattern instructions is to cut it a bit longer than the peplum hem line and then leave off the elastic waistline during construction. I wanted the extra length to leave myself the option of pairing it with leggings and a belt for a totally different look.
I had just enough skirt left to eek out the binding strips for the neckline and armscyes after cutting out my front and back with the bottom edges aligned with the original hem. I love when upcycling saves me a few minutes on hemming! All that was left of the maxi were a couple long tails and the original waistband … then inspiration struck and I decided to re-use the old waistband on my new skirt.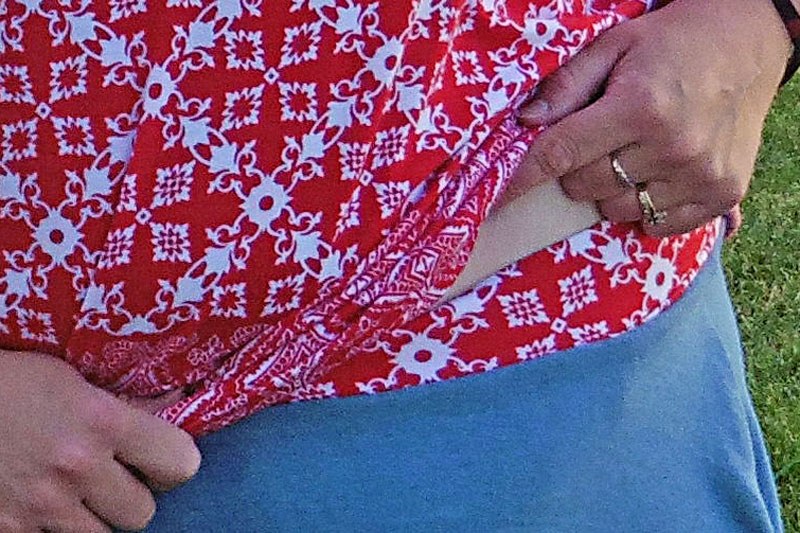 I cut the rest of the maxi scraps off, leaving about a half inch for seam allowance below the encased elastic. Then I simply sewed it to the top of my Capsule Skirt for a contrasting pop of color. Chances are that nobody will ever see it while I'm wearing it since I never tuck my shirts in, but it's fun for me to know that the bright red is there! 😉
I'm loving my new patriotic outfit AND that I'll be able to easily mix and match the separate pieces for different looks. I'm so glad I spotted Katy's comment about needing a last-minute fill-in for her tour … it was fun to sew up some red, white, and blue just in time for the Fourth of July!
Take a look at the AMAZING lineup for the Sew Americana tour!
Monday, June 27 
Wild & Wanderful | Sew and Tell Project | Call Ajaire
Paisley Roots | Wally and Grace
Tuesday, June 28
Sew Thrifty | Coles Corner and Creations | Rebel & Malice
Friends Stitched Together | The Wholesome Mama
Wednesday, June 29
Sewing by Ti | EYMM | HattieLu Handmade
Daydream Believers | PenSebRox | Handmade Boy
Thursday, June 30
Beatnik Kids | Phat Quarters | Sew Starly | Sew Sophie Lynn
The Kisses Co. | Adventures with Bubba and Bug
Friday, July 1
Very Blissful | That's Sew Kari | Sew Happily Ever After | Pear Berry Lane
Mae and K | Musings of a Seamstress | Sew and Tell Project
As a special bonus for our readers, use the code ' SEWAMERICANA ' and enjoy a 20% discount at www.THREADandGRAIN.com  You'll find a ton of maker-inspired goodies!
(All created by your tour guide, Katy, from Wild & Wanderful.)
Happy Sewing!!  ~  Joelle