When I got this cotton jersey from a KnitFix back in the early fall, I knew it would make a perfect birthday present dress for my best friend's girl who loves all things animal print! Then I procrastinated actually getting it made and now it's a month late … oops! It's the thought that counts, right?
Anyway, I wanted to make a dress with clean lines since the fabric is so busy and wanted it to have pockets because … pockets! LOL  I decided mashing the Carlie's Dolman Top with the Girl's Capsule Skirt would be the easiest way to make my vision come to life.
I folded up the bottom 6 inches (on size 10) before cutting out view B of the dolman so that the bodice would end above her hip bone. Then I cut the same size for the Capsule Skirt and  pockets. Instead of cutting out a waistband, I simply sewed the top of the skirt to the bottom of the dolman …. voila, instant "skater" style dress!
The only other modifications I made were to use my serger to roll-hem the sleeve ends and the skirt's bottom edge. I love the look of a ruffley lettuce edge hem!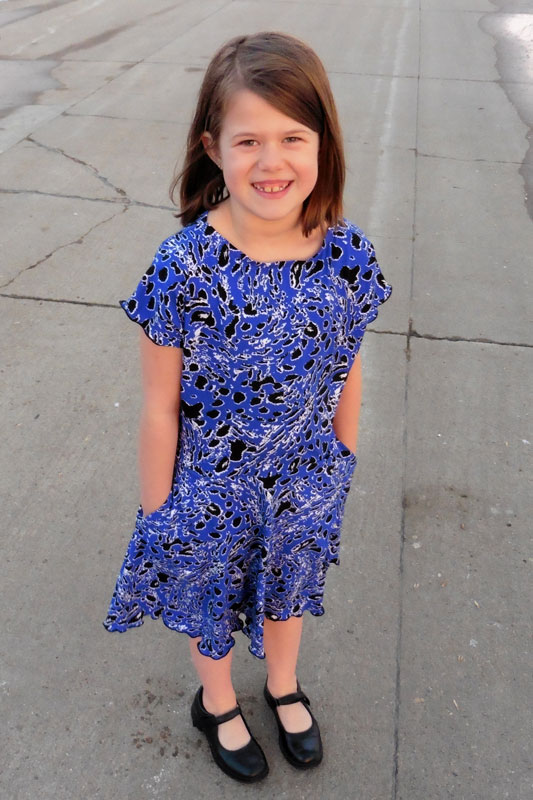 My daughter bravely modeled for me earlier this week when it was only 37*F outside. This is the excited look she gave me when I said this was the last picture! Haha!
If you try out this mash-up, I'd love to see! You can share in the EYMM Facebook group or on the EYMM Facebook page. The group is also a great place to get help if you get hung up on any EYMM pattern. 😉
Happy Sewing!!  ~  Joelle