I've been dying to make a Kenzie's Party Dress with the signature skirt ever since I made my girls' simple skirt versions last Christmas. The only problem is that my girls seemed to be of the opinion that it looked too young and I was reluctant to spend the time (and fabric!) sewing a dress that they wouldn't wear. So, instead, I sewed one up for my Goddaughter's 3rd birthday … and, lo and behold, now my girls want it in their sizes! Silly girls!
I won't lie, this skirt is a fabric hog and pretty time-intensive with all the hemming and gathering and piecing together, but it is TOTALLY worth it!! I love how the flounces layer over each other and can be all different prints and still be gorgeous. I also like the combination of the bodice's higher front neckline and cap sleeves with the dramatically scooped back!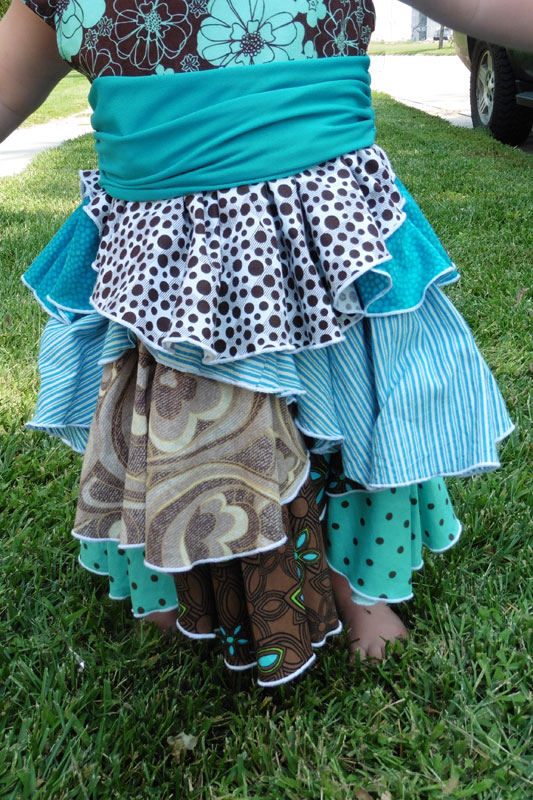 For this dress, I went through my stash and pulled out everything I had in a similar color scheme. I had just enough to make two flounces from each of the 6 prints and have one print left for the bodice and cap sleeves. Rather than being totally random, I decided to put two prints on each layer: one brown-based and one teal-based. I also used my serger to make rolled hems rather than folding and ironing all those curves.
A wide sash is the perfect finishing touch! I like how it gets gathered up at the side seams for a ruched look. I like a wide sash so much that I used the Kenzie's sash on my girls' Easter dresses despite using a different skirt pattern. The only thing I did not like about it is that the quilter's cotton that I used on the Easter dresses makes for an incredibly wrinkled sash EVERY time it gets washed! That means I have to press it every time … and ain't nobody got time for that! lol  This time, I decided to try making the sash from knit and it worked beautifully. The fabric type was the only change I made and I'm hoping my Goddaughter's mama will appreciate that little modification. 😉
So, I had this beautiful size 3 dress and no little girl nearby to try it on because my Goddaughter lives nearly 1,600 miles away … boohoo! What's a seamstress to do? Why, put it on my 2-year-old son! Of course! (Can we say "future blackmail"? Haha!)
He was more than happy to try it on and pose for pictures … good thing he doesn't comprehend gender-based clothing yet! He twirled around and modeled it so nicely! Of course, the dress is a bit big on him since he measures perfectly into a 2t and this is a 3t. 😉
Now that my girls have seen how the Kenzie's Party Dress signature skirt looks in real life, they're hankering to dig through my stash and see if they can find enough coordinating prints for themselves. My stash is pretty impressive, but I'm not sure there are enough woven prints with enough yardage for my size 8 and size 14 girlies … guess we'll have to find out soon enough!
P.S. I linked the Kenzie's Ultimate Bundle above, which has both size ranges plus the doll add-on. If you're wanting just one range, you can find them here: newborn-4t, 5-18tween, doll add-on. Each of the girl's size ranges includes 9 individual sizes for only $8.95 and the doll add-on is only the pattern pieces for an 18-inch doll for $2.49 (you'll need one of the girl's patterns for instructions). The ultimate bundle is only $13.95 … a more than 30% savings from individual pricing!
Happy Sewing!  ~  Joelle