When my 7 year old spotted the scraps of this floral fabric after I finished sewing a shirt for myself, she declared that we must make something from them for her. Lucky for her, they were big scraps! 😉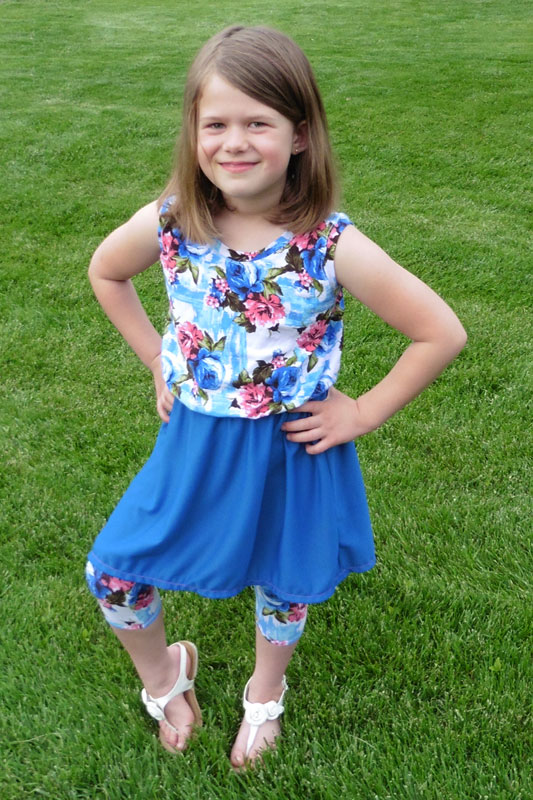 We decided first to make her some capri length leggings using the Jocelyn's Leggings pattern. She loved them, but after searching her drawer couldn't find a top that matched. She, of course, didn't want a "boring" solid colored tunic, but the scraps left weren't big enough for the length of a top. So she agreed to colorblocking and we chose the California Dress, since the elastic waistline provides a natural line for two fabrics to meet.
I cut the top or the bodice from the floral, adding 3/8 inch seam allowance below the dashed waistline marking on the pattern. Next I cut the skirt portion of the dress from solid fabric, adding 3/8 inch seam allowance above the waistline marking. Then the first sewing step I did was to stitch the skirt to the bodice, then I continued construction as per the pattern directions. After finishing, we did shorten the knee-length skirt a little to better show off her floral leggings.
My girlie loves her new outfit. It was one of the first that she put in her suitcase for my kids' annual summer visit to my mom's and aunt's houses. I love when handmade outfits become the favorites!
Happy Sewing!!  ~  Joelle