Have you ever wondered what it would look like if Kymy's Dolman Top had shorter sleeves? Well, wonder no more! I have been curious, so this week I decided to try it out.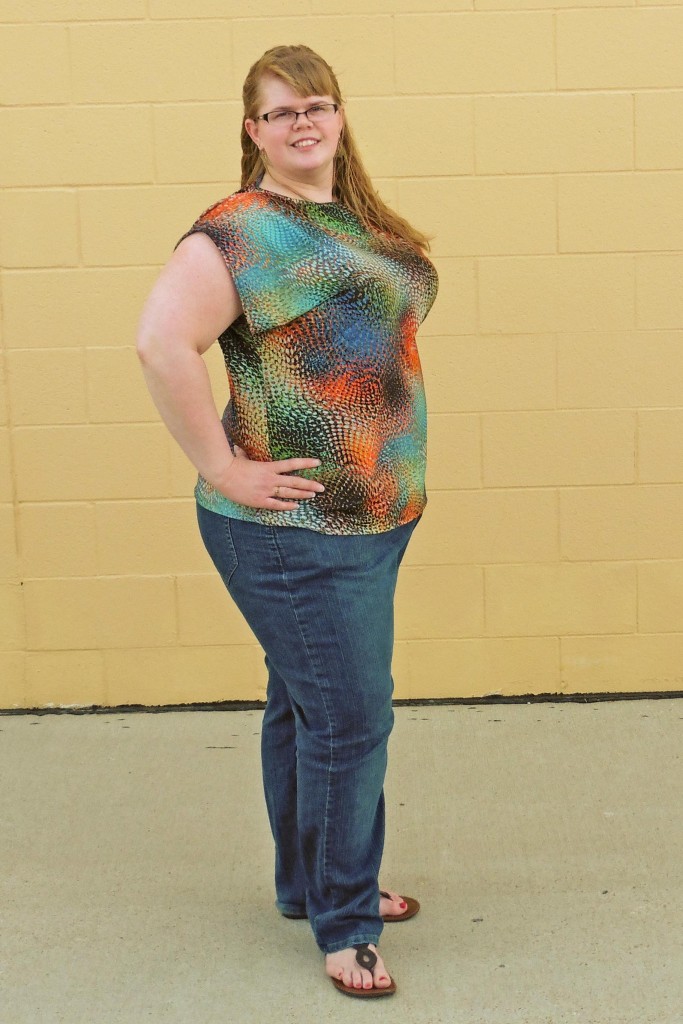 As the weather starts to warm, I've been wanting a couple more shorter sleeve tops so I turned to one of my favorites. Kymy's Dolman is easy and flattering to wear, whether paired with jeans or shorts or even my lounge pants around the house.
The original sleeves hit me just a couple inches above my elbow, so I wanted to try making them closer to cap sleeve length. I started by cutting them at the sleeve line a few sizes smaller than I was making (as shown above by the fabric laid on top of the pattern).
After sewing all but the sleeve hems, I tried it on and decided I wanted them even shorter. I cut them approximately where the red line is in the above photo. I angled the cut to preserve the underarm curve while trimming the shoulder seam a bit more than 1.5 inches shorter. The end result is sleeves that are a bit over 6 inches shorter than the original, which will be great in the heat of summer!
** If you try this, I recommend not cutting your sleeves real short until you've tried your top on. Everyone's shoulder width and arms are different, not to mention the width difference for different sizes, so your fit may be different than mine!
I wanted to make the ruched view of Kymy's Dolman, but the piece of fabric I had wasn't quite long enough … so I had a "make it work" moment!
I laid the two patterns for View D/E and for View B/C side by side and split the difference between them. This resulted in a top that is about the same finished length as View D but without the ruching. I love it since I like my tops a bit longer to help conceal that post-5-babies belly but not long enough  to be around my bottom. 😉
I envision this top getting lots of wear in the upcoming months. It's comfortable and stylish and the colors are fabulous!
Happy Sewing!!  ~  Joelle