UPDATE: The FREE tutorial & pattern pieces are available to download now from  HERE!

The Frozen craze has hit my house hard, just as it's hit most of the rest of the world. My daughters, being the oldest, declared months ago that all 5 kids were going to be Frozen characters for Halloween. Thus began my quest for the perfect handmade costume ideas. I don't like to buy "special" character sewing patterns, so the Halloween Hacks idea of using "regular" pdf patterns to hand-make costumes is just my cup of tea.
With so many "princess" dress patterns available, Elsa and Anna are easy. Heck, even Kristoff and Olaf have multiple tutorials and patterns dedicated to them. And so my thoughts turned to creating Sven, who my 3-year-old has had his heart dead set on. I tried talking him into dressing as Prince Hans, but he wasn't interested … so I grudgingly headed to the faux fur aisle during my next trip to JoAnn. I found a grayish brown fur perfect for Sven's body and a longer white fur that's great for his broad shoulders and ankle fluff.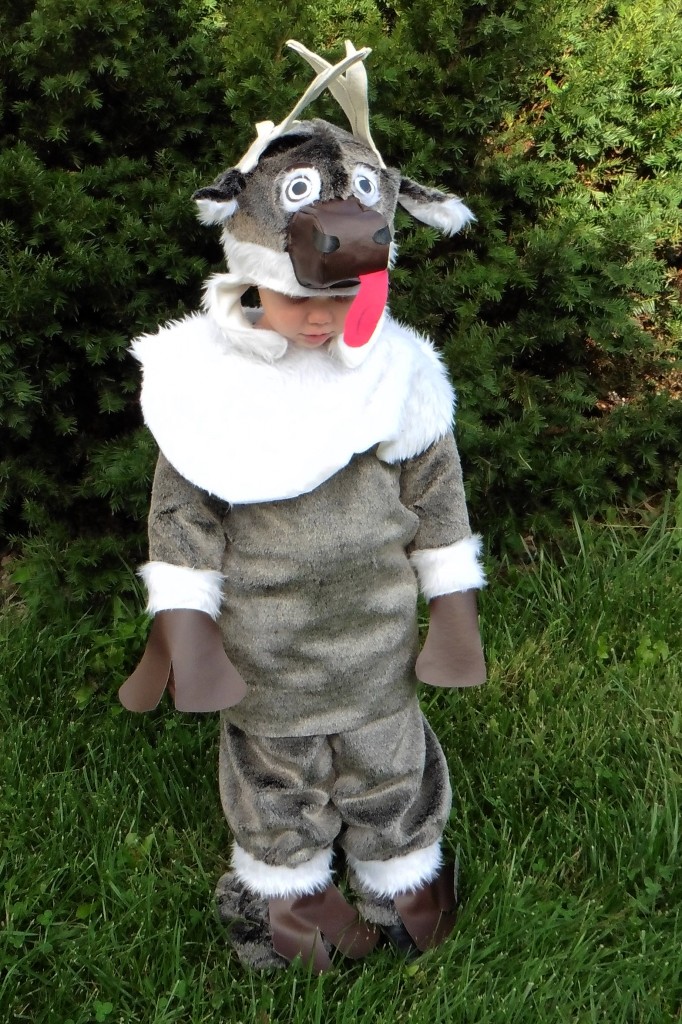 I debated using a footie pattern to make Sven's furry body, but decided that a shirt and pants would be more potty-friendly for my little one. After feeling the somewhat stiff underside of the fur, I decided raglan sleeves would be easier to sew than set-in sleeves, so I pulled out my copy of See Kate Sew's Recess Raglan for the top. Perusing my arsenal of patterns for a pair of simple pants, Ellie Inspired's Sleepy Bear PJ pants jumped out at me. The only change I made was to mark the side seam line on the pattern pieces and overlap the front and back to make one piece for each leg. I wanted to eliminate the side seam so there'd be less pieces to cut and therefore slightly less fur floating around my house!
For both the shirt and pants, I cut two sizes bigger than my boy normally wears because of the bulk and the minimum stretch of the fur. In retrospect, I think one size bigger on the pants would have been plenty and the shirt is a bit long, but that's nothing that hemming won't fix. **Faux fur tip: Make sure your fur nap is laying the same way on each piece. I cut all my pieces so the fur lays down toward the hems (though I technically didn't have to hem them because the fur fabric doesn't fray). **
To mimic Sven's broad, fluffy shoulders, I used white fur to cut a bib shape that is just slightly wider than my boy's shoulders. I made the center front and center back come to a point, much like Sven's fur does on his chest. I cut two pieces for the bib's front and back and sewed them together at the shoulders so the fur would all lay downward. They are almost the same, with the front being just a touch longer and having a deeper scoop for the neckline.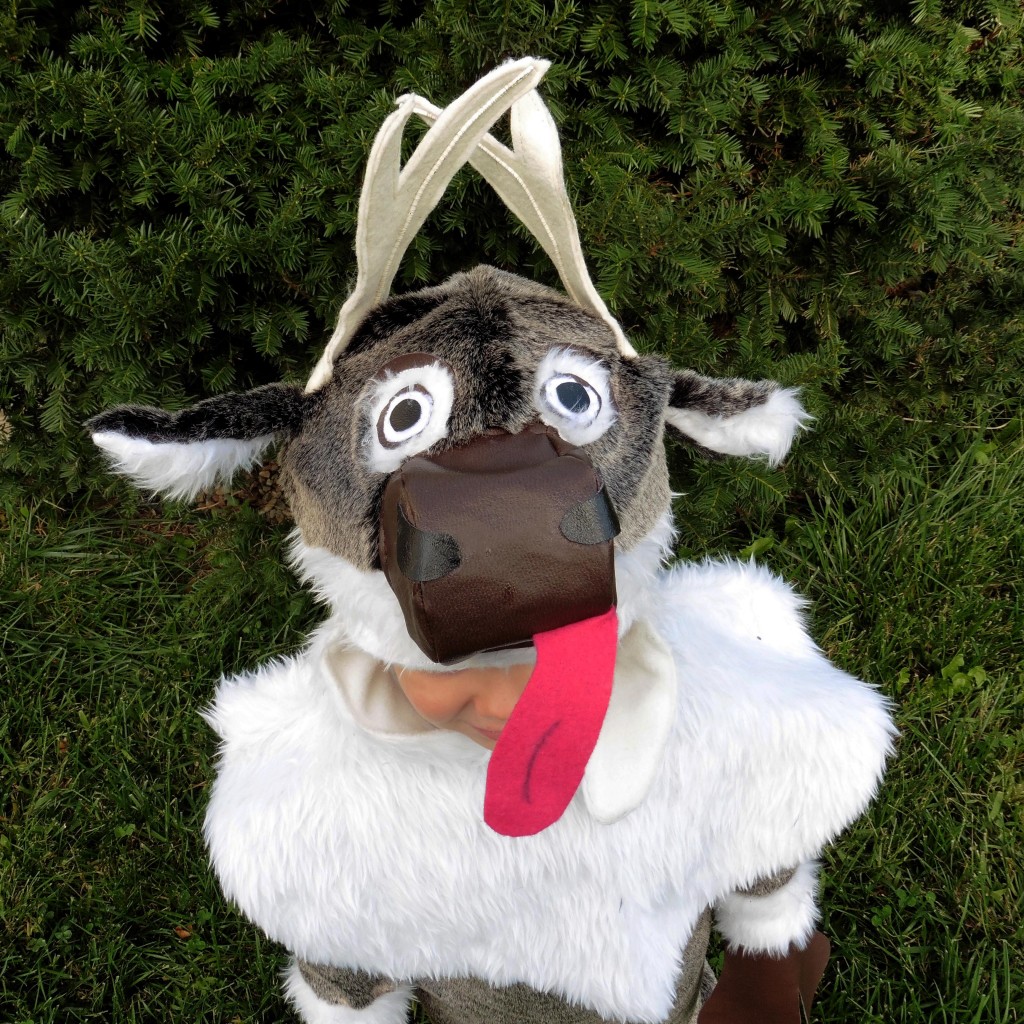 Sven's head was where my designing had to get more creative. I started with Peek-a-Boo Pattern's Snow Day Hat for the base, using the brown fur for the body of the cap and the white for the ear flap piece. I searched the Internet for photos to study Sven's features and free-handed some pattern pieces. I then searched my stash and came up with some cream-colored felt and some pleather in brown and black.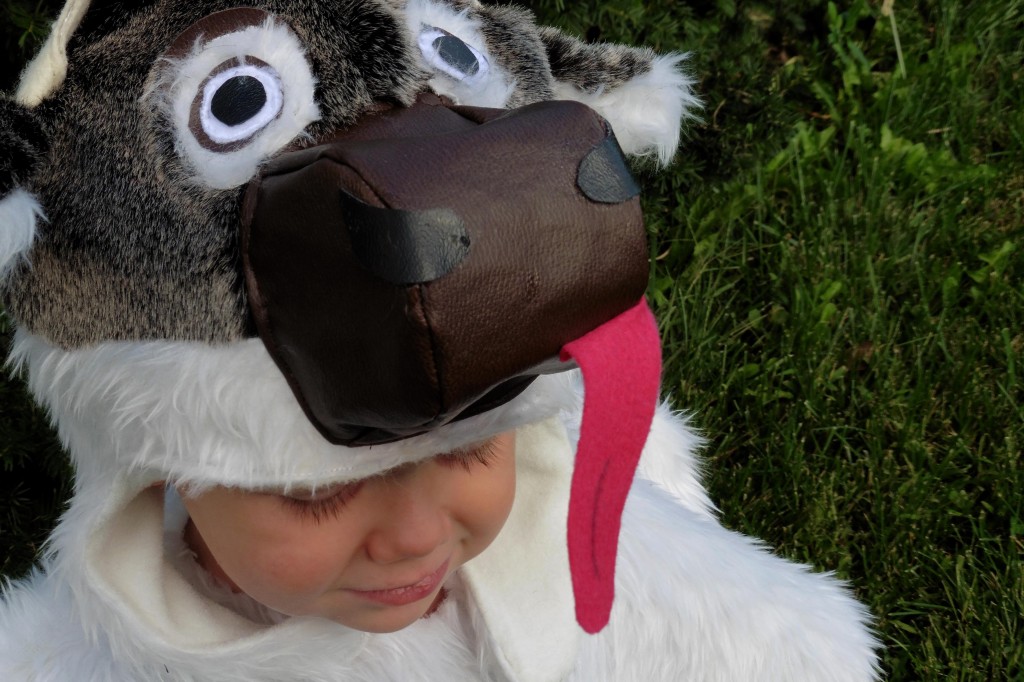 I built Sven's snout out of brown pleather by cutting two almost-half-circle shapes for either side and a long rectangle for the top/front/bottom. I folded the raw edges in and top-stitched it to the the hat. Adding a pink felt tongue and black pleather nostrils took it from looking like a large brown growth to resembling Sven's muzzle.
After studying images of his eyes, I decided to layer 5 separate pieces. I recreated the brown eyebrows with white fur around his eyes, and then the eyeball itself is a white circle set off by a brown circle underneath with a black pupil on top. For my costume, Sven's ears are made of the brown fur I used for his body and have white fur inside.
Then I got to the antlers. Oh, the antlers! Figuring out how to make the darn things stand up took me several tries. First, I cut two felt shapes for each antler and used spray adhesive to sandwich a layer of thin cardboard between them. They were a little floppy, so I stitched around the perimeter of each antler and then starched both sides for good measure. Surely, I thought naively, that cardboard and starch would be enough to make them stand up. I placed them (along with the ears) into the "side seams" when I stitched up the hat body. Lo and behold, when I turned it all right side out, the antlers drooped sadly.
This is the part of the story where the 3-year-old is eager to try it on and then declares he will NOT be Sven if his antlers don't stand up! Sigh! Luckily, my dear husband had the brilliant idea of cutting and bending coat hangers to give the antlers some strength. Since I'd already glued the cardboard inside the felt, I had to carefully zig zag stitch over the wire to attach it to the antlers. They're a good bit away from perfect, but work well enough to pass the 3-year-old's muster.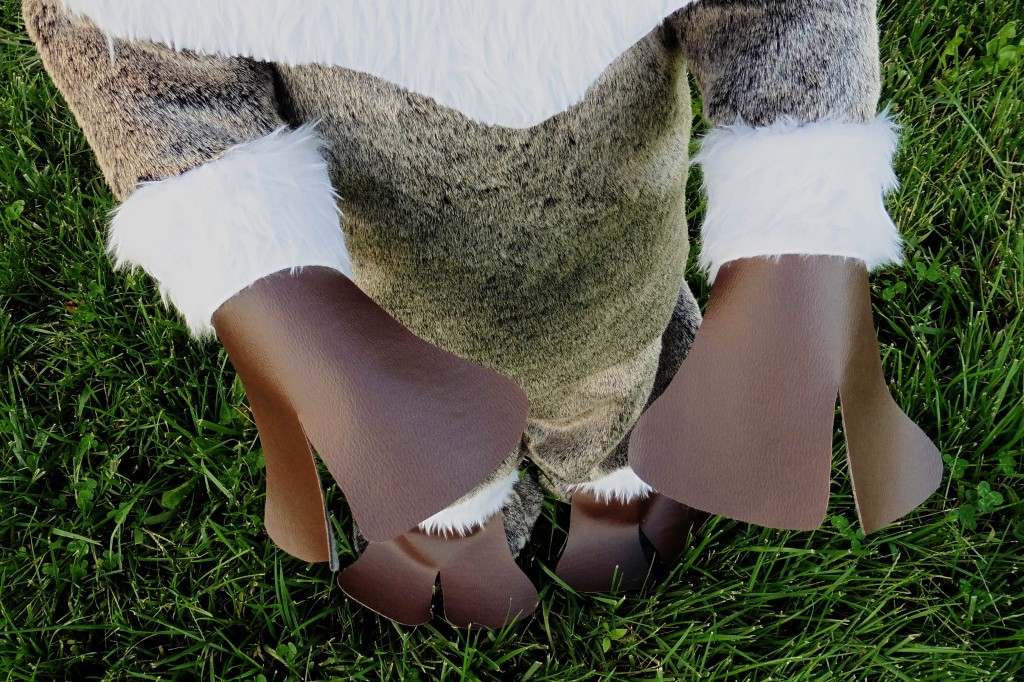 For Sven's hoofs, I didn't want to sew them to the ends of the sleeves because I was afraid my boy would be bothered by them covering his hands. Instead, I used strips of white fur to create bands that we could easily slip on or off as needed. I used brown pleather to create his hoofs and stitched that to the white fur bands. Mr. 3-year-old thinks it's fun to have hoof "bracelets" and "anklets." I think it's perfect in case we re-use the furry sweatsuit for a different animal in the future.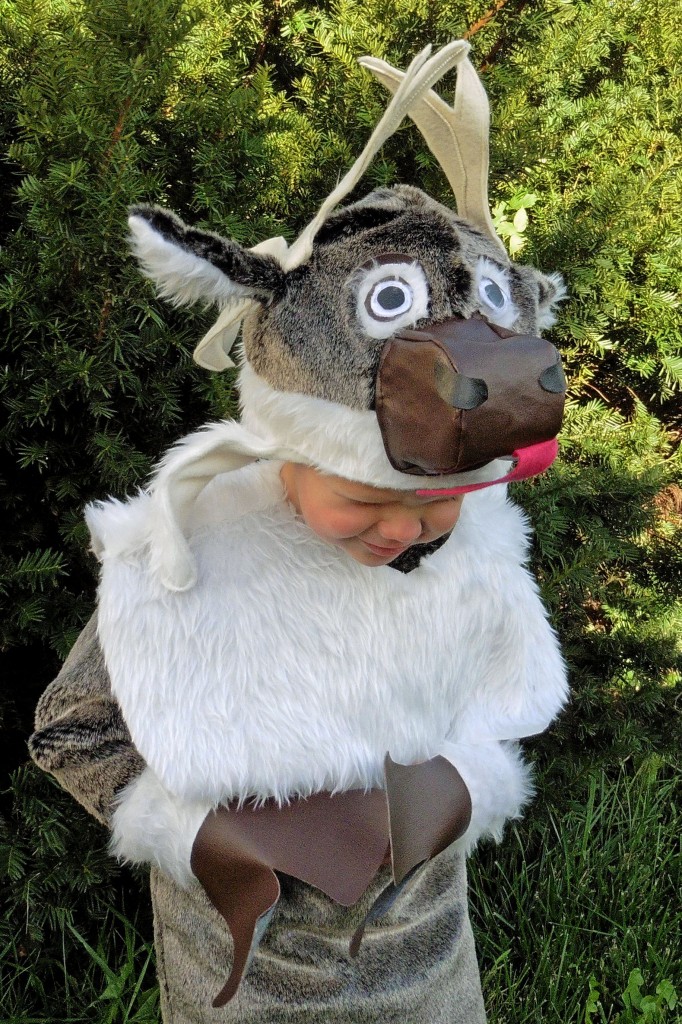 I'm pretty sure Sven (specifically his head) is going to be the hardest of the 5 Frozen characters that I'll be creating this month. Luckily for anyone else needing to make a Sven, Kymy has offered to digitize the reindeer add-on pieces that I designed and offer them to you all for free. YAY! Keep an eye on the EYMM shop for them to be released when she gets them done next week.
It's so much fun to transform "regular" patterns into Halloween costumes. I can't wait to see all the inspiration on the rest of the Halloween Hacks Blog Tour. You can use the following links to make sure you don't miss any of the tour stops and you'll also want to check out the scavenger hunt giveaway below.
Happy Sewing!!  ~ Joelle
Blog Tour!
Wednesday, October 1st: Rebekah Sews & Dog Under My Desk
Thursday, October 2nd: Friends Stitched Together & Sew Pandi
Friday, October 3rd: That's What She Crafted & Everything Your Mama Made & More
Monday, October 6th: Shawnta Sews & Handmade Boy
Tuesday, October 7th: Muse of the Morning & Swoodson Says
Wednesday, October 8th: Call Ajaire & Sew McCool
Thursday, October 9th: Once Upon A Sewing Machine & imagine gnats
Friday, October 10th: The Sewing Geek & Feather's Flights
Monday, October 13th: Get Your Crap Together & Needle and Ted
Tuesday, October 14th: The Shaffer Sisters & The Inspired Wren
Wednesday, October 15th: Pattern Revolution & Just Joshin
Scavenger Hunt!
Time to go trick or treating! Use the Rafflecopter below for a digital scavenger hunt. You'll be looking at each blog's posts for the month of September to find this icon:
for a chance to win one of THREE awesome sewing prize packs! Three winners will be chosen randomly (and their form completion verified) and emailed within 3 days of the hunt's closure.
A big thank you to all the sponsors who donated prizes!
Pack 1 { $30 to The Ribbon Retreat +2 patterns from GYCT Designs + 1 pattern from Dog Under My Desk}
Pack 2 {$30 to The Fabric Fairy + Kids Pattern Package from imagine gnats}
Pack 3 {$30 to Fat Quarter Shop + 2 patterns from Everything Your Mama Made & More +Ramblin' Raglan Mega Pattern Pack from Muse of the Morning}