Hello! Joelle here … I'm Kymy's new assistant at EYMM and will be joining her in writing here on her blog. This is my first foray into blogging, so please be kind while I get the hang of it. 😉
First, a little about me … I learned to sew when I was a kid in 4-H, but didn't do much beyond that until my oldest was one year old and I made her a dress. That's when I rediscovered sewing and fell in love with creating from fabric. I now have five kiddos (ages 9, 6, 5, 3, and 11 months) and love making clothes for them and for myself.  I still get a little thrill every time I'm able to take a flat piece of fabric and make it into something unique and wearable!
So, recently, my daughters have been LOVING the drama of the Girl's Calla Lily Skort fishtail option. In fact, they wanted me to add more drama (didn't know that was possible, did ya? lol) by making the skirt portion from ruffle fabric!
When it came to making my own Women's Calla Lily, I wasn't so sure I could pull off the drama of the fishtail, but I wanted a little more front coverage than the hi-low option. So, what's a gal to do?
Combine the best of both by redrawing the lines!
For what I'm dubbing the Modest Calla Lily, I blended the longer front curve of the fishtail cut line with the shorter (regular) back cut line to reduce the difference in the hi-low length.  After making that small change on my pattern piece, I simply cut it out and followed the normal assembly instructions in the pattern … no other changes necessary!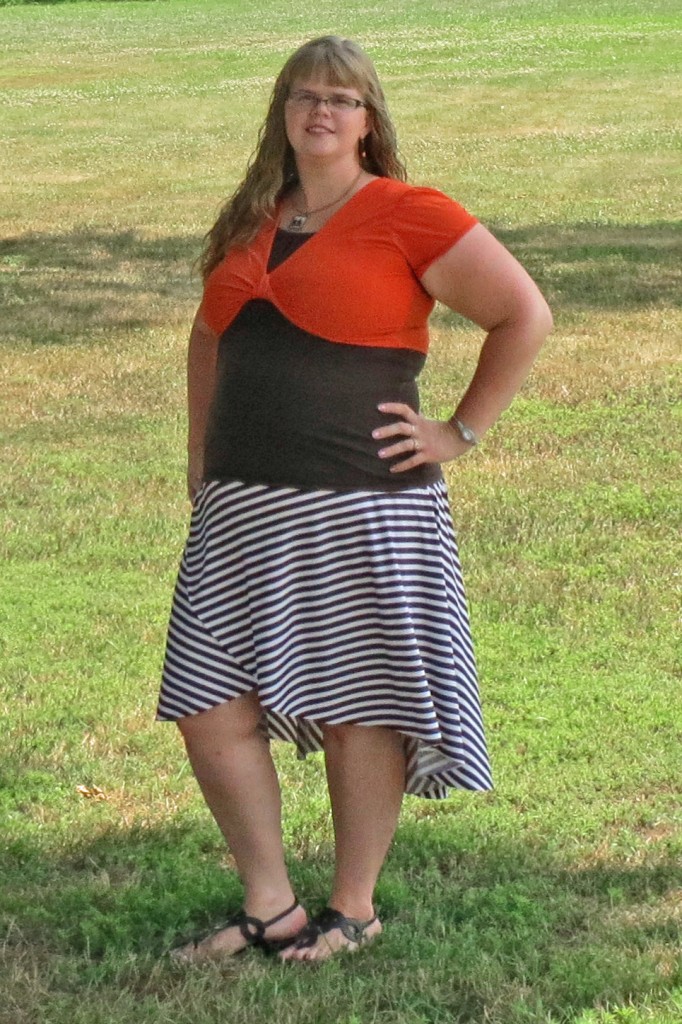 It's an easy-peasy modification and will hopefully help reduce my chances of flashing too much leg while chasing this cutie and his siblings! 😉
 (gratuitous cute baby shot, lol)
Another idea to add modesty is to combine the Women's Calla Lily Skirt with the Women's Activewear "Get Moving" Bottoms. Using the shorts length would transform the women's skirt into a more modest skort or using the full length leggings would make a skort that is easily wearable through fall and winter weather.
To add them, you would simply need to slip the assembled shorts (sans waistband) inside the skirt and then attach the skirt's waistband to both layers (you may have to stretch the shorts slightly, as you do the waistband … just don't stretch the top of the skirt). If you choose to add them, I suggest using one size bigger for the bottoms pattern than for the skirt pattern since the activewear pattern is so fitted.
You can find both the Get the Calla Lily pattern in the EYMM shop. Now go make yourself a skirt!
Happy Sewing!!    ~ Joelle