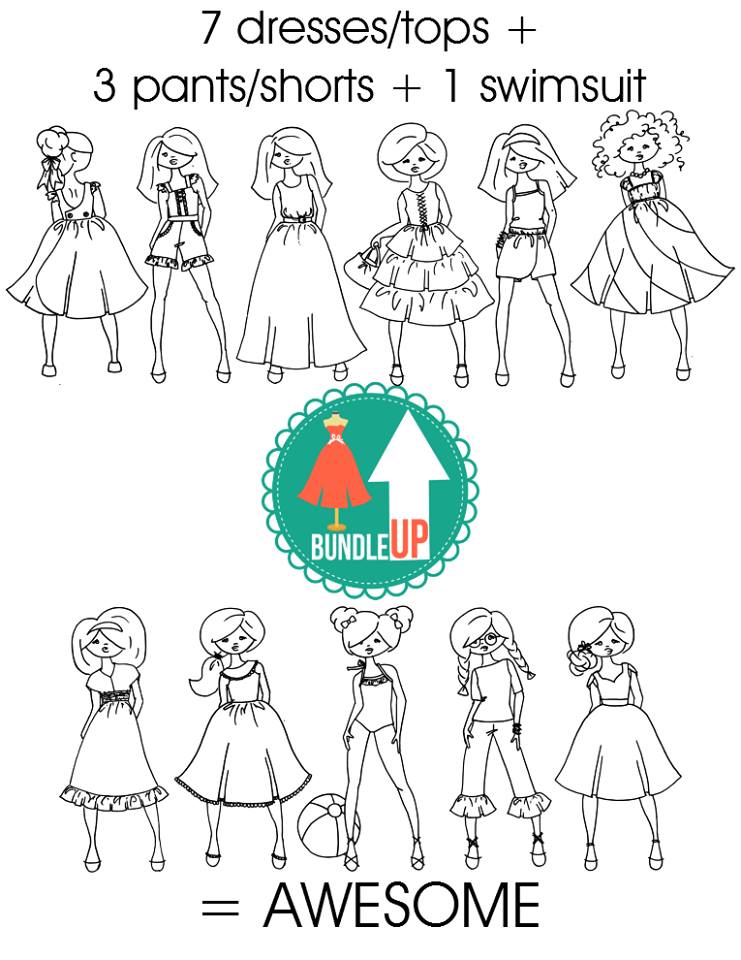 I am so excited to be part of the very first Bundle Up! Build a Better Bundle promotion from Pattern Revolution.  I have to say I was seriously flattered to be included with some amazing veteran designers that I have admired for years.
So what is Bundle Up!?  It is a collection of seasonal patterns and you can choose your bundle size AND which patterns are included.  It's a fully customized bundle so you don't have to buy patterns you already have to get a good deal on new ones you want.  Not only that but over half of the patterns are BRAND NEW!
Many of the patterns included will be 60% off at just $4 each when you buy a bundle of 10.  These particular bundle is all girls summer themed patterns including my NEW Girls California Dress & Peplum that is releasing soon ;).
Check out the pattern pictures below and hop on over to Pattern Revolution for more details and to build YOUR bundle.
FUN FACT FRIDAY: when you buy the WHOLE bundle, you'll be saving $1056!!
Juuuuuuuuust kidding! Since YOU determine how much each pattern costs based on the number of patterns you buy, we've plugged in a value of $100 per pattern to stand in as the "retail" price. Once you have 6 or more patterns in your cart, the bundle rate will be applied automatically taking it down to $4.50 or less per pattern.
What makes Bundle UP different from other bundle sales?
We only feature established designers whose patterns and reputation you already know and trust.
We create themed bundles. Our first bundle is Girls, coming next Women's. This way you get more of what you need and none of what you don't.
We offer primarily new release patterns and throw in a couple oldies but goodies to round out the bundle.
We allow you to Build a Better Bundle. You get to pick and choose which patterns and how many to include in your bundle (minimum of 6 patterns for bundle pricing).
The more you buy, the more you save!
How does it work?
These patterns are already a great bargain, marked down about 50% from their retail prices, but we have an even better deal in store for you. The more you buy, the better deal you score! You must buy at least 6 patterns to get bundle pricing, but the more you add to your cart, the cheaper they get. Here are the details:
$4.50 each for 6-7 ($27- $31.50 total)
$4.25 each for 8-9  ($34- $38.25 total)
$4.00 each for 10-11 ($40- $44 total)
Peek-A-Boo Pattern Shop – Waikiki One Piece
Izzy & Ivy – Beverly Belle
Brownie-Goose – The Bay Dress & Top
Scientific Seamstress – Easy Fit Pants
Jocole – Skort
Ellie Inspired – Poppy Fields Romper
Everything Your Mama Made & More! – California Dress & Peplum
ModKid Patterns – Hailey Girls Dress Tunic or Top